Home
/
Interviews
/
Interview: Ava DuVernay, David Oyelowo, Emayatzy Corinealdi and Omari Hardwick (Middle of Nowhere)
Interview: Ava DuVernay, David Oyelowo, Emayatzy Corinealdi and Omari Hardwick (Middle of Nowhere)
By Nicholas Bell on October 10, 2012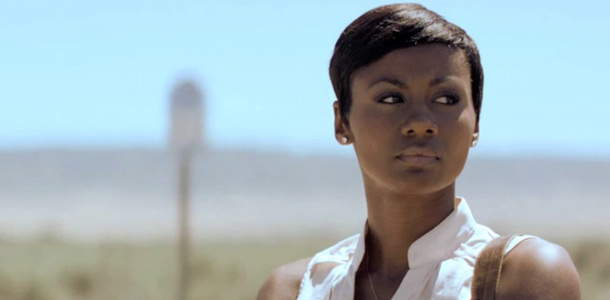 We sat down with director Ava DuVernay and three of the cast members (David Oyelowo, Emayatzy Corinealdi and Omari Hardwick) from her new film, Middle of Nowhere, shortly after its world premiere at Sundance, 2012. A story centered on a woman, Ruby, who changes her life in order to be closer to her husband after he's been sentenced to 8 years in prison, the film focuses on the stress and heartbreak she endures to keep her life in order. Further testing her already strained relationship with her sometimes antagonistic mother, who she must reach out to for financial support, Ruby realizes that she may be making the wrong sacrifices.
In our interview, we discuss DuVernay's casting process (she has a knack for seeking out well known and underutilized actresses) between this film and her excellent first feature from last year, I Will Follow, which in turn explores some shared themes with her latest work, including tempered mother/daughter relationships and characters losing those closest to them. The cast and director weigh in on the notion of a new wave black cinema movement in independent American cinema, the dangers of labels, and the importance of diversity in the independent film scene.
Nicholas Bell is a Los Angeles based film critic/journalist for IONCINEMA.com, covering film festivals such as Sundance, Cannes, TIFF, AFI, as well as weekly film reviews. Top Films From Contemporary Film Auteurs: Almodóvar (All About My Mother), Coen Bros. (No Country For Old Men), Dardenne Bros. (The Kid With a Bike), Haneke (The Piano Teacher), Hsiao-Hsien (Flight of the Red Balloon), Kar-wai (In The Mood For Love), Kiarostami (Certified Copy), Lynch (Blue Velvet), Tarantino (Inglourious Basterds), Van Sant (My Own Private Idaho), von Trier (Dogville)
You may also like...
Trieste Kelly Dunn
"I focused on feeling wronged and that something was taken from her, and that taking it from someone else who deserved it felt heroic and right, despite it being wrong and irrational." Read more

Review

Interviews

In Theaters

18 Apr

11 Apr

04 Apr

02 Apr

28 Mar

21 Mar

14 Mar

07 Mar

28 Feb

Masthead

Facebook