Top 200 Most Anticipated Films for 2014: #135. Ira Sachs' Love is Strange
By Eric Lavallee on February 11, 2014
@ioncinema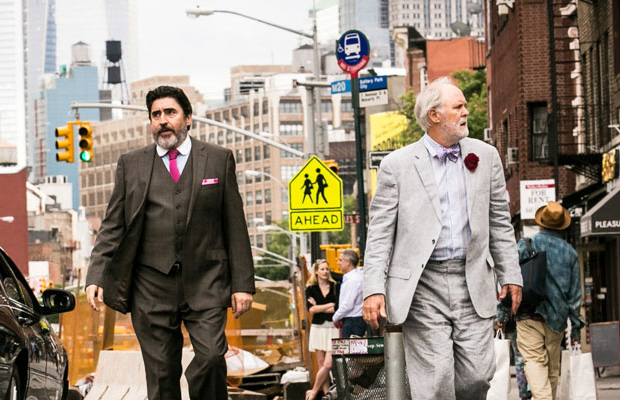 Love is Strange
Director: Ira Sachs
Writers: Ira Sachs and Mauricio Zacharias
Producers: Sachs, Parts and Labor's Lars Knudsen & Jay Van Hoy, Lucas Joaquin, Jayne Baron Sherman
U.S. Distributor: Sony Pictures Classics
Cast: John Lithgow, Alfred Molina, Marisa Tomei, Darren Burrows, Charlie Tahan, Cheyenne Jackson
Ira Sachs' second in a trilogy of NYC-set films took Sundance by storm playing like gangbusters and not surprisingly, much in line with the acting weight found in Forty Shades of Blue and Keep the Lights On, it appears that the pair of John Lithgow and Alfred Molina might be en route to some award nom recognition.
Gist: Written by Sachs and Mauricio Zacharias, after 39 years together, Ben and George take advantage of the new marriage laws and tie the knot in a City Hall wedding in lower Manhattan. On the return from their honeymoon, however, and on account of their vows, George gets fired from his longtime job as a choir director for a co-ed Catholic school. Suddenly, with no real savings to count on, the couple finds that they can't afford the rent on their small Chelsea apartment.
Release Date: Hitting both Sundance and Berlin, Sony Pictures Classics have picked up the film but have not detailed their release plans for it. Look for this to be an autumn release.
More Top 200 Most Anticipated Films of 2014
Eric Lavallée is the founder, editor-in-chief and film critic at IONCINEMA.com (founded in 2000). Eric splits his time between his home base in Montreal, NYC, and is a regular at Sundance, Cannes and TIFF. He has a BFA in Film Studies at the Mel Hoppenheim School of Cinema. In 2013 he served as a Narrative Competition Jury Member at the SXSW Film Festival. Top Films From Contemporary Film Auteurs: Almodóvar (Talk to Her), Coen Bros. (Fargo), Dardennes (La Promesse), Haneke (Caché), Hsiao-Hsien (Three Times), Kar-wai (In the Mood for Love), Kiarostami (Taste of Cherry), Lynch (Mulholland Dr.), Tarantino (Pulp Fiction), Van Sant (My Own Private Idaho), von Trier (Breaking the Waves)
You may also like...
Trieste Kelly Dunn
"I focused on feeling wronged and that something was taken from her, and that taking it from someone else who deserved it felt heroic and right, despite it being wrong and irrational." Read more

Review

Interviews

In Theaters

18 Jul

11 Jul

09 Jul

04 Jul

02 Jul

27 Jun

13 Jun

06 Jun

30 May

Masthead

Facebook
Coming Soon
07/23/14
08/08/14
09/26/14