Reviews
A Glimpse Inside the Mind of Charles Swan III | Review
Relapse/Recovery: Sheen's Demure Turn Wallows In Coppola's Schizophrenic Film Gesture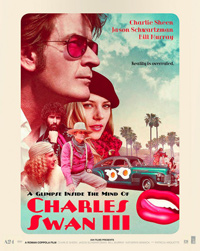 Fans of Joseph Losey's 1966 failed experiment, Modesty Blaise, (of which there are quite a few), may find something to rejoice in with Roman Coppola's latest film, A Glimpse Inside the Mind of Charles Swan III. Where Losey took Italian beauty Monica Vitti and plopped her into a zany, harebrained caper flick set in London's swinging sixties, Coppola zaps cultural pariah Charlie Sheen into a mid-life crises comedy treatment with a vintage homage to the styles and sophistication of the 1970s, where imperfect male characters got to make small but noticeable advancements with themselves and enhance the lives of those in their orbit. For a film that actually makes use of its 'everything and the kitchen sink,' motif, there's a surprising lack of life in Coppola's confusingly styled dive into the life of a not very memorable main character. Crafted like a sort of watered down Wes Anderson sketch, Coppola (like Losey with Vitti) fails to utilize his main attraction effectively, and thwarts us with this tonally awkward exercise.
In a timelessly styled alternate universe version of Los Angeles, a successful graphic designer, Charles Swan III (Charlie Sheen), slips into a stagnant despair when his latest lady love, Ivana (Katheryn Winnick), decides to leave him. Unsure of what to do, Charlie tentatively attempts to win back her affections, convinced of his still viable love for her. He depends on support from his novelist sister, Izzy (Patricia Arquette), his also romantically troubled business manager, Saul (Bill Murray), and his best friend, the comic Kirby (Jason Schwartzman), whose next album Charlie is supposed to be designing the cover art for. Charlie Swan fantasizes at random, and since this is a glimpse inside his mind, intermittent musical numbers, flashbacks, and wish fulfillments transpire at random.
All aesthetic and no substance, Coppola, who wants to make homage to graphic design and album cover art designers, (of which there were several prominent examples of in the 1970s), fails to elevate his busy scenery with any actual characters or emotional investment. Everyone, including the more than game supporting trio of Murray, Schwartzman, and Arquette, are all broad strokes, eliciting a laugh or a chuckle but never quite managing to materialize as anything other than stock characters simply used to orbit around and bounce off the one-note gimmick that is Charlie Sheen's Swan.
Featuring several oddball sequences, supposedly positioning this as a free form oddity where 'anything goes' type of film, including ironic Sheen/Swan fantasies and an unconvincing dance number set in a dream, Coppola jolts us from one jarring idea to the next, resulting in a one note cabaret venue that seems to proffer something for everyone. As we all know, a routine that smacks of 'something for everyone' (which the adage of 'everything but the kitchen sink' encompasses) often means that you may have to look long and hard for moments of quality, and A Glimpse Inside the Mind of Charles Swan III is no exception. As for Mr. Sheen, well, he cleans up nicely here and seems to have taken the job seriously. In fact, with the exception of Murray, everyone seems to have taken the project too seriously, as the film, which should have played like a buoyant ditty, warbles along like an experimental agenda trying to find its catchy chorus.