Interviews
2015 Sundance Trading Card Series: #27. Peter Gilbert (Unexpected/Digging for Fire)
Eric Lavallee: Name me three of your favorite "2014 discoveries"…
Peter Gilbert: Musician: Ben and Leo Sidran. Movie: Ida. Book: Short Nights of The Shadow Catcher: The Epic Life and Immortal Photographs of Edward Curtis. TV: The Knick
Lavallee: Intimately and professionally they share a common bound, but seeing that you come to Unexpected from a unique vantage point (in the producer capacity), I was wondering, a. what initially drew you to the material and b. creatively-speaking, how does Kris filmmaking process differ from Joe's.
Gilbert: When I was at Sundance with year with Happy Christmas I was able to sneak away and have dinner with Kris. Who I adore. I loved her other film. I also love the relationship that Joe and she have. At dinner that night she told me about Unexpected. I was thrilled and my partner Chris Webber and I immediately jumped on board. Chris being from inner city Detroit and my background in documentary related to the story of Unexpected immediately. It was so wonderful that she was able to shoot the film in Englewood in inner city Chicago. It is one of the roughest neighborhoods in town. That she was able use local kids from the local high school meant a lot to Chris and I. I believe that the potential of the film is great to entertain and to deal with social issues.
I think that Kris and Joe have so many similar qualities as filmmakers. It is more how they are alike than different. They tell very human stories. You connect with the characters that inhabit their films. I also think they have very strong voices and need to be heard. Kris's film was more traditionally scripted than Joe's normally are.I guess that might be the biggest difference. I love that they work it out that so they can both be making independent films and still have a beautiful connected family life. That is so tough and they pull it off. I love that they work small and care about local filmmaking and encourage young talent. They are inclusive, warm and endearing to all of the investors that help us. It is a joy working with them. I do know that Joe likes color correcting more.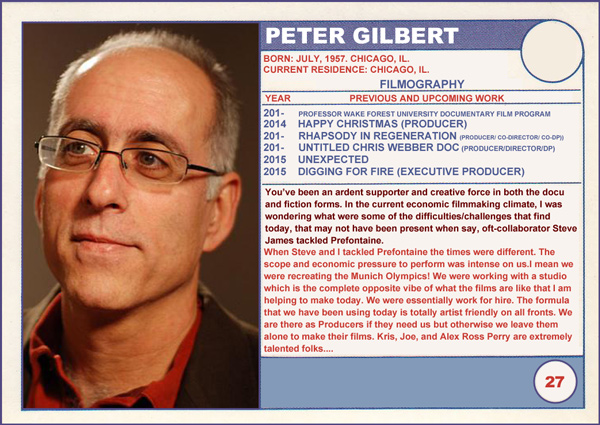 Lavallee: You've been an ardent supporter and creative force in both the docu and fiction forms. In the current economic filmmaking climate, I was wondering what were some of the difficulties/challenges that find today, that may not have been present when say, oft-collaborator Steve James tackled Prefontaine.
Gilbert: When Steve and I tackled Prefontaine the times were different. The scope and economic pressure to perform was intense on us.I mean we were recreating the Munich Olympics! We were working with a studio which is the complete opposite vibe of what the films are like that I am helping to make today. We were essentially work for hire. The formula that we have been using today is totally artist friendly on all fronts. We are there as Producers if they need us but otherwise we leave them alone to make their films. Kris, Joe, and Alex Ross Perry are extremely talented folks. They don't need anyone to tell them or instruct them to make films. They just need the creative freedom to create. I'm proud on of Prefontaine. Working with Steve on that film was an amazing experience. That said I can't wait to work with Steve using the model that we are using now.