Interviews
2017 Sundance Trading Card Series: #4. Ryland Aldrich (L.A. Times)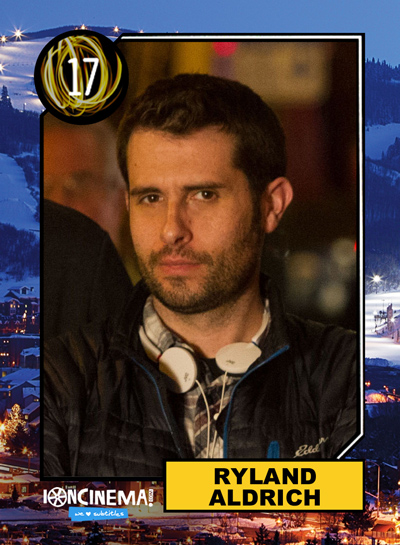 Eric Lavallee: Name me three of your favorite "2016 discoveries".
Ryland Aldrich: #1. They Call Me Jeeg. Gabrielle Mainetti's Italian-language superhero crime actioner hit me completely by surprise at last year's Fantastic Fest. Considering it won a whopping 7 awards at the Italian Oscars, you'd think this would be on more people's radar. Please check it out when Uncork'd puts it out this year.
#2. Author: The JT LeRoy Story
This was one of those Sundance docs that I walked into completely blind – only hearing that some Sundance programmers said not to miss it. I walked out flabbergasted at the incredible story. Whether you think you know everything about JT LeRoy or have never heard of him, this is indeed one not to be missed. It's available on VOD now.
#3. My Golden Days
I didn't know a ton about Frenchman Arnaud Desplechin other than that I didn't love his English-language Jimmy P. and that it was considered a snub that this film was relegated to the Quinzaine sidebar at Cannes in 2015. I skipped it that year but caught up with it when it showed up on a few early best of 2016 lists. Damn am I glad I did. This is a beautiful tale of young love and one that is certainly worth a watch on Netflix.
Lavallee: How did L.A. Times become a project you wanted to produce, and were you introduced to Michelle via her Sundance selected 2013 short?
Aldrich: I had seen (and loved) K.I.T. since my pal Jeff Grace (who directed my last film, Folk Hero & Funny Guy) was in it. He introduced me to Michelle and about a month later I got a call from her asking if I wanted to come on board since her other producer had just gotten a job at Facebook. I read the script, loved it, but wasn't 100% sure that I got it. Then I met her again and I totally got it.
Lavallee: Seeing that you're a well-versed cinephile within the film journalism clique, I was wondering how Michelle's approach differs from the storyline that we might have seen before?
Aldrich: The thing that I will say is most interesting about Michelle's approach is that she is a very assured director. She totally knows what she wants and has a very clear vision. It makes it easy for everyone around her to execute. That said, she's also very collaborative. This set was really a joy to be on and I think that passion and exciting energy shows on screen.