New Wave Crash Course: Varda's Final Call to Action
~ In Memoriam ~
Agnès Varda, 1928-2019
In 2017, I had the privilege of spending time with the legendary 88-year old Belgian-born filmmaker Agnès Varda. She was in New York for the premiere of her latest opus, Visages Villages; I was covering NYFF (the 55th New York Film Festival) as a journalist. After our interview, I brashly asked if she'd allow a selfie. Varda agreed—but after observing my initial attempts, all hopelessly blown out by an overhead light fixture, she proclaimed "C'est nul!" ("That sucks!") and led me firmly across the room. Suddenly, I was getting tutored in the Art of the Selfie by a New Wave Pioneer. This was pure Varda-in-action. Never complacent, always curious, Varda's way was to question the way we observe ourselves, whether for widescreen cinema or smartphone junk-food. Given the fluorescent lighting, we never did get an ideal selfie … but the wisdom she shared is with me still.
A pioneer of the French New Wave—aka La Nouvelle Vague, arguably one of the most influential cinematic revolutions in history—Agnès Varda became a director when female filmmakers were virtually non-existent. A contemporary of Jean-Luc Godard, François Truffaut and other New Wave barrier-breakers, she has sometimes been seen as their follower; in reality, she was the first to break with conventional cinema. From the early 1950s on, her work was both creatively fearless and consistently innovative. Drawn to photography, inspired by neorealism, she embraced a documentary aesthetic. She cast non-actors; she told non-traditional stories; she shot on location with strikingly imaginative visuals. She cared intensely about everyday people. She fused courage and wisdom, curiosity and compassion, a fascination with death and a passion for life. Winner of multiple awards throughout her life, she was a force to be reckoned with: a mischievous mix of intellect, wit and no-nonsense opinions.
Varda knew how to keep it fresh. In La Pointe Courte (1955), she filmed an unhappy couple interacting with the residents of a small fishing village: the two leads were actors, the residents were not. In Cléo de 5 à 7 (1961), she combined fact and fiction within a limited time frame: while waiting for the results of a biopsy, Cléo acted while the real world passed by. In Vagabond (1985), she mixed the narrative of a dead woman with on-camera interviews of those who had known her. In Jacquot de Nantes (1991)—a portrait of Varda's late husband, filmmaker Jacques Demy (Umbrellas of Cherbourg, 1964)—she intercut archival footage with recreations plus vérité footage of his final days. She also experimented across multiple media platforms; her artistic installations, including greenhouses made of 35mm film reels, have been celebrated around the world. Her rebellious instincts, moreover, didn't apply solely to art. In 1971, she was one of the original Manifesto of 343: a group of French women who publicly admitted to having had an illegal abortion, thereby risking prosecution and jail. Fearless, indeed.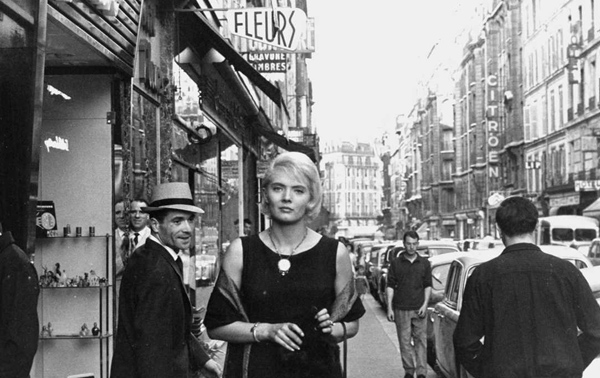 At age 87, in collaboration with a 33-year old French visual artist known as 'JR,' Varda completed her penultimate film, Visages Villages. A documentary focused on "simple people, the opposite of the 1%," the film won the prestigious L'OEil d'Or at Cannes in 2017. It also received an Academy Award nomination for Best Documentary Feature—and though that year's Best Doc went to Icarus, Varda received her own Honorary Oscar for Lifetime Achievement. She later admitted to The Guardian, "It was interesting to know that I exist as a film-maker in Hollywood, even though I never made a blockbuster."
In October, 2017, Varda appeared at NYFF to celebrate the film's New York premiere. She walked onstage slowly but surely, red-and-white striated hair bobbing with each step, with her co-director by her side. The two made a charming odd couple: JR towered next to the petite Varda, and made fun of her height. Varda teased back, scolding JR for wearing sunglasses, even inside.
For such strikingly different people, these two artists were surprisingly in synch. Their film examined blue-collar France, exploring stories of chemical workers, postmen, long-gone friends and more. The portraits they shared are lyrical – but even though they called their film a documentary, it's also a road movie. A buddy comedy, just like their dialogue on stage before the screening.
I asked the pair what advice they can offer to young artists and cinéphiles.
JR spoke first: "I consider myself a young artist, so I'm eager to hear Agnès answer."
Varda was ready. "I never give advice!" She shook her head, smiling. "What I will say is, believe in whatever you like. Believe in the filmmakers and films you love, books you've read, paintings you've seen. They should feed you. They should give you the desire to express yourself. You will find what you need to say deep down in your imagination. Now that everybody has little cameras, even on their telephones, it's no longer a question of tools. It's about finding the desire—the emergency—that pushes you to do it."
Varda continued, her resonant voice belying her diminutive frame. "I don't even believe in school. I never went to any film school. I simply tried to listen to my own background of knowledge." She looked out at the audience, scanning the faces. "Don't do it just to say 'I want to be a filmmaker.' Anybody can be a filmmaker. What you need is imagination. A project has to be yours, and you have to be the only person right for the job."
JR, who had been watching attentively with a slight smile, uncrossed his legs and chimed in: "But Agnès: You tell us to believe in filmmakers we like– And yet you've told me that before you did your first film, you'd only seen five films in your whole life."
Varda nodded, clearly enjoying the gasps and laughs from the crowd. "That's true," she admitted. Then she shrugged. "I meet so many young people, students, interns. They're only 22, 23, and they've already seen hundreds of films. They know everything. They can speak about Cassavetes, Hitchcock, Godard… I admire that, but I must say I knew nothing." She laughed incredulously. "If I'd known five film masterpieces I might not have dared to start my career! I started because I was stupid and innocent. I just threw myself into cinema."
She paused, looking back. "Only then, only after I made my first film, La Pointe Courte, did I begin to consider other films," she recalled. And that was because of Alain Resnais." Another New Wave legend, Renais was Varda's editor at the time; he finally insisted that she start watching movies. "He sent me to see Dreyer's Vampyr (1932). That was the first thing I saw in at the Cinémathèque. Then he made me a list. That was over 60 years ago. Now I love to see films."
So where did Varda find inspiration? "I came from loving painting—both ancient and contemporary—and trying to understand its meaning," she explained. "I learned a lot from reading. I learned editing from [the American writer John] Dos Passos. I learned the structure of writing from [Charles L.] Fontenay. I learned poetry from [Jacques] Prévert. I read Hemingway, Faulkner, Joyce; they revolutionized the written word. I appreciated their work, and I made it my nourishment."
She then chose film as her medium. Her thinking was simple: if a man could do it, so could she.
"But it's not just about learning from other artists," she warned. "Everyday life is also inspiration. You can sit in a café, and just look at people. Stay put, and look at what's happening. Absorb the natural mise-en-scène of what's happening in front of you. Don't move from your frame; see what comes in and out."
She recalled how she once spent a week teaching this concept to university film students. "I brought them to a really big restaurant-café downtown, with 16 mm cameras. I said 'Place your camera, make your frame. We have no film stock, so you don't have to film. Just look through the lens. Stay there one hour, watch what enters the frame, what comes out.'" She gave a satisfied nod. "And that's when you decide: would you like to film that moment, or maybe change the lens? But don't move. Just watch and learn."
She grinned. "And they were shocked! I said 'You don't need to film, you need to look at it like a cameraman, or a filmmaker.'" Again, she nodded. "We can discover so much just from the mise-en-scène created by life itself. We have to learn to observe, to be attentive to the movement happening. We can do this in any city, by the harbor, by the ocean. Just watching the little movement of life, of shadows coming and going."
Her face softened. This is why she became a filmmaker.
"It makes my day sometimes, just to see a landscape, and a shadow passes. I think it's a gift. As miserable as the world can be, that's what makes life worth living: observing, listening, learning."