An Outpost of Progress: Denis Gets Daring with Esoteric Sci-Fi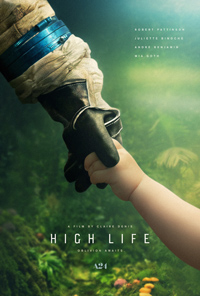 Of Claire Denis' impressive English language debut High Life, perhaps a famous line from Alien (1979) uttered by Ian Holm best captures the essence – "Its structural perfection is matched only by its hostility." And by hostility, in Denis' resistance to completely convey the parameters and implications of her scenario, which involves a group of prisoners sent into space for strange reproductive purposes, although they aren't entirely successful or perhaps even imperative.
For many, this will mark a perplexing introduction to Denis, one of France's most astute and accomplished modern auteurs, working steadily since her superb 1988 debut Chocolat. Something of an unpredictable enigma, at least according to genre hopping and narrative selections, Denis' first foray into English is headlined by Robert Pattinson, and this will no doubt confound and dismay certain portions of the audience his name may drive ignorantly into it (not unlike the celebrity mechanism within 2013's the brilliant Under the Skin from Jonathan Glazer, which starred Scarlett Johansson). A film demanding more than one viewing, for it takes time to orient one's self within this strange new world from Claire Denis, it may be doomed by a mixed or divisive reception—but this is eventually a film which will conjure cult followings and recuperative efforts.
A crew of prisoners hurtles towards the closest black hole to Earth, plucked from their respective life sentences to be useful in examining how to elude the gravity of the dangerous astronomical object. Initially, only Monte (Pattinson), along with his infant daughter, seem to be the only crew members currently awake. And then, Monte collects the dead bodies of the other crew members and dumps them into space. Slowly, we begin to learn what transpired upon the ship, and receive clues about the other Class 2 experiment being thrust upon the prisoners, a breeding program administered by Dr. Dibs (Juliette Binoche).
Denis' High Life, co-written by Jean-Pol Fargeau and Geoff Cox (early drafts of the English language script were penned by Nick Laird and his wife Zadie Smith, but neither are credited) is in the more extreme direction of cerebral sci-fi where one also finds names like Tarkovsky lurking in the existential depths. Its narrative, abusing/using human cargo for devious human experiments in isolation, even conjures echoes of Kubrick twins A Clockwork Orange and The Shining (the latter in part due to the quiet but creeping soundtrack, once more supplied by Denis favorite Tindersticks), and maybe toss in a bit of Alien 3 (1992) with its prisoner collective and amped up toxic masculinity. Oh, and there's the best 'fuck box' in cinema since Woody Allen's comical 1973 Sleeper dared to parody such a novel idea.
And for just a minute on this copulating box, which is designed for the inhabitants to let off some steam, so to speak, is memorably demonstrated in an eerie, ritualistic episodes courtesy of a raven-haired Juliette Binoche–panting afterwards, she sighs beautifully, "I know I look like a witch." During its sessions, the box oozes its own assumedly genital fluids. Binoche is something of an ineffectual yet stridently cold authority figure, manipulating the crew for maximum pregnancy results, it would seem.
Fluids, whether water, semen, or blood, are the life-giving properties. A complex interaction of various fluids seems to be required to run the ship, which feeds the garden, and their stagnant cycle of life. A report must be entered into the mainframe at the end of each day to keep the systems running on a 24-hour cycle. But the babies, if they're born at all (which seems to also kill the host mother), die quickly due to toxic exposures to radiation. It's a Sisyphean venture, to be sure. And the mission is realized amidst a violent chaos which cancels out the ability for the mission to completely unfurl. Or does it, really?
Pattinson, who continues to align himself with daring and exciting auteurs from around the globe, is more inscrutable than usual as Monte, affectionally called 'The Monk' for his initial commitment to abstinence and unwillingness to share his seed (and much like a Greek tragedy, it's he who is fated to propagate). But as we settle into his personality and how he displays his brand of repressed desire and stilted interest, the final act of the film begins to get uncomfortable when he is finally all alone with his teenage daughter in space before they're introduced to something which maybe can only be described as the 'next frontier.'
Dead bodies, time lapses, repeated imagery, and a suspicious narrator suggest the exotic brilliance of a Solaris (1971). Brittle exchanges of dialogue yield little hints which later seem to take on major import (such as what Binoche did to her kids back on Earth). What happens to each crew member, which includes an exciting supporting cast such as Mia Goth, Andre Benjamin, Lars Eidinger, and Agata Buzek, all beg to be reexamined, even as they expire, in familiar fashion, like figures in an And Then There Were None formula. Hopping back and forth between events on the ship further discombobulates, especially since Denis insists on a methodical, solemn procession. What will these children be used for? What will they be capable of should their infant bodies be able to survive radiation? Denis isn't interested in answering any questions, or even posing them, really. Which makes High Life even more compelling, mysterious, uncompromising, strangely fetishistic, and enjoyable.
Reviewed on September 10th at the 2018 Toronto International Film Festival – Gala Presentations Programme. 110 Mins.
★★★★/☆☆☆☆☆