Three's Company in the Sordid Universe of Jose Ramon Larraz | Blu-ray Review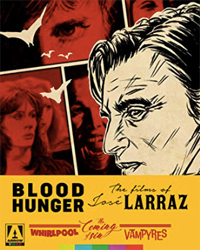 A formidable recuperation for art-house genre enthusiasts, Arrow Video recuperates a triptych of films from the peak period of director Jose Larraz, a master of injecting tawdry perversions into narratives which often dealt with shifting power plays and sex games amongst three people thrown together in various rural sanctuaries. What's more surprising is how long it's taken his films to resurface, considering he's somewhere on a spectrum which would include such lofty cult favorites as Walerian Borowczyk or Fernando Arrabal. In 2016, Mondo Macabro unleashed his most laureled item, 1974's Symptoms, which competed at the Cannes Film Festival, and starred Angela Pleasance (daughter of Donald) as a woman losing (you guessed it) her sanity while other titillating indiscretions pull at the fray. However, this newly refurbished trio points to a director fascinated with more blatantly transgressive motifs, each title reformatting the interruption of a lesbian relationship by a heterosexual male, often ending in murder for one of the unlucky players. Stylish, strange and sometimes unpredictably zany despite Larraz's recycled predilections, it's a collection which highlights an increasingly progressive ascension into bizarrely uncategorizable territory.
Whirlpool (1970)
Of the three features in this collection, Whirlpool may seem, at times, a bit amateurish. However, it also pushes considerable boundaries for both the genre and period. Like Arrabal, censorship issues forced him to leave Spain in the 1950s, and after a pit-stop in France, he would eventually move to the UK. Although the emasculated porn photographer at the center of the film recalls Peeping Tom (1960), Larraz's debut plays like perverted Euro version of Curtis Harrington's Games (1967). Karl Lanchbury (who would also appear in Larraz's Deviation and Vampyres), though the dramatic catalyst which brings the film to its grisly denouement, is hardly the item of interest in a plot which is a familiar play on a younger troubled man and an older, haggardly woman hellbent on luring young women into their isolated web (see the recently restored 1945 title My Name is Julia Ross or its 1987 remake Dead of Winter). Former Penthouse model Vivian Neves, of course, adds a certain lurid interest, but it's Pia Andersson, in her only credited role, as the predatory lesbian Aunt Sara who leave an impression.
Young photographer Theo (Lanchbury) and his domineering Aunt Sara (Andersson) invite comely model Tulia (Neves) to their cabin in the countryside where she will presumably model and such. However, their recent model/guest Rhonda has gone missing, and it seems the last people to see her were Theo and Sara. As the weekend progresses, things get weird, including an uncomfortable game of strip poker between the three of them which, of course, leads to an eventual ménage a trois. Eventually, Tulia finds out too much…
Disc Review:
This release is the original US theatrical cut of the film, restored in 2K from the original camera negative. Presented in 1.66:1, picture and sound quality are serviceable, while certain sequences retain some less inevitable and less than desirable elements of the production design.
Obsessive Recurrence – The Early Films of Jose Larraz:
Author and critic Kim Newman reflects on recurring themes and underlying obsession linking the early films of Jose Larraz in this twenty-four-minute feature.
A Curious Casting:
Actor Larry Dean is on hand in this nine-minute segment to discuss the strange story behind his casting in Whirlpool.
Deviations of Whirlpool:
This twenty-seven-minute featurette compares the differences between the US theatrical release of the film and a previously circulated alternate cut of the film.
Vivian Neves on BBC's Parkinson:
This broadcast from 1972 features model and actress Vivien Never alongside English astronomer Patrick Moore as they're interviewed by Michael Parkinson for his BBC programme.
Archival Interview with Jose Larraz:
This three-minute extract is taken from a 1990 conversation with Jose Larraz in his UK home in an interview conducted by Cathal Tohill and Andy Starke.
Vampyres (1974)
Made directly after Symptoms and released the same year, Vampyres is perhaps unfortunately confused with a film of similar title and scope—Jesus Franco, 1971's Vampyros Lesbos—although it may as well be the title for Larraz's film. The film was the feature debut of Anulka, but it's her co-star Marianne Morris proves to be the favored protagonist, and who makes quite a compelling screen presence, almost a proto-Mary Woronov. Although its moments of violence are few and far between, Larraz has created a much more aggressive and outlandishly gruesome vampire film than most of his contemporaries from the period.
The lesbian vampire archetype is a popular subgenre of a subgenre, and there's a bounty of sapphic vamps to choose from, on the high end being 1971's Daughters of the Dark and 1983's The Hunger. Larraz's film plays like an inverse of the latter, with two vampire lovers (who we see murdered at gunpoint in the opening sequence) whose relationship is tested when one decides one of their prey (i.e., men who give them rides as they pose as hitchhikers) is an exceptional lover. Although Fran and Miriam are described as bi-sexual, it is their commitment to one another which is tested by the presence of Murray Brown's Ted.
Disc Review:
Also a fully uncut version, Vampyres is newly restored in 2K from the original camera negative. Presented in 1.85:1, this disc features the best picture and sound quality of the three offerings in this collection. Amongst its special features is an audio commentary track with Kat Ellinger.
Cast and Crew Interviews:
Producer Brian Smedley-Aston recalls his involvement with Larraz in this eighteen-minute interview; actress Mariann Morris is also on hand for a fourteen-minute segment and Anulka for a thirteen-minute segment. Actor Brian Deacon is featured in an eighteen-minute interview and his camping co-star Sally Faulkner for twelve-minutes. Make-up artists Colin Arthur shares seventeen-minutes worth of memories and lastly, composer James Kenelm Clarke recalls his creation of the score in a three-minute bit.
Reimagining Vampyres:
Victor Matellano, a friend and collaborator of Larraz's, remade Vampyres in 2015 and is on hand for this twenty-one-minute interview.
Archival Interview with Jose Larraz:
Another extract (fourteen-minutes) is taken from a 1990 conversation with Jose Larraz in his UK home in an interview conducted by Cathal Tohill and Andy Starke.
1997 Eurofest Q+A:
Nine-minutes of footage from the film's Q+A at the 1997 Eurofest includes Larraz and Marianne Morris.
The Coming of Sin (1978)
First, be sure to check out the original poster art for the original title of this film, Violation of the Bitch. And then dive into the weirdness that is The Coming of Sin (1978). Once again, a familiar formula unfurls when young, illiterate gypsy girl Triana (Lidia Zuazo) gets dropped off at the remote country house of reclusive and wealthy artist Lorna (Patricia Granada). In record speed, the two women become lovers, though Triana is always at a disadvantage to the worldly Lorna. However, Triana has aggressive nightmares about a naked man on horseback (Rafael Machado), and the local psychic has informed her if she were ever to meet the man in person it would end violently. Of course, said naked man promptly arrives on cue to stalk Triana and then Lorna at the latter's estate.
Lorna eventually decides she might prefer the sexual company of the young man, tiring of the greater emotional investment required by her relationship with Triana, arguing love and sex are two mutually exclusive things. However, Triana seems to think otherwise.
It's with The Coming of Sin where Larraz really earns a comparison to Borowczyk, particularly with its subversive alignment of class and bestiality (even if this seems to be more of a bizarre metaphor based on the film's closing moments). Naked men riding horses as a suggestive conduit for repressed sexuality recalls John Huston's 1967 Reflections in a Golden Eye (an adaptation of the Carson McCullers' novel) as well as Sidney Lumet's 1977 Equus (an adaptation of the Peter Shaffer play). As Triana, Lidia Zuazo is comparable to the feral beauty of a Le Besco or an Arquette sister, and as with Vampyres, the sexual sequences seem to actually convey a sense of passion usually lacking from such over-the-top sexploitation films. Significantly, the title was Larraz's first return to Spain after the fall of Franco's dictatorship, and in comparison to his British productions has a more pronounced ethereal quality.
Disc Review:
This is the first fully uncut version of the title, available in both Spanish and English, restored in 2K from the original camera negative. Presented in 1.85:1, picture and sound quality are serviceable, although it appears the fuzziness of certain shots appear incredibly hazy, which might have once been purposeful due to the film's more ethereal elements.
Variations of Vice – The Alternate Version of The Coming of Sin:
Exploitation expert Marc Morris relays the strange and scandalous release history of The Coming of Sin, Larraz's most censored film, in this six-minute bit.
Memories of Larraz:
Author and filmmaker Simon Birrell shares his memories of long-time friend and collaborator Jose Larraz in this thirty-five-minute interview.
Short Film – His Last Request:
Simon Birrell directed this twenty-eight-minute 2005 short film under the guidance of Larraz, which stars Spanish horror legend Jack Taylor.
Archival Interview with Jose Larraz:
Another extract (four-minutes) is taken from a 1990 conversation with Jose Larraz in his UK home in an interview conducted by Cathal Tohill and Andy Starke.
Final Thoughts:
A significant representation of the forgotten filmography of Jose Ramon Larraz, the Blood Hunger collection does not disappoint.
Whirlpool (1970)
Film Rating: ★★★/☆☆☆☆☆
Disc Rating: ★★★★/☆☆☆☆☆
Vampyres (1974)
Film Rating: ★★★½/☆☆☆☆☆
Disc Rating: ★★★★/☆☆☆☆☆
The Coming of Sin (1978)
Film Rating: ★★★½/☆☆☆☆☆
Disc Rating: ★★★★/☆☆☆☆☆