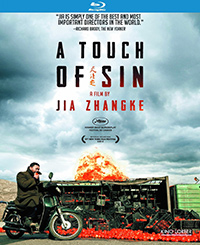 Upon premiering at the 2013 Cannes Film Festival, where it was eventually awarded Best Screenplay, auteur Jia Zhang-ke's latest masterpiece, A Touch of Sin was a shockingly violent surprise. In essence a crime film, it's the first time the spirit of genre has graced the class conscious filmmaker's oeuvre, and to arresting effect. A quartet of tales ripped from actual news headlines structures the film, each depicting a starkly effective build up resulting in drastic measures of violence, seen as a disturbing byproduct of continual unrest and abuse of the working class in modern China. But even more than that, Zhang-ke strikes a more universal note about human life and something like it—the impetus of despair may put some Western audiences in mind of something like 1993's Falling Down, among a variety of other titles.
Opening with a bang as a motorcyclist (Wang Baoqiang) travels down a lonely, desolate road and is first stopped then accosted by two seemingly seasoned highway robbers, but tables are turned when the traveler pulls out a gun and executes them in quick succession. We follow him a little further as he passes a truck of overturned tomatoes, littering the road, an image that briefly recalls a visual sequence from Suzuki's Heat Haze Theater featuring a miasma of Chinese lantern flowers. We shift to an individual standing by the truck, Dahai (Jiang Wu), an impoverished drifter on his way to the Shanxi region, struck by poverty due to rampant corruption amongst leading officials. Dahai takes it upon himself to cause a ruckus by demanding answers from said leaders, which lands him in hot water. In turn, he lashes out in a deliberate killing spree. Then, we loop back to the motorcyclist who opened the film, named Zhou San, on his way home for his mother's birthday. There, the dull and mostly hopeless existence of his relatives seems to spur the excitement and power he feels when he fires his weapon, both as a form of entertainment (which we learn when he brandishes the weapon during a show of fireworks) and a murderous toy, an urge which seems to anticipate a breaking point.
Then, onto the tale of Hubei (Zhao Tao, wife of director Zhang-ke), longtime mistress to a married man, now finally ready to hand him an ultimatum. As they separate at what could be a final meeting, he is forced to give up his fruit knife before boarding his train, an instrument that we all know will shortly make a memorable appearance. And, so it does, in one of the most striking and perversely fulfilling moments when Hubei strikes back at a pair of abusive spa customers that slap her in the same fashion we see a horse get whipped earlier on in the film. Lastly, we witness the slipping down life of Hui Xiao (Luo Lanshan), forced to leave a job in a factory due to being punished for causing a co-worker's accident. Absconding to a friend's, he takes another job as a waiter in a pleasure house, unwittingly developing feelings for a young woman that works there (Li Vivien), which becomes too much for him to handle after witnessing her work up close (which feature Zhang-ke in a brief role). Fleeing that occupation, a figure from his past catches up with him, leading him to take drastic actions.
Disc Review
Kino Lorber's Blu-ray release looks decidedly clear and pristine, a commendable transfer of the title, with an equally impressive 5.1 Master Audio surround sound, most apparent in several instances of violence and gunfire. The changing visual landscapes stand out quite well here, as we're transported from the rural decay of the first two chapters to the gaudy and spiritless urban centers of the last half. As far as extra features, beyond theatrical trailers for other Kino titles, there are none.
Final Thoughts
Corrosion of the soul seems to be the inherent motif of A Touch of Sin, a play on the title A Touch of Zen (which happened to be the first Chinese film to score an award at Cannes back in 1975), and despite its air of desperation, manages to evoke provocative revenge fantasies, orchestrated in chilling and deliberate fashion. The opening credits play over a background of green, leafy fronds, recalling a jungle or veritable Eden—lush foliage makes an appearance in several chapters, most notable in Hubei's tale, her abuse taking place in a room similarly decorated. Keeping the title in mind, it seems an ode to Genesis, the fruit of knowledge and dissipation of ignorance leads, inevitably, to violence. "Did you know animals commit suicide?" Hubei asks a co-worker, supposedly with nonchalance. Even in nature, mammals have the ability to realize the hopeless endeavor of existence. As each of these characters reaches a point of no return, Zhang-ke shows a marked change in how they move, generally from the side of the road to the middle, positioning themselves as objects in the way, without the restraint of expectation or the burden of having to choose. A definite release, it's the only (brief) freedom, we realize, they'll possibly ever know. Surprisingly sensational considering this is coming from Jia Zhang-ke; A Touch of Sin is one of his best achievements, a memorably effective critique of humanity and the damage inflicted by systems of economy.
Film Review: ★★★★½/☆☆☆☆☆
Disc Review: ★★★½/☆☆☆☆☆