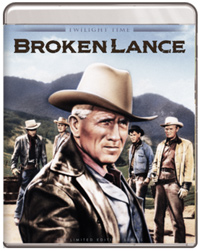 Director Edward Dmytryk, one of the infamous Hollywood Ten blacklisted by McCarthy and his goons in 1947 Hollywood, debuted the most famous title in his filmography seven years later with war drama The Caine Mutiny. That very same year, in fact, only about a month later, he would premiere another title, a robust 1880s set Western starring Spencer Tracy, a title which would also win Oscar glory. Overshadowed by the popularity of Caine, however, the film seems to have disappeared from contemporary discussions of Dmytryk's work (never able to divorce himself from his eventual testimony in front of HUAC), a shame considering it's a gripping, framed familial saga of intergenerational misunderstandings, racial hang-ups, and eventually even a court-room drama.
Young Joe Devereaux (Robert Wagner) is released from serving a three year prison sentence and immediately returns to his abandoned familial homestead to wreak vengeance on those who wronged him. We learn via extended flashback of Joe's struggles, the youngest son of the fierce, emotionally distant rancher Matt Devereaux (Spencer Tracy), a man who clawed his own fortune out of the dry plains of Arizona on the sweaty backs of his three elder sons (Richard Widmark, Earl Holliman, High O'Brian) from a previous marriage. The elder sons are particularly resentful of Joe, especially firstborn and incredibly bitter Ben (Widmark). Matt's second marriage to a Mexican woman (Tracy Jurado), doesn't help his reputation with other locals, while other pillars of the community are equally alarmed at the mixed race Joe, especially the father of his love interest, Barbara (Jean Peters). When Matt storms a nearby copper smelt for polluting the water his cattle drink, the result is an aggressive altercation taking the lives of several men. Joe takes the blame and is sentenced to three years in prison, which brings Matt and his other wayward sons to a showdown.
Broken Lance is an intriguing mixture of Western tropes—it's difficult not to compare its themes to other, more famous titles within the genre. Of note is an early sequence where DoP Joseph MacDonald utilized a doorway framed shot comparable to the famous, influential sequence from John Ford's The Searchers, which would come along two years later. The homestead property squabbling with a hard-headed patriarch and his unwelcome new wife also recalls Anthony Mann's psychologically inclined The Furies (1950). Though one hardly believe a likeness between the actors portraying the four brothers, Widmark is (not surprisingly) quite adept as the miserable Ben.
Actress Katy Jurado would receive an Oscar nomination for her quiet performance as Tracy's second wife, and the racial inequalities threaded throughout the narrative's dramatic tension around property ownership makes Dmytryk's film feel ahead of its time. The Academy's nomination of Jurado recalls the praise bestowed upon Thomas Gomez in Robert Montgomery's Ride the Pink Horse only seven years earlier, also a kindly, well-intentioned racial other juxtaposed against the cruelty of a white man's dilemma.
The issue of Joe's race affecting his relationship with pure bred Jean Peters recalls another film in Tracy's extensive filmography, Guess Who's Coming to Dinner? (1967), although Dmytryk's handling is much less doe-eyed. It's one of Tracy's many gruff, yet tender hearted turns, and fans of the actor in the courtroom setting should appreciate this, even if it's never as memorable as iconic items such as Inherit the Wind (1960) or Judgment at Nuremberg (1961). The multiple troubled relationships converge into a vengeful resolution between brothers, as indicated by the prophetic symbol of the broken lance at the patriarch's early funeral. McDonald's significant camerawork aids Dmytryk's film, and Philip Yordan would take home an Oscar for Best Screenplay.
Disc Review:
Twilight Time beautifully remasters this forgotten Dmytryk title in high-definition 2.55:1 aspect ratio. The film's CinemaScope frames are indeed quite beautiful, while the audio track is superb on this release. Optional audio commentary from actor Earl Holliman and Film historian Nick Redman is worth a listen, while the isolated score track (a usual extra from the label) is available. Also, a Fox Movietone Newsreel is included as an extra feature.
Final Thoughts:
With a fine cast and beautiful cinematography, Edward Dmytryk's Broken Lance is a welcome addition to Twilight Time's inspired collection, and fans of Dmytryk, Spencer Tracy or Robert Wagner should definitely be pleased.
Film Review: ★★★½/☆☆☆☆☆
Disc Review: ★★★½/☆☆☆☆☆