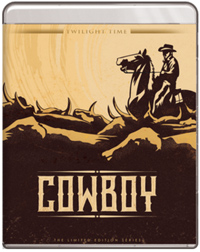 Director Delmer Daves contributed several exemplary Westerns during the 1950s, including Broken Arrow (1950), Jubal (1956) and 3:10 to Yuma (1957), which was remade in 2007 by James Mangold. His 1958 film Cowboy netted Daves his only awards nomination during his career (a DGA nod for Best Direction), while it also received an Oscar nod for Best Editing, and stands as something of a genre anomaly as a no nonsense procedural of one man's initiation into conquering the unruly, obstacle ridden frontier. One would hardly recognize this cinematic treatment as being adapted from a work by novelist Frank Harris, an Irish immigrant whose infamous memoir My Life and Loves was banned in several countries for its sexual explicitness. There's nothing unseemly here in this item based on his My Reminisces as a Cowboy, which is romantically neutered of anything remotely adult in true 50s fashion, adapted by Dalton Trumbo and Edmund H. North.
Chicago hotel clerk Frank Harris (Jack Lemmon) has fallen in love with Maria (Anna Kashfi), the daughter of Mexican cattle baron Senor Vidal (Donald Randolph), currently a guest at the hotel. Senor Vidal condemns Frank's pursuit of his daughter, but as the disappointed clerk licks his wounds, the rabble rousing cattle driver Tom Reece (Glenn Ford) arrives with his noisy gang at the hotel and he overhears the two men planning to do business when both parties will return to Mexico. Frank decides he should act on his fantasy of becoming a cowboy, and so he devises a plan to buy his way onto Reece's team, despite the veteran cattle driver's reservations.
Regarded as a 'fish out of water' Western, Cowboy is a rather simply related narrative about a man discovering his voice (in other words, learning to tap into his masculine aggression) and in true frontier fashion, funnel his own groove into the glorious, inherited freedom promised by the sprawling trails of unclaimed American wilderness. Audiences prizing an old-fashioned, rosy-tinted portrait of a highly romanticized period will most assuredly enjoy the superficial hokum offered by this genre piece, which certainly doesn't obey conventional rules. But there's a startling lack of dramatic tension here, and paired with the lighthearted silliness during its frequent bouts of downtime lessens the impact of the film action sequences, like an Indian attack, a cattle stampede, and an accidental death brought about by a deadly snake bite.
Miscasting, however, is the unshakeable pallor overshadowing Daves' easygoing portrait, particularly Jack Lemmon, believable as a salty Chicago bellhop, but less so as an increasingly embittered man striking out on the trail for a Mexican woman he knows about as well as an inanimate but eye-catching bauble (and Anna Kashfi is basically treated as such, throughout). Lemmon, who'd already won his first of two Oscars by 1958, was just on the verge of breaking out of supporting man status. After a supporting win for 1955's Mister Roberts, Lemmon was often second male lead for the next several years, including with another 1958 title, Richard Quine's Bell Book and Candle. But the success of Billy Wilder's Some Like It Hot the following year would push Lemmon to the forefront as a leading man in studio productions, and while he would be routinely recognized as fine dramatic actor despite his comic reputation (Days of Wine and Roses), his presence in Cowboy makes the film feel a bit too larkish.
It doesn't help the narrative desperately attempts to steer a crusty Glenn Ford into a testosterone fueled pissing contest with his virtuous new protégé to the brink of violence before swiftly morphing into what's meant to seem like a beautiful friendship between equals (as suggested by bookend sequences involving the two men bathing in a hotel and 'shooting their guns,' though without the same daring insinuations of a famous sequence with Montgomery Clift in Howard Hawks' Red River from a decade earlier, another trail drive film used for superior comparison). A strong mixture of supporting cast members either fit neatly into the genre groove (Brian Donlevy, Richard Jaeckel, Strother Martin) or manage to be as distracting as Lemmon (like a young Dick York).
Disc Review:
Twilight Time's presentation is a marked improvement from the 2002 release from Sony, and DP Charles Lawton Jr.'s (who also worked on Daves' 3:10 to Yuma) sweeping frontiers, including a Mexican fiesta, look great in this 1.85:1 transfer. As usual, this is a limited edition (3,000 units) release from the label, and an isolated score track from composer George Duning is available, while audio commentary from film historian Julie Kirgo, Paul Seydor, and Nick Redman is an extra feature.
Final Thoughts:
Considering its two male leads and the usually dependable direction of Delmer Daves, Cowboy remains a curious, if ultimately underwhelming Western. Flawed, but not without its certain moments, fans of Daves' more popular genre titles may be disappointed.
Film Review: ★★½/☆☆☆☆☆
Disc Review: ★★★½/☆☆☆☆☆