Disc Reviews
Criterion Collection: Buena Vista Social Club | Blu-ray Review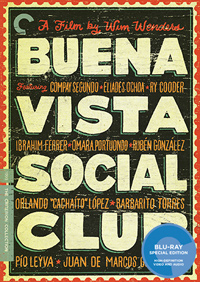 The name Buena Vista Social Club is a recycled moniker, one which has acquired several layers of cultural resonance since it became absorbed into a grand cultural zeitgeist in the late 1990s. Initially, it was the name of a prolific club in pre-revolutionary Cuba of the 1940s and 1950s, where the country's most notable musicians gathered and performed, and a scene which was one of many cultural pastimes obliterated under the heels of Fidel Castro's coup, tossed out with the rest of the felonious social ills like baby in the bathwater.
Thanks to the rising popularity of an exploratory international music genre coined 'world music,' a veritable catch-all for anything foreign to the English speaking U.S., the road was paved for American guitarist Ry Cooder to concoct a 1997 studio album with Cuban musician Juan de Marcos Gonzalez which assembled all the famed but forgotten musicians of this particular period. They adopted the name of the legendary club, which was also the title track of the album used as shorthand to describe theirs as a cinematic movement. Due to the considerable international acclaim greeting the album (and Cooder's collaboration with German director Wim Wenders on the 1997 film The End of Violence), the title then became used again for the 1999 documentary film which examines the musicians featured on the album and charts two separate full line-up performances, premiering out of competition at the 1999 Berlin International Film Festival.
Bringing together a group of legendary Cuban musicians to create an album capturing the tradition and essence of the country's once vibrant music scene, American musician Ry Cooder traveled to Havana to assemble Ibrahim Ferrer, Compay Segundo, Ruben Gonzalez, Eliades Ochoa and others for the compilation, which resulted in a taped album which would revived their careers. Many of them in their late eighties or early nineties, the revival sparked a new generation of musicians, and director Wim Wenders observes two performances from the troupe, the first in Amsterdam, April 1998, and the second records a famed journey to Carnegie Hall in New York City of July, 1998, when most of the musicians made their first trip to the United States.
Although Wenders was already a revered auteur thanks to his position as one of the most internationally recognized names from the German New Wave, Buena Vista Social Club became a notable transition for the director. Although he'd already floated freely between narrative and documentary form projects, Wenders scored his first of three Academy Award nominations on this film, which also became one of his most critically beloved titles (interestingly, his latter Oscar nods would also be for the documentaries Pina and The Salt of the Earth). Armed with digital cameras operated by DP Jorg Widmer (widely recognized as a steadicam operator who would return to work on Pina), Wenders challenged conceptions of what we've come to regard as the standard music documentary format, striking a clear observational tone of these musicians in their element. Rather than examine the historical significance, Buena Vista Social Club is an impression of their skills.
However, for as interesting as his Cuban subjects are, Wenders' documentary becomes victim to an unfortunate level of naval gazing with the unnecessary inclusion of Ry Cooder and Joachim Cooder, who are shown performing with them. Likewise, the digital footage isn't quite as pristine as would be expected, especially if considering the breathtaking visualizations of Pina's bodies moving through space, or the photographic, often meditative renderings of The Salt of the Earth. As a landscape, the untouched, crumbling architecture of Havana lends the documentary a priceless mystique, one quickly beginning to crumble with the recently relaxed restrictions on tourism to the country, resulting in the usual influx of capitalistic contemporization.
What's most significant is the cultural impact of Wenders' doc, which is as arguably influential as his earlier masterworks, such as The Road Trilogy, or 80's masterpieces like Paris, Texas (1984) and The Wings of Desire (1987). Landing between the underwhelming narrative features The End of Violence (1997) and The Million Dollar Hotel (2000), Wenders' music documentary was a welcome change of tone and examination for the auteur in more ways than one, although in a format sometimes meandering and less cohesive than we've come to expect from a later career transition into glorious 3D technology, which has enhanced doc items like Pina and merely provided a glossy filter for stilted narratives (Everything Will Be Fine, 2015; The Beautiful Days of Aranjuez, 2016).
Disc Review:
Criterion presents this latest Wenders addition to their collection with a new high definition digital master transfer (taken from a 35mm negative which was produced from the original D2 NTSC master tape). A new 5.1 surround DTS-HD Master Audio soundtrack outshines some of the film's digital imagery, which doesn't always look as smooth despite the transfer. The release features an audio commentary track recorded in 1999 by Wenders.
Wim Wenders:
Criterion conducted this near half hour interview with Wim Wenders in Berlin, December, 2016, who recalls his relationship with Cooder (who scored Paris, Texas) and the eventual creation of Buena Vista Social Club.
Radio Interviews:
Twelve radio interviews (Eliades Ochoa, Manuel Licea, Orlando Lopez, Manuel Mirabal, Juan de Marco Gonzalez, Omara Portuondo, Ibrahim Ferrer, Barbarito Torres, Pio Levya, Ruben Gonzalez, Manual Galban, and Alberto Valdes) are included.
Las Claves:
Compay Segundo discusses his career in this hour long 1998 interview conducted by Spanish television program Las claves.
Additional Scenes:
Four additional scenes, about twenty minutes of footage, are included here.
Final Thoughts:
An impressionistic glance at Cuba's vibrant cultural heritage, Wim Wenders' Buena Vista Social Club is an often times intriguing portrait of notable musicians and their craft (and will eventually be continued in 2017 with Lucy Walker's documentary follow-up).
Film Review: ★★★/☆☆☆☆☆
Disc Review: ★★★★/☆☆☆☆☆
Nicholas Bell
Los Angeles based Nicholas Bell is IONCINEMA.com's Chief Film Critic and covers film festivals such as Sundance, Berlin, Cannes and TIFF. He is part of the critic groups on Rotten Tomatoes, The Los Angeles Film Critics Association (LAFCA), the Online Film Critics Society (OFCS) and GALECA. His top 3 for 2021: France (Bruno Dumont), Passing (Rebecca Hall) and Nightmare Alley (Guillermo Del Toro). He was a jury member at the 2019 Cleveland International Film Festival.