Disc Reviews
Criterion Collection: Love Streams | Blu-ray Review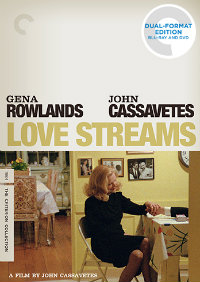 John Cassavetes' magnificent swan song, Love Streams receives the Criterion treatment this month, an addendum to the previously released five-title collection from the auteur. The film was surrounded and conceived amidst its own set of peculiar circumstances, and thus exhibits its own frenetic energy that sets it apart even within Cassavetes' own oeuvre. After filming commenced, the director famously receiving a diagnosis that he would only live another six months due to cirrhosis of the liver. Unquestionably, this imbued his strange, wonderful, and reverential exploration of love's complicated facets with a sharp melancholy. An adaptation of Ted Allan's stage play, the film won the Golden Bear at the 1984 Berlin Film Festival, but wasn't marketed properly and received a drowned out theatrical release. The film concerns the reunion of an estranged brother and sister, a pop writer Robert Harmon (John Cassavetes) and recent divorcee, Sarah Lawson (Gena Rowlands). Both emotionally wounded and overcompensating in their own ways, they come together during a difficult interim.
While it hadn't been part of the original plan for Cassavetes to play Robert Harmon, Jon Voight's declination to assume the role he originated on stage was a last minute snafu. Apparently Voight wanted to direct Cassavetes in the role. The end result casts Love Streams in an even more complicated light, as the director plays Gena Rowland's (his wife and longtime collaborator) brother. It's integral information that instills the material with a bizarre, incestuous tension. The fact that the nature of their relationship isn't actually revealed until nearly an hour into the film only exacerbates these complications. But taboo insinuations aside, it also happens to be one of the most moving examples of desperately unhappy people strong arming their way to love as has been ever committed to film.
Rowlands is superbly manic as the self-professed "cheery" mother, who we first meet in the midst of divorce proceedings. It's a classic Cassavetes moment to hear her explain what she does for a living (attend funerals and other somber proceedings to cheer strangers up because she has no extended family of her own, teenage daughter in tow), an almost laughable neurotic so matter-of-factly presented you might even miss the point where you should be alarmed. But we do feel more and more alarmed, even embarrassed for Rowland's Sarah Lawson, the kind of woman who shuts down and collapses when unable to face the music. Her insistence that love is a continuous stream is immediately trumped by her psychiatrist, who insists that love stops and that hers is a love that's engulfing her family with its intensity. His advice? Take a trip to Europe and have a foreign romance, which sounds like a romantic cure snatched from David Lean's Summertime.
On a swift clip back from Europe, the estranged brother and sister are united, and so we begin an invigorating and poignant reunion of siblings that may not have ever been explored as deftly as Cassavetes does here. Neither heartbreaking nor melodramatic, Love Streams is electric in its embodiment of what real human interactions look like, though often exaggerated by larger than life characters.
As we experience several of Sarah's dreams as the film wears on, including a nightmarish car accident and a full on opera whereby her reunion with ex-husband and daughter is staged, we come to one of the more famous sequences where she basically purchases a petting zoo to bring back to her brother's home. We watch her in awe, simply unable to control herself, for she knows no bounds, not even with her painfully bright assortment of jarring patterns of the clothing she wears.
In its final moments, Love Streams unveils its most surreal flourishes, with Robert laughing in surprise to see a naked man transpire in the place of the dog Jim, and a violent rain storm soaks Los Angeles, in itself a fantasy of sorts. Nodding a straw hat through the rain splashed window as the camera recedes, it's an adieu to us, the last vestige of Cassavetes the performer in his own cinematic realm.
DVD Review
Criterion's packaging of this hibernated title is superb, a fantastic digital restoration that enhances the timeless quality of Al Ruban's cinematography. This is the first Cassavetes film not to use handheld camerawork, and thus, it also appears to be the most visually orchestrated and enhanced. A handful of fascinating extra features are well worth the time, especially a handful of interviews from several cast and crew members.
Interview with Al Ruban
A new interview with executive producer and cinematographer Al Ruban is a fascinating discussion of his long running collaboration with Cassavetes, whose choice to employ Ruban even when he claimed he didn't know what he was doing would change his life.
Interview with Dihanne Abbott
A new interview with Abbott, an actress who had several bit and supporting roles in notable Martin Scorsese titles, speaks with great respect and reverence for Cassavetes.
Interview with Seymour Cassel
A 2008 interview with actor is about eleven minutes in length and isn't as engaging, but worth scanning.
I'm Almost Not Crazy….John Cassavetes: The Man and His Work (1984)
A sixty minute documentary by Michael Ventura on the making of the film includes a ton of behind-the-scenes footage of cast and crew, including Gena Rowlands.
Watching Gena Rowlands
A respectable homage to the actress, this video essay from film critic Sheila O'Malley is probably catnip for diehard fans of Rowlands, but the monotonous voiceover often seems insincere and/or a bit too fawning.
Final Thoughts
While Cassavetes would direct one more feature, stepping into the troubled production of Big Trouble (1986) at the request of friend Peter Falk, it is Love Streams that stands as the magnificent, final opus. "Love is a stream, it's continuous, it doesn't stop," we're told throughout, which is much like how the mechanism of cinema works, a continual and ever changing loop of meaning, intention, and feeling.
Film: ★★★★½/☆☆☆☆☆
Disc: ★★★★½/☆☆☆☆☆