Professor Marston and the Wonder Women | Review
Women Wanted: Robinson Explores the Fascinating Origins of Wonder Woman in Solid Biopic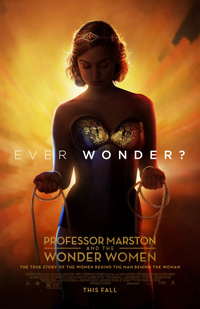 Truth may often be stranger than fiction, but it's not always as compelling as the subjects of Professor Marston and the Wonder Women, a fascinating glance at the triptych of individuals who created the most successful female super hero of all time, Wonder Woman. Arriving months after Patty Jenkins' celebrated big-screen resurrection of the icon, director Angela Robinson returns to film for the first time in over a decade since 2005's Herbie Fully Loaded to present a meaningful glance at psychologist William Moulton Marston, his wife, and their mistress.
The progressive minded trio and their experiences would provide Marston with the inspiration to create a powerful female super-hero to challenge heteronormative ideas on gender norms predicated on his behavioral DISC theory in order to educate little boys and inspire little girls (he also invented the lie detector, which he refused to patent as he believed science should be free for all). Honorable and subversive, the film is a delicious mix of 1940s aesthetics muddled beautifully by the acknowledgment of non-conformist individuals who were denied a cinematic platform thanks to the trenchant cultural mores allowing for censorship under the Hays Code and the Catholic Legion of Decency—and similar forces which would eventually neuter the heady content of the original Wonder Woman comic following the death of Marston.
Professor William Marston (Luke Evans) teaches his proposed DISC theory (a hypothesis dictating all human behavior can be defined as belonging to categorizations he outlined as submission, inducement, dominance, and compliance) at Radcliffe. Appreciated as a handsome, vibrant force to his all-female body, his classes are co-hosted by his wife, Elizabeth Marston (Rebecca Hall), struggling to obtain her own degree from Stanford—an opportunity and distinction she is denied because she is a woman. Their lives and comfort are interrupted by the appearance of twenty-two-year-old student Olive Byrne (Bella Heathcote), a beautiful blonde young woman who catches William's eye, something which doesn't go unnoticed by Elizabeth.
When Olive applies to be their TA, the prickly Elizabeth flexes her authority over the young woman, which leads to momentary anguish. However, Olive eventually reveals an attraction to Elizabeth, which leads to a sexual and romantic liaison which seems to surprise all parties. When Radcliff dismisses the Marston's due to their indiscretion, Olive moves in with them and they begin forging their own contentment. A struggle to pay the bills leads William to stumble on his ideas for Suprema, the Wonder Woman, and scripts what would become the famous comic eventually censured by Josette Frank (Connie Britton), head of the Child Study Association of American, who takes great offense at the high level of bondage and adult themes printed within the pages of Wonder Woman. Eventually, social mores erode the fabric of the Marston's idyll.
What's perhaps most refreshing about Professor Marston and the Wonder Woman is the clear-eyed, non-judgmental presentation of three adult people exploring their sexuality without the unnecessary accompaniment of shame and moral grandstanding. Robinson deploys a simplistic, romantically inclined glow on this handsome thrupple—representations of which remain rare to begin with in mainstream cinema, much less also having the added bonus of being based on a true story whose fruits remain relevant today.
Ironically, Luke Evans represents the masculine crux of this ménage a trois. Despite his obliviousness on certain subtexts in Disney's remounting of Beauty and the Beast, his casting, if anything, proves once more, the sexual orientation of an actor does not detract from the ability to believably propagate the essence of heterosexual congress. And while Evans is dependably warm and supportive (as well as a refreshing representation of a man professing the need for men and boys to learn how to respect women and the art of submission), Robinson's film draws considerable strength from Hall and Heathcoate, who dance a sometimes-impossible duet of presenting characters with authentic romantic trajectories and maintaining a fount of chemistry to boot.
Hall, in particular, remains a striking thread throughout precisely because she is an ambitious, undaunted woman of progressive intellect and steely agency, frustrated by the ignorant cultural period she's stuck within and professionally crippled by. Having grown through a number of conventional Hollywood vehicles, Hall has flourished into an incredibly striking and sympathetic performer through unexpected success like The Gift an Christine, and adds another scene-stealing feather to her cap.
While Robinson's film isn't always a successful combination (the repeated return to an inquisition led by Connie Britton to frame the timeline of the Marstons nearly suffocates an otherwise fascinating, but fragile spell), and is clearly not trying to be as transgressive in form as its subjects were in reality, Professor Marston and the Wonder Women is still a formidable recuperation.
More subversive and inspiring than Marston's lineage, which includes the Gal Gadot led reboot (a formidable step in the right direction, especially as concerns box-office standards), a film also robbed of its source material's original enlightened subtexts on sexuality and gender norms, Robinson's take on the material is effective, even if it stops short of being exceptional. But that it exists so uncompromisingly in today's onslaught of mainstream byproducts neutered for the ambivalent consumption of the lowest common denominator, its platform and its cast make this a film as close to revolutionary as American audiences are apt to get.
★★★/☆☆☆☆☆