Blades of Glory: Lee Brings the Old West to the Ming Dynasty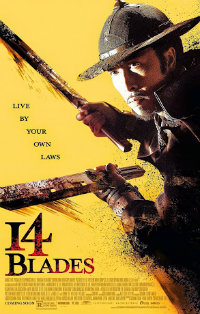 Hong Kong filmmaker Daniel Lee's 2010 film, 14 Blades is at last making its way to US soil this summer. It's been a curiously long wait considering the film plays like a genre hybrid of Western gunslinger cinema and martial arts aesthetics, and Lee has gone on to direct two other features since completing this one. Amassed with bountiful action sequences and handsome visuals, the expertly utilized special effects will be reason enough for genre fans to enjoy the film. But at a running time of nearly two hours and a slim narrative, the film outweighs its welcome for those hoping for a bit more substance.
Sometime during the Ming Dynasty, a group of assassin warriors known as the Jinyiwei serve the emperor's will. It's explained that the Jinyiwei can either represent a help or a terror to the people if they're at the disposal of a "fatuous" ruler. One of these warriors is Qinglong (Donnie Yen), and the eponymous weapons are his personal shanks, each having their own specific task. He's been tasked with keeping the royal seal from falling into the hands of a rebel force led by Prince Qing (Sammo Hung). If the Prince stamps the seal on this sacred scroll, his men will enter the city and the country will be subjected to civil war. But Qinglong is wrongly framed and he is forced to set out alone to uncover the true criminals, but he's trailed by the formidable warrior, Tou Tou (Kate Tsui). Attempting to cross the border, Qinglong runs into a group of bandits led by Qiao Yong (Wu Ma), who help Qinglong in battle. Instead of paying them back, Qinglong kidnaps Yong's daughter, Quio Hua (Zhao Wei). While in captivity, she proves to be a beneficial asset to Qinglong, and soon, they have developed a mutual attraction to one another.
If anything, 14 Blades is a star vehicle for Yen, currently in the midst of a popular resurgence, his mysterious Qinglong is a veritable man with no name, his moniker simply a nick name bestowed upon him for the necessity of reference. If his romantic subplot with Zhao Wei (of Stephen Chow's Shaolin Soccer) is serviceable at best, the actress often seems incorrectly styled for the distinct period piece. Likewise, Kate Tsui's impressive Tuo Tuo never quite registers as a lethal foe, her presence seeming rather an afterthought that could be trimmed from the film. That said, the fight sequences featuring Tuo Tuo are often the most visually arresting—if only the seemed to serve an additional purpose.
It should be noted that starring as the leader of the bandits is one of the most well-known faces of Hong Kong cinema, Wu Ma. He would appear in nearly twenty additional titles after this (with nearly 250 titles altogether, including over forty of his own directorial efforts) before dying in early 2014. Altogether too simplistic to register as anything more than a template upon which to transpose its excessive and often meticulous fight sequences, 14 Blades will most likely only entertain its core audience of martial arts aficionados. But kudos to anyone who can recall the intended purpose for each blade.