Disc Reviews
Criteron Collection: Pan's Labyrinth | Blu-ray Review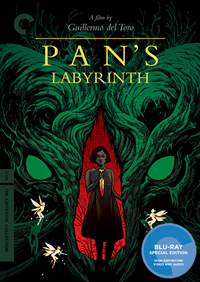 A decade has passed since Guillermo Del Toro unleashed his glorious period piece Pan's Labyrinth, a dark, magical fable set in 1944 Spain, in the earlier period of Franco's Falangist reign and only five years after his vicious victory of the Spanish Civil War. Premiering in competition at the 2006 Cannes Film Festival (the Wong Kar-Wai led jury was apparently unimpressed, instead granting Ken Loach his first Palme d'Or), it nabbed six Oscar nominations (winning three) and was one of several notable Spanish language films marinating in the art-house box office (Alfonso Cuaron, Pedro Almodovar, and Alejandro G. Inarritu were also part of this brief sensation). The critical acclaim brought Del Toro's artistry to a whole new platform, and while this was a return to Spanish language filmmaking, the success brought him back to the US studio systems he'd already dabbled in (Mimic; Blade II; Hellboy), continuing with his own visually stunning but emptyheaded sequel Hellboy II: The Golden Army, the successful sci-fi action film Pacific Rim, and the underwhelming Gothic romance, Crimson Peak. Always an innovator at odds with the studio system, Del Toro is undoubtedly a visionary, but constant compromising dilutes the end products of his English language films, especially in comparison with the trio of Spanish language items (Cronos; The Devil's Backbone; Pan's Labyrinth) which are being treated to a gorgeous box-set by the Criterion Collection. But it's his disturbing yet poignant tale of a young girl's disappearance into a dark fantasy of fairies and monsters which remains his most effectively persuasive calling card.
Eleven-year-old Ofelia (Ivan Banquero) finds herself jostled into a new life when her pregnant mother Carmen (Ariadna Gil) allows them to be uprooted from the countryside to join her violent and sadistic stepfather, Captain Vidal (Sergi Lopez), a high ranking official in General Francisco Franco's army, at his old, crumbling mill. Here, his men are tasked with hunting Republican guerillas hiding in the forests. It's made obvious, even to Ofelia, the importance of Carmen is merely to supply Vidal with his child, which he is convinced will be a boy. As Carmen struggles through a taxing pregnancy, Ofelia finds herself increasingly enveloped in an interior fantasy world only she experiences. As fairies make themselves apparent to her, she is led into the foreboding labyrinth of a faun (Doug Jones), a being who convinces Ofelia she is the princess of a King, the father waiting for her and her mother to join him in his magical realm. But first, she must complete several tasks. Meanwhile, Vidal's chief servant Mercedes (Maribel Verdu) has a secret connection with the guerillas, which serves to bring the conflict between both groups closer and closer to the old mill.
The obvious difference between Pan's Labyrinth and the fantastic narratives of Del Toro's English language films is how much it's grounded in reality, a make-believe world as a potent elixir of escapism allowing and encouraging Ofelia (and the audience) to hope for a more positive outcome than the dire scenario she's subjected to, the least of which is her mother's marriage to a sadistic Fascist commander. As the intimidating Captain Vidal, Sergi Lopez perfects the sneering embodiment of vileness and evil, and Del Toro allows us to see the depths of depravity in several shockingly violent moments, such as when he bashes the head in of a peasant farmer and his son, or the gleeful massacre and torture of the anti-Franco soldiers he's been hired to annihilate. It's obvious he takes great pleasure from inflicting extreme duress and pain, and Del Toro allows the man's most formidable onscreen rival to transpire in a vengeful interaction with his chief servant (a well-played Maribel Verdu, who has haunted the frames of Y Tu Mama Tambien and Tetro, while also accomplished at villainy as evidenced in her turn as the evil queen in Pablo Berger's fantastic Snow White update, Blancanieves). If there's any complaint about characterizations, it would be the hopeless passivity of Ariadna Gil's mother, or the grating impetuousness of Ivana Banquero's Ofelia, a little girl whose inability to follow directions allows for the film's most dreadful sequence featuring a now infamous monster, the Pale Man, who wears his eyeballs in the palms of his hands.
Expertly weaving the plight of women and children during wartime with parallel metaphors in the juxtaposed fantasy realm of Ofelia's imagination, Pan's Labyrinth is about the ability to choose between good and evil, and how either option is sometimes a queasy mixture of both (such as Carmen's decision to marry a grotesque figure like Vidal). The captain's counterpart is the creepy faun (an entertaining Doug Jones, also doubling as the Pale Man), who doesn't necessarily have Ofelia's best interests in mind (he's certainly a lot less amiable than the growling foliage voiced by Liam Neeson in A Monster Calls from Del Toro protégé J.A. Bayona), and there are troubling aspects of the faun's motives (why exactly are all those children's shoes in his lair?). The notion of warping reality into fantastical counterparts recalls the magical expressions in The Wizard of Oz (1939), except Del Toro has tapped into more primal, dramatic fears of surviving the brutality of war and the cruelty of Fascism.
Also, despite the distraction supplied by fairies, toads, and a war torn countryside, the notion of time holds true for both realms, personified in items like Vidal's heirloom watch, and an hour glass meant to measure Ofelia's moments in the lair of the Pale Man. Time is a shared limitation, a parameter which also allows Ofelia (and us) a navigational stronghold in this fantasy world, where the notion of dire consequences for disobeying the rules fuels anxiety, dread, and engages our desire for good to conquer evil.
Disc Review:
Criterion brings this Del Toro title to the fold with a newly graded 2K digital transfer supervised by Del Toro and paired with 5.1 DTS-HD master audio soundtrack. Presented in its original aspect ratio of 1.85:1, the process was completed using the 35mm original camera negative. Utilizing DP Guillermo Navarra (who also collaborated on Cronos and the Franco-era set The Devil's Backbone), the melding of the natural with the fantastic elements is (mostly) seamless. A decade after the fact and on a smaller screen, pronounced CGI elements (an interaction with a giant toad) don't play as well as the practical effects of the Pale Man, but Navarro's rendering of the old mill, a dank, moldy residence surrounded by either foliage or shadow, is just as moody. Criterion includes an alternate 7.1 surround DTS-HD Master Audio soundtrack, while Del Toro provides a commentary track. A slew of other features are included.
Director's Introduction:
Del Toro provides an introduction to the film in this twenty-five second segment shot in 2007.
Del Toro and Funke:
Criterion shot this forty minute interview of Del Toro by novelist Cornelia Funke (Inkheart) in 2016, wherein the filmmaker discusses his inspirations and the resonance of fantasy and fairy tales on himself and his work.
Director's Notebook:
Javier Soto produced this interactive gallery in 2007 which presents pages from Del Toro's notebook of preparatory drawings and concepts for the films. Selected entries in the notebook include video 'pods' featuring Del Toro delivering elaboration.
Documentaries:
Four documentaries (The Power of Myth; Pan and the Fairies; The Color and the Shape; The Melody Echoes the Fairy Tale) were produced by Javier Soto in 2007 to cover the themes, characters, special effects, and music of Pan's Labyrinth. The comprehensive project (the last two segments are just a few minutes) features Del Toro examining the various processes.
Doug Jones:
Criterion interviewed Doug Jones in this near half hour segment in 2016, who reminisces about his experience playing the faun and the Pale Man in Pan's Labyrinth.
Ivana Banquero Audition:
This 2005 footage features the young performer's audition as Ofelia.
Prequel Comics:
Four animated comic-style stories produced by Javier Soto and illustrated by Jason Shawn Alexander, Guy Davis, and Michael Kaluta in 2007 feature origin tales for creatures from the film (The Giant Toad, The Fairies, The Faun, The Pale Man).
Video Comparisons:
Three pieces from 2007 explore different aspects of Pan's Labyrinth, including its storyboarding process, the variations on the lullaby theme, and a before-and-after look at a visual effects shot.
Final Thoughts:
To date Guillermo Del Toro's most provocative accomplishment, Pan's Labyrinth is a beautifully realized but brutal fairy tale. If Del Toro crafts his cinema as a series of certain looks (along with Cuaron, Jackson, Cameron, there seems to be an attempt to harness technology to reestablish the narrative effervescence from the Cinema du look movement), what he's accomplished here is a cinematic splendor from which you don't want to look away.
Film Review: ★★★★½/☆☆☆☆☆
Disc Review: ★★★★/☆☆☆☆☆