Don't Torture a Duckling (1972) | Blu-ray Review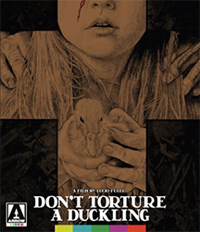 Arrow Video resurrects one of Italian horror maestro Luci Fulci's (the Godfather of Gore) best but most obscure titles, the enigmatically titled Don't Torture a Duckling, a creation with usual collaborator of the period, writer Roberto Gianviti (fresh off their 1971 A Lizard in Woman's Skin). An important segue into the extreme, stylized violence and rampant misogyny with which he would come to be celebrated and damned, Fulci crafts a surprisingly coherent mystery thriller speckled with several gratuitous displays of carnage.
Supernatural suspicions grace a small rural village when young boys begin to show up murdered, leading to the lynching of a local madwoman blamed for their deaths. However, Fulci's subtexts of sexuality and religion create a comingling cocktail of exploitation and social issues.
In the Southern Italian village of Accendura, the disappearance of local boy Bruno Lo Casio sets off a strange chain of events. Before he went missing, Bruno and two of his friends were taunting local simpleton Giuseppe (Vito Passeri), who happened to be peeping on some couples having sex at an abandoned house notorious for such lascivious proclivities. When an anonymous caller demands a ransom for Bruno, the local police commissioner (Virginio Gazzolo) and the village police captain (Ugo D'Alessio) quickly corner Giuseppe, who admits to attempting to extort money out of Bruno's parents only after he happened upon the boy's corpse. As more children turn up dead, suspicion falls on the Gypsy witch La Magiara (Florinda Bolkan), who was discovered making effigies of the dead children. But after the villagers take out their wrath, children keep dying, leading reporter Andrea Martelli (Tomas Milian) to join forces with local vixen Patrizia (Barbara Bouchet) to uncover the identity of the killer preying on innocent children.
The murdering of children remains a somewhat taboo topic, even for genre films, which is what makes items about evil kids like Children of the Corn, Village of the Damned, or Who Could Kill a Child? appeal to our sense of experiencing the forbidden sans the corresponding guilt. Fulci's treatment goes a step further by eschewing supernatural components and uncomfortably gliding into representations of sexuality and children.
In the usual heteronormative parameters, Barbara Bouchet, a prodigal member of the community who has returned from more continental climes and regarded as promiscuous woman (a situation like the Erika Blanc character in Bava's Kill Baby, Kill!, 1966), is a titillating sex object. However, Fulci pushes boundaries by having her seduce adolescent boys, approaching them naked and taunting their inexperience.
How this eventually relates to the murderer and his motives for killing the young boys (spoiler—it's so they remain innocent and untainted by the sins of the flesh and can, therefore, easily pass through the pearly gates) reveals Don't Torture a Duckling to be not only a film about the juxtaposition of the sacred and profane, but also an examination of the inherent misogyny gilding the tenets of Christianity. Fulci goes full on grindhouse with the gruesome lynching of Florinda (it's not quite on par with a certain blow-torch sequence in 1980's Contraband, but it's certainly over-the-top), set to a jaunty reprieve by composer Riz Ortolani as means to further disturb, but she ends up being revealed (as well as her paganism) to be the innocent party.
As far as the cast goes, Fulci assembled quite a mixture of impressive giallo alums, including Bolkan, who starred in A Lizard in Woman's Skin, and the beautiful Barbara Bouchet, who headlined Emilio Miraglia's classic The Red Queen Kills Seven Times the same year. The would-be hero played by Tomas Milian, who would later headline Fulci's The Four of the Apocalypse (1975) alongside Fabio Testi, becomes eclipsed by his trio of female co-stars, all of whom seem designed to befuddle rather than solve the case. But where the real strengths lie is with some of DP Sergio D'Offizi's (Cannibal Holocaust, 1980) delectable frames, including many sequences where subjects in the extreme foreground are juxtaposed dramatically with diminished counterparts in the background, which should make fans of De Palma's 1970s period to swoon.
Bouchet and Milian's journalist eventually unite to solve the string of murders the police can't seem to wrap their heads around, which happens quite late in the narrative, setting up the last half hour of the film. It's here where Fulci also utilizes Greek actress Irene Papas (a woman the villagers respect only because she's the priest's son), a rather arresting presence for a giallo title (not unlike Ingrid Thulin in Aldo Lado's Short Night of Glass Dolls) whose character plays an important part in the film's climax (which features another moment of extreme violence, marred by the limitations of special effects but is nevertheless an arresting, slow-motion finale of a body careening off a cliff).
Disc Review:
Arrow presents Don't Torture a Duckling in 2.35:1 with original mono Italian and English soundtracks. Picture and sound quality are notably cleaned up and polished in this new high-definition transfer (credited as its US debut in this format), which includes optional audio commentary from Troy Howarth, author of So Deadly, So Perverse: 50 Years of Italian Giallo Films. As usual, Arrow decks out the release with a clutch of fantastic extras.
Giallo a la Campagna:
Mikel J. Koven, author of La Dolce Morte: Vernacular Cinema and Italian Giallo Film appears for this new twenty-seven-minute video discussion from Arrow Video, discussing the cycle of giallo films, beginning with Dario Argento's The Bird with the Crystal Plumage.
Hell is Already in Us:
Critic Kat Ellinger addresses accusations of misogyny against director Lucio Fulci in this twenty-minute segment.
Lucio Fulci Remembers:
A two part archival interview from 1988 between journalist Gaetano Mistretta and Lucio Fulci is available as an audio recording here.
Final Thoughts:
A film which deserves to be as well revered as Fulci's The Beyond or the cult classic Zombi, the depiction of child murder and pedophilia makes Don't Torture a Duckling as uncomfortable now as it was upon its release.
Film Review: ★★★/☆☆☆☆☆
Disc Review: ★★★★/☆☆☆☆☆