The Flesh (1991) | Blu-ray Review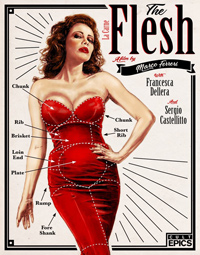 Marco Ferreri remains one of the unsung provocateurs from Italy's golden age of contemporary auteurs, an idiosyncratic conveyor of carnal desires and consuming passions who was a contemporary of Fellini and Petri but whose filmography remains largely obscured. More extreme than Bolognini and more comedic than Pasolini, Ferreri's masterwork is largely regarded as the 1973 outré La Grand Bouffe, which takes a Bunuellian scenario and devolves into perverse sex and cannibalism (which recently received a loving restoration courtesy of Arrow Video).
Others might be familiar with his 1969 title Dillinger is Dead thanks to the Criterion Collection (the only Ferreri title with this distinction thus far), or his wonky English language tackling of Bukowski, 1981's Tales of Ordinary Madness, which featured Ben Gazarra and Susan Tyrell. And among countless other bizarre oddities from his filmography, featuring an array of stars like Hannah Schygulla, Carroll Baker, Catherine Deneuve, Gerard Depardieu, and Isabelle Huppert, he gets a brief on-screen portrait in Michel Hazanavicius' recent Redoubtable, in which Stacy Martin stars as Polish actress Anna Wiazemsky during their collaboration on 1969's The Seed of Man.
Initially beginning his career as a director in Spain with two 1959 titles (The Children; The Little Apartment), Ferreri made his first Italian language film in 1963 with The Conjugal Bed, which would be his first of eight times in the Cannes main competition (he took home the FIPRESCI Prize for La Grande Bouffe and the Grand Jury Prize for 1978's Bye Bye Monkey). Venice would prove to be less lucrative for Ferreri, who played in competition on the Lido only once, with 1984's The Future is Woman. His last time on the Croisette would be with the recently restored and rarely seen The Flesh in 1991, a black romantic comedy as only Ferreri would have it, no finally available thanks to Cult Epics. It was rather a watershed year for the director, having won the Golden Bear months earlier for his Ingrid Thulin headlined The House of Smiles, and this torrid love story would be his second to last narrative feature.
Sergio Castellitto (who would segue into his own career as a director by the end of the 1990s) stars as recently divorced piano player Paulo who finds about as much joy in his random flirtations at work as he does shuttling his kids back and forth to his ex-wife's, a woman who remains unseen and is only referred to as "the hyena." Seeing as she has custody of the children, she gets final say in all the small details of the arrangement, such as the whereabouts of the family dog. When he happens upon the beautiful and flirtatious Francesca (Francesca Dellera), Paulo is instantly smitten, and a consuming love affair begins. But when Paulo and Francesca hole up in a small seaside cabin, he becomes physically unable to get out of bed while brandishing a seemingly permanent erection. Has she cast a spell on him or is it self-induced furor? Little by little, Francesca becomes bored with Paulo and his crippling passion for her. Eclipsing the drama surrounding his ex-wife and children (whom he seems to forget about altogether), Paulo resorts to drastic action.
Ferreri's usual warped themes of love and consumption are in full force in The Flesh, another example of the auteur sloughing off the metaphorical subtext and visualizing base behaviors as the actual driving force of the film. Even still, The Flesh can't escape feeling like an allegory of carnal desire and ownership, the Italian prototype for something similar Jennifer Chambers Lynch would infamously tackle in the soft-core fiasco Boxing Helena in 1993.
As the tortured Paulo, Castellitto is responsible for all the heavy lifting as a man consumed by his desire, and it's interesting to revisit the performer at such an early point in his career. Where The Flesh really enters Ferrari territory is when the film suddenly, and without warning, spins into allegorical overdrive. Upset at her comments on his looks 'up close' in their lovemaking cabin (she laughingly refers to him as a 'monster'), which is sort of like the pornographic version of 1945's The Enchanted Cottage, Paulo storms out to the beach and slits his wrists in response. Spying on him with binoculars, Francesca follows, lapping up the blood coursing from his wrists to profess her love.
Dellera, who was a famous screen siren in the late 80s (thanks to Tinto Brass with Capriccio) and early 90s (thanks to Ferreri), is a milky-skinned, sanguine vixen, using her voluptuousness and pouty visage to ensnare Paulo—though for what reason beyond her own fleeting pleasure is never quite apparent. Rather, The Flesh is about a man desiring to own and control a trophy woman who is clearly out of his league, which also suggests the jealousy unhinging the couple in Chabrol's L'enfer (1994).
The beach also remains a site of interest for Ferreri, which plays an integral part in the relationship of Paulo and Francesca. Perhaps as a metaphor for the line between life and death, solid ground and overwhelming water, where the tide meets the shore seems to hold a deeper context. Not only does it provide Paulo with solace following a grisly (albeit predictable, if you've seen La Grande Bouffe) resolution for their lovers and their conflict, but it mirrors Ferreri's 1983 shocker The Story of Piera, which stars Isabelle Huppert and Hannah Schygulla as mother/daughter sometimes lovers (which won the latter a Best Actress win at Cannes) and resolves to unite them once more within a larger context than themselves and the flesh of their flesh—the all-consuming sea.
Disc Review:
Cult Epics releases The Flesh for the first time in the US with this new HD transfer from an original 35mm print in 1.77:1. While audio and visual are mostly serviceable, there are several instances of notable wear and tear, apparently scuff marks which couldn't be restored in this transfer. Beyond these minor flaws, Cult Epics takes pains to include several notable extra features in this resurrection of an obscure late period title from an Italian master.
Behind the scenes of The Flesh:
This five-minute segment feature behind-the-scenes footage of Ferreri directing his cast.
Interview:
Ferreri, Castellitto, and Dellera are all featured in this five-minute archival interview segment.
Cannes Film Festival 1991:
Forty-five seconds of red carpet footage of Ferreri and his stars arriving for the film's premiere at the 1991 Cannes Film Festival.
Final Thoughts:
Love hurts and love scars in this black-hearted sex odyssey from Marco Ferreri.
Film Review: ★★★/☆☆☆☆☆
Disc Review: ★★★/☆☆☆☆☆