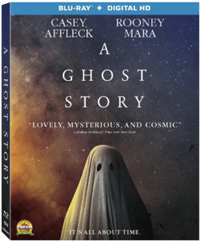 With commendable marketing following the strong critical reception out of the 2017 Sundance Film Festival, David Lowery's enigmatic return to indie filmmaking paid off with his latest, A Ghost Story. A stark 180 from his 2016 Disney remount of Pete's Dragon, the American indie auteur reunited with Rooney Mara and Casey Affleck (who headlined his 2013 film Ain't Them Bodies Saints) for this arresting exercise on notions of love and grief extrapolated by the constant onslaught of time. Distributor A24 managed to rake just over one-and-a-half-million at the domestic box office in what would ordinarily have been a difficult sell.
Although it isn't an actual adaptation of her short story, this begins with the opening line from Virginia Woolf's A Haunted House, a volume of work published posthumously by the author's husband. "Whatever hour you awoke, there was a door shutting." And so begins the seemingly idyllic portrait of a heterosexual couple as they embark on buying a home, brief segments of their time together ending abruptly when the husband (Casey Affleck) dies suddenly in a car crash, his ghostly spirit then lurking on the premises underneath a white sheet with two black spots for eyes as the wife navigates the stages of grief.
Eventually, she (Rooney Mara) sells the house and moves on while the spirit remains even as the infrastructure around him changes dramatically as time goes by. Initially, this arguably pretentious visual poem promises to be merely a stringent, experimental exercise from Lowery, more along the lines of his 2013 breakout Ain't Them Bodies Saints than his family friendly studio rehash of Pete's Dragon (2016), but quickly morphs into a striking yet disconsolate piece of visual poetry on the passage of time, the potential meaningless of existence, and an inescapable cycle of destruction and rebirth.
Just as the title of Woolf's story indicates, A Ghost Story is more an ambiguous examination of the metaphysical, although both narratives are indeed concerned with ghosts in search of something. It is made clear Affleck's disembodied spirit avoids stepping into an otherworldly portal which tears through one of the hospital's walls, but it remains a mystery to us as to why he's sticking around to observe Mara's curiously underwhelmed spouse. If there's any complaint to be made about the film, it's the prolonged set up which painstakingly shows this husband and wife interacting, but keeps us at a distance. These snippets become longer as we observe Mara wander throughout her home, now alone, and one excruciatingly long take finds her grief eating nearly all of a homemade pie until she makes herself sick. Upon the exit of her character, the beauty of A Ghost Story at last becomes apparent, the mournful ghost struggling to dislodge a note Mara painted into one of the cranny's of a door frame while a single Spanish speaking mother and her two kids take residence.
Time passes from one seamlessly edited sequence to the next, and the ghost observes a similarly sheeted spirit next door. They communicate via subtitle, the neighbor ghost forlornly having forgotten just who it was waiting for in the first place. The Affleck spirit gets restless, terrorizes the single mom and her kids, until the home becomes a gathering place for miscellaneous hipster intellectuals, where Will Oldham, in full-blown Paul Giamatti mode, gives a simultaneously grating and eloquent speech charting the cycles of humankind and our eventual extinction, right down to the destruction of matter itself.
It's here where the significance of editing and sound design by Johnny Marshall, including a score by Daniel Hart, become incredibly tantamount to what becomes a sort of mystical trance when the houses containing both ghosts are bulldozed, replaced by high-rises and a sprawling neon-lit metropolis. DP Andrew Droz Palermo (You're Next, 2011) zooms these early sequences from a sort of Matthew Barney feel to a pulsating, electric vibe, then crashing back into a pioneer era suggesting a more expansive omnipotence and inescapable cycle.
Ultimately, Lowery again returns to the suggestions of Woolf, whose restless spirits were engaged in an endless search to rediscover love. But Lowery's film aggravates even this expectation, suggesting love, or what we label our romantic connections, are merely figments holding us in one place, even when they've perhaps evaporated long before either party would care to admit.
Disc Review:
The Lionsgate rendering of Lowery's title presents the film serviceably in 1.78:1 with 5.1 DTS-HD Master Audio. Aural and visual elements combine to make A Ghost Story the meditative experience it's supposed to be, which is arguably intact in a home entertainment setting. Although a more persuasive transfer seems predictable down the line, this release does feature several extra features, including audio commentary from David Lowery and crew.
A Ghost Story and The Inevitable Passing of Time:
This twenty-minute feature finds cast and crew sharing ghost stories, and Lowery confirms he'd been wanting to make a film about a ghost wearing a bed sheet for quite some time. Perspectives from the crew discuss various aspects of crafting the emotional backbone of the film.
A Composer's Story:
Composer Daniel Hart discusses his fifth collaboration with David Lowery on A Ghost Story in this four-minute bit.
Deleted Scene:
A five-minute deleted scene is included on the disc.
Final Thoughts:
One of the more thought provoking American efforts to grace theaters this year, Lowery's A Ghost Story is as poignant as it is compelling.
Film Review: ★★★★/☆☆☆☆☆
Disc Review: ★★★/☆☆☆☆☆