Criterion Collection: The Piano Teacher | Blu-ray Review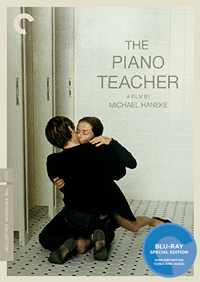 Rare are the performers who can surpass the sadistic tendencies of an oligarchically inclined auteur, but there exists no finer example of this than the central performance of Isabelle Huppert in Michael Haneke's superb 2001 feature The Piano Teacher. An actress as categorically icy and with a reputation as equally abrasive as the austere Austrian master who grew up alongside the progenitors of the New German Wave (but did not break into narrative filmmaking until most of them were either dead or out of vogue) their first of (currently) four collaborations (which includes Time of the Wolf, Amour, and 2017's Happy End) happens to exist as an outlier in the director's usual tendencies of juxtaposed, interconnected tangents of discord.
At the beginning of his pronounced remove from German language cinema, arriving after 2000's Code Unknown, it remains the only title referring directly to its protagonist, a woman upon whom every moment is predicated upon, and who plays an intoxicatingly complex duet with figures (a mother, a lover) who try to control her but whose roles become confused and manipulated in the fallout of her sexual repression.
Most of Haneke's films, before and after, are usually named for objects (Benny's Video; The White Ribbon) or concepts he bleakly deconstructs as ironic testaments of human naivete in our desire to consume or be repelled by terror and violence (Time of the Wolf; Funny Games; Amour; Cache). But, at least this one time, it's Isabelle Huppert's mask of subjugated fury which consumes the aesthetic of Haneke in what would become her signature calling card (as well as securing her a rare second win as Best Actress at Cannes), which also took home the Grand Jury Prize and a Best Actor award for Benoit Magimel at the 2001 edition of the festival.
An esteemed professor at a Vienna music conservatory, piano teacher Erika Kohut (Huppert) lives out a drab existence, cohabiting with her clingy mother (Annie Girardot) as she's daily reminded of her failed dreams of becoming a noted pianist instead of ushering fresh blood into the upper echelons of a crumbling vestige of elitist culture. However, by night, Erika's proclivities are much more sordid in nature, including voyeurism, self-mutilation, and fetishistic tendencies which have developed out of her pronounced sexual repression. By chance, she meets Walter Klemmer (Magimel), a twenty-five-year-old engineering student who is the nephew of a wealthy family who invited Erika to perform in their home. The handsome young man makes a noted effort to get her attention, even auditioning at Erika's conservatory, which she adamantly attempts to sabotage since she's suspicious of his intentions. Slowly, she begins to invite him into her more perverted pedagogy, and eventually their relationship unhinges them both.
Huppert, who is often celebrated for her controlled emotional simulations, reaches an emotionally obscured zenith as Erika Kohut, a woman so viscerally closed off from others she may as well be wearing the same safeguard as Edith Scob in Franju's Eyes Without a Face. And this exactly highlights those prescient windows to Kohut's soul, her tell-tale orbs giving away her frequent bouts of anxiety, suspicion, cynicism, and overall, a troubling, seething tide of overwhelming anger. This is, after all, a woman who has been groomed by her overprotective/controlling mother to approach her students as competition, and yet demean her daughter's successes as a big fish in a little pond whenever possible in public. When she chides a young student during practice by contemptibly questioning "Do you have any idea what coldness means?" we know she most assuredly does.
In turn, we're hardly surprised when Erika, with exacting precision, plucks a demure scarf our of a coat pocket with which to stomp a glass into smithereens, dumping the jagged shards into her prized student's coat pockets (who only moments earlier was forced to declare her troubling, nerve-induced diarrhea aloud whilst cowering neath the imperious gaze of her teacher). And it's not so much because the student could even contend with Erika as far as something superficially as talent—in fact, Erika's dreams of becoming a noted pianist seem to have faded into some monotonous backbone of fallibility. No, it's an incident goaded by Walter's kindness towards the young woman. It's the moment where we realize Erika and Walter are on an inextricable crash course, even before the grasping, uncomfortable hand job in the public restroom, an anti-climax featured prominently on the film's poster.
If Erika's eyes are the only real indication of her flickering emotions, the rest of her visage, a plateau of translucent, freckly skin jutting out from her coiled flame of tresses (which Christian Berger lovingly catches from behind, as if to accentuate the jagged hairpin aggressively holding every piece in its rightful place), there are only two jarring moments where the rest of her face becomes animated. When Walter jovially locks ma mere out of Erika's room, a girlish smile creeps across her face, so alien it almost seems like a jagged wound hanging there. And then, most memorably, its counterpoint, during an unforgettable finale wherein Erika takes her hidden cutlery out of her handbag and jabs it with Amazonian heft into her breast, her face a reddening snarl of pain, her mouth a clenched grimace. A red bloom appears, and she stalks off into the night, Berger's camera gazing ambivalently on the architecture which swallows her.
Doors opening and closing are one of the film's prized leitmotifs. But it's a film which seems to defy the adage of one door closing and other opening—instead we have the sense of doors continually closing on someone. Tellingly, the initial physical transgression between Walter and Erika transpires only because he launches himself over a locked bathroom door, circumventing social propriety and announcing himself, finally, as her sexual suitor.
Haneke, however, flaunts a more tragic ghost haunting the doomed love of Erika and Walter, the subject with which they first spar/bond: Franz Schubert. The famed Austrian composer is the aural accompaniment to Erika's morose melancholia, a man who was also forced into teaching at one point and whose early death (at the age of thirty-two) was partially the result of syphilis (meanwhile, his purported homosexuality has always been a talking point). Haneke's chilly hold on their consuming passions reaches its apathetic conclusion when one remarks, "You know, love isn't everything."
Disc Review:
Haneke supervised this brand new high-definition digital transfer, presented in 1.85:1 with 5.1 surround sound, and Berger's static frames have never looked better (so clear, we can easily detect slight moments of dubbing over Haneke's German-language cast members). The second Haneke title to be absorbed into Criterion's catalogue, this stands as the definitive rendering of one of the cruelest yet empathetic portraits of a woman on the verge ever made.
Michael Haneke:
Criterion conducted this half-hour interview with Michael Haneke in Vienna in May of 2017, who discusses the nature of obscenity and exploitative nature of pornography. Haneke discusses his initial introductions to Elfriede Jelinek's work and The Piano Teacher, which he meant to be his first theatrical venture.
Isabelle Huppert:
Criterion conducted this eleven-minute interview with Isabelle Huppert in Paris in June of 2017, in which she describes The Piano Teacher as a film that's 'very important to her' for a 'frightening but rewarding role.
Selected-Scene Commentary:
Seven scenes feature Isabelle Huppert on a commentary track, recorded in 2001.
Postsync Sessions:
Nineteen minutes of footage offer a behind-the-scenes look at the audio postsync sessions for The Piano Teacher, featuring Haneke and Huppert.
Final Thoughts:
If perfection is the only exaggerated nomenclature with which to describe Haneke and Huppert's sordid tango through considerations of submission and control, then it's surely embodied here in the form of Erika Kohut, the piano teacher.
Film Review: ★★★★★/☆☆☆☆☆
Disc Review: ★★★★½/☆☆☆☆☆