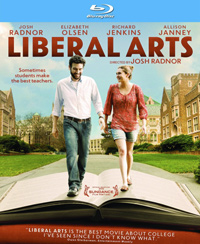 In Josh Radnor's charming sophomore feature, Liberal Arts, the actor/director/writer recognizes that many adult males in their mid-thirties glide through their lives half awake, half confused, yearning for the freedom and potential of their college days. Here, Radnor sends himself back to his actual alma mater on a visit to an old friend, but his attention is diverted when he meets a 19-year-old wise beyond her years, leading to much contemplation about his own life. Though tonally topsy-turvy, the film amiably explores the pitfalls and blessings of nostalgia and receptivity thanks to Radnor's amusing script and a pair of brilliantly exposed performances by Elizabeth Olsen and Richard Jenkins.
Burying his nose in books to block out the world around him, Jesse Fisher (Radnor) has been coasting by as a New York City school guidance counselor with no real aim for his own life. When he's called upon to speak on behalf of Peter Hoberg (Jenkins), his favorite college professor, at his retirement engagement in Ohio, he jumps at the chance to revisit his old school. While in town, Jesse is introduced to Zibby (Olsen), a starry-eyed freshmen who's warmth and sagacious spirit entrances him. After a coffee turned day long date, they become paper and ink pen-pals, but despite being torn by the obvious inappropriateness of their relationship and the genuine feelings he has for her, Jesse makes the trek back for a visit that erupts with the emotion that comes with first loves and broken memories.
It is in the clever exchanges and intelligent discussions of human relationships and their interactions with the arts that Radnor's script truly shines. His love of literature is placed front and center, smartly using this mechanic as a way to show how detrimental placing too much emphasis on art's importance can be. This comes through in two crucial instances, the first of which is a troubled young man Jesse befriends on campus who suffers from crippling depression and can't stop reading the critically-lauded tomb Infinite Jest. The other, one of the funniest sequences in the film, Jesse and Zibby argue over the social importance and triviality of the Twilight books. For them, there is no middle ground, but Radnor himself seems to acknowledge that neither the accepted importance nor sheer popularity of a book makes said book worthy of being read.
Intellectual arguments aside, the film brims with the sentiment of fresh romance and infinite potential, and this almost solely due to the warm, zealous performance of Elizabeth Olsen. After seeing her give two excellently disturbed performances in Martha Marcy May Marlene and Silent House, it's nice to see that she can play to the opposite spectrum just as well. Her turn as Zibby gives the film an emotional, revitalizing base for Jesse to find resilience in his own existence.
Liberal Arts reigns praise on the life experiences that going to college can grant you, even if the education you actually pay for doesn't offer guaranteed fulfillment in life. In exploring this theme Radnor makes only a few missteps, cheesily playing solo moments and offering an over the top hippy bit to Zac Efron (who is admittedly, yet tone shatteringly funny here). Overlooking these minor complaints, this is a solid rom-dramedy with intellectual flair from a filmmaker who is proving to be an admirable triple threat.
The Disc:
Another MPI and IFC release, the presentation really matches the youthful warmth of the film. The image is naturally bright and alive, the greenery of lawns and trees as well as the red of Zibby's blouse especially pop. It's also incredibly crisp on edges, without distracting sharpening enhancements. Audio-wise, the DTS-HD 5.1 master track packs adequate dynamics with its light, classically based soundtrack and clean dialogue. Going the standard route, the disc comes in a classic Blu-ray case.
Audio Commentary with Writer/Director/Actor Josh Radnor & Producer Jesse Hara
Since the film was structured around the college Radnor attended and the people he knew while he was there, much of the discussion is focused around why they chose specific locations (the cafes and classrooms!) and who is making a cameo appearance (the Radnors and the Haras!), but they do get into why specific footage was cut and what it was like working with the actors. It's definitely the highlight of the extras.
Deleted Scenes
About 15 minutes of material that was cut, the majority of it spent with a side storyline of Jesse's friend that kept talking about moving to Spain, but never seemed to leave. There is also a particularly brutal opening breakup that was cut as well.
Featurette
Playing like a trailer with a few behind the scenes clips thrown in the mix, this one is kind of a throw away piece.
Theatrical Trailer
Feeling a bit to light and airy, the trailer doesn't really do justice to the production, but at the very least it does convey the themes well enough.
Final Thoughts:
Fervently free of cynicism, Radnor's latest feature transcends its quirks with a smartly wound college excursion that looks to the past and finds nostalgia, possibilities and a new outlook on life, as long as opportunities are answered to with the word, 'Yes'. Liberal Arts didn't get an extended release, so if you missed this lovely film in theaters, this attractive Blu-ray is the next best thing.