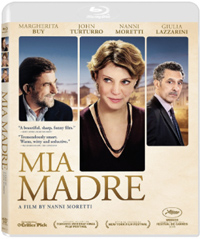 Family members dealing with an impending absence is at the crux of Nanni Moretti's latest film, Mia Madre, which competed at the 2015 Cannes Film Festival. Having won the Palme d'Or in 2001, Moretti continues to be a critical darling, having scooped up the Prize of the Ecumenical Jury for his latest, a busybody narrative about a brother and sister who have different ways of coping with the impending death of their mother. An enjoyable Margherita Buy stars as a film director attempting to craft her topical new film project with a problematic American star thwarting her progress while familial relations tax her emotional energy. Picking up a Cesar nomination, US distributer Music Box Films released the film for a limited run in late August of 2016 where it picked up a paltry three thousand dollars domestically.
Margherita (Buy) is in the midst of shooting a new film concerned with labor and employee relations. As she films around the American actor Barry Huggins (John Turturro) soon set to join the production, the already harried director additionally is forced to contend with her mother Ada's (Giulia Lazzarini) worsening medical condition. Margherita does her best to attend to her mother while she stays in the hospital, a responsibility shared with her brother, Giovanni (Nanni Moretti), who has taken a leave of absence from work to devote himself to Ada's care. Guilty for being unable to devote the same amount of time, Margherita's issues are further compounded by her adolescent daughter, Livia (Beatrice Mancini), who has been shirking her studies and deliberately not communicating with her mother on several important issues. When the exuberant Huggins arrives in Italy, his bombastic behavior further aggravates Margherita, struggling to hold it all together, though she uses her schedule to deflect some inevitable realizations about her own behavior.
The irony we're supposed to take away from Margherita's film project, which looks and sounds like a project we'd see from Jean-Pierre and Luc Dardenne, is that she's crafting something meant to explore the voice of the working class, an instrument for 'the people," and yet she's the tyrannical dictator in her own environment. That's not to say she's monstrous or despicable, but simply oblivious to her dismissive and sometimes contemptuous attitude towards others. However, her character faults are downplayed through the film and it doesn't help that Moretti prefers to keep the tone consistently comedic.
Margherita's behavior on set seems perfectly justifiable, and that's generally where we see her in action. When she's faced with some verbalized criticism, it seems news to us as well. A small handful of pointed sequences tend to stick out, particularly in several flashbacks where we how Margherita treated her mother before the illness, including a violent instance involving Ada's vehicle. But most of the moments anchored in the film's present tense tend to borderline the overwrought, such as another moment where we find Margherita barking at her mother to walk the three paces from her hospital bed to the bathroom.
What Mia Madre does manage is to showcase the talents of actress Margherita Buy, but she's the only developed character in the film. Moretti's onscreen presence as her brother seems unnecessary, adding little familial texture for a character that could've been played by anyone. Distractingly, we spend most of our time languishing in the comic relief of John Turturro, who is entertaining, but used so frequently and broadly that he begins to feel like a crutch to pad the running time. Without any other distinguishable characteristics evident in Mia Madre (sharing its name with the 2004 French adaptation of Georges Bataille from Christophe Honore, Ma Mere, a markedly different tale of matriarchal woe), Moretti's film plays like a standard issue familial drama.
Disc Review:
Music Box releases the film in 1.85:1 with DTS-HD Master Audio. Picture and sound quality are dependable in this transfer of Moretti's light melodrama, which is rather visually unattractive on the whole. Several extra features celebrate the making of the film.
Just a Movie – On the set of Mia Madre:
This forty-two minute featuerette is an in-depth glance of the making at the film with outtakes and cast and crew interviews during the making of the film.
John Turturro as Barry Huggins:
John Turturro is showcased in this four minute bit which is basically an extended outtake of his character.
The Torture of an Actor:
Four minutes worth of outtakes from one filmed sequence are included.
Deleted Scenes:
Nearly ten minutes worth of deleted scenes are included, all featuring Margherita Buy.
Final Thoughts:
At times incoherent and a bit too emotionally understated, Mia Madre perhaps best appeals to Moretti's avid fans who can appreciate his square sense of hearty familial dilemmas and their bluntly administered messages.
Film Review: ★★½/☆☆☆☆☆
Disc Review: ★★★/☆☆☆☆☆