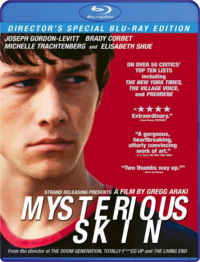 It's been a decade since Gregg Araki's arresting coming-of-age examination of the ramifications of child molestation debuted at the Venice Film Festival in 2004 and the devastating remnants are still lingering. Despite its off-putting subject matter, Mysterious Skin proved to be a near universal critical hit that brought Araki back to the fore, launched the auteurist acting career of Brady Corbet and redirected Joseph Gordon-Levitt's in the wake of his childhood gig on 3rd Rock from the Sun to much more serious adult cinema. Told from the perspective of two boys who are ripped from childhood by their kiddy league baseball coach, he director's impeccable sensitivity to the emotional nuance of novelist Scott Heim's heartbreaking semi-autobiographical story continues to resonate as a means of reckoning with the residual effects of abuse.
While Corbet's mumbly asexual Brian blocked the experience out of his memory and replaced it with theories of a martian abduction, Gordon-Levitt's fatherless Neil seemed to revel in the experience, misconstruing molestation with missing parental love. One became a neurotic introvert while the other became a desensitized teen whore, selling himself to any small town Charlie willing to pay. Though overt in the polarizing effects between the two, their parallel experience acts as a thorough examination of the tragic possibilities to follow in the wake of perversion.
Most striking among the many disconcerting characteristics of the film is its use of subjective point of view which brings us as viewers into the action, placing us in the uncomfortable position of these children as they are overtaken by their disturbingly charismatic coach (Bill Sage) and coaxed to participate in sexual activities at the sickening age of eight. Araki continuously employs extreme closeups, the actors staring directly into the camera. But what's most interesting about this technique is that it allowed the director to write a mini narrative for his young actors, Chase Ellison as Neil and George Webster as Brian, to follow as not to enlighten them to the horrors in which the true narrative involved, nor place them in any actually inappropriate situations. Though we seem to see the children complicit in sexual situations, the film is edited intelligently to imply their happening. No other film so shockingly seems to weave real children into the, let's say, ballgame of carnal abuse, especially taking into consideration the poignancy in showing the realities of their last effects.
A film destined to always show up on those sadly misconstrued 'Top Films You'll Only Watch Once' lists, Mysterious Skin deserves so much better. Certainly, a film depicting child molestation should provoke disgust and does induce grimaces of discomfort, but it also explores the topic with not only technical brilliance, but emotional satisfaction. Araki fosters the on screen relationships of these broken teens with the utmost care, making sure to humanize them, despite the grimy lifestyle Neil has chosen nor the brooding innocence Brian clings to. When they finally reunite in a tearful embrace to memorially relive the horrors of their youth, nothing could send them off into a more satisfying ambiguity than accepting their damaged realities amidst the swell of Sigur Rós. Absolutely Brilliant. Tragic. Beautiful.
Disc Review:
Strand Releasing are finally jumping full force into the Blu-ray game, reaching deep into their back catalog for this one and packing it absolutely full of new supplements. Benefiting greatly from the HD format, the image consistently boasts minute textural detail and a vivacious color palette that comes alive with its much more filmic representation than its earlier DVD rendition. It's also wonderful to hear Harold Budd and Robin Guthrie's melancholic soundtrack come alive in the DTS-HD mix, amongst the intimate soundscape in which it lives and thrives. And something unusually rare, they've even included an additional audio track that removes the dialogue, allowing you to revel in the soundtrack by itself.
Introduction by director Gregg Araki
Still immensely proud, Araki reflects on the film and the last decade since its release. 2 min
Commentary with director Gregg Araki and actors Joseph Gordon-Levitt and Brady Corbet
Pulled from the original DVD release, this commentary track doesn't lose any of its technical or tangential on set storytelling interest. The trio play off each other, recalling memories of their experiences during production and imparting details about each scene as they play out.
Conversation with Brady Corbet and Joseph Gordon-Levitt at Sundance 2014
Captured just months ago, this lo-fi hotel room interview sees the two actors reflecting on how the film has effected their careers, their remembered experiences on set and even theories about leaving ambiguity within films and more. The image quality and camerawork unfortunately leave something to be desired. 23 min
Novelist Scott Heim Reflects 10 Years Later
Years after the film's release, Heim remains incredibly proud of how the film came together and immensely appreciative of the relationships that grew out of the project. He recounts his time collaborating with Araki on the story and soundtrack, as well as his journeys promoting the film prior to its theatrical release. 8 min
Script/Sketches Gallery
Included are 12 pages of the film's script with rough storyboard ideas and notes scribbled about in the margins. It's a fascinating look inside the process for sure, but it's a bit hard to read without getting super close to your screen. It would have been better suited as inclusion in a booklet or the like.
Deleted Scenes
More extensions of existing scenes that completely new scenes, we see Neil freak out, an additional bit from the Halloween scene and some raw footage with audio direction from Araki featuring Coach and Neil as a child. 6 min
'Mysterious Skin' Book Reading
Not long after the film's release Araki, Corbet and Gordon-Levitt reunite to perform straight from the novel, the director capturing his actors once again before the lens. 55 min
Audition Tape
Shot on what looks to be a home video camera, both Corbet and Gordon-Levitt separately reading along with an off-screen woman several of the key scenes from the film. 8 min
Photo Gallery
Another much appreciated addition to the extras that would have been best suited to a booklet, this includes 46 pictures from the production and subsequent publicity for the film.
International Trailer
Oddly window-boxed, this trailer certainly feels of the time, though not really of the tone of the actual film. 2 min
Final Thoughts:
Despite its prickly subject, Mysterious Skin, with its stellar young performances, gloriously original soundtrack and outstanding direction, is a film that begs for repeat viewings. Strand Releasing have come through, from A/V presentation to copious amounts of extras, giving you every reason to partake for the first or fifteenth time.
Film: ★★★★½/☆☆☆☆☆
Disc: ★★★★½/☆☆☆☆☆