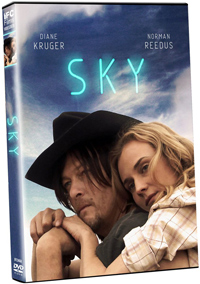 Reuniting once more with actress Diane Kruger for her third outing as director, Sky, Fabienne Berthaud unveiled her French-German co-production in competition at the Toronto International Film Festival's first Platform program in 2015. Distributed in the US by IFC Films for a limited theatrical release in April, 2016, this low-key domestic drama brings a unique Euro flavor to this portrait of a woman's reinvention in the American West, replete with rough-edged supporting characters who border on the carnivalesque. Ultimately proving the journey is more invigorating than the destination, however, even a solid central performance from Kruger gets overwhelmed by an overstrung narrative.
Superficial comparisons to Guillaume Nicloux's wildly underrated Valley of Love and Bruno Dumont's Twentynine Palms (the same locale we begin with here) fade away as Berthaud marches bravely into a problematic and curiously sexist character study. Though the film is compelling, even enigmatic in its first half, utilizing the kookiness of downtown Las Vegas and its denizens, a disappointing pallor overtakes this odyssey of self-discovery to the point where everything begins to seem haphazard and convenient. A mixture of notable cast members, some exceptionally wasted, filter throughout banalities we assume will lead to something more potent than the usual affirmation of what a woman must have to make her life seem worthwhile.
Romy (Kruger) and her husband Richard (Gilles Lellouche) are Parisians on a road trip vacation in the California desert. Engaged in a semblance of what they used to feel for another, a drunken night at a bar finds Richard flirting with two blonde women (who tell a joke about Native Americans that was old back when Fred Ward used it in 1983's Silkwood) as he berates his wife for her inability to have children. An altercation ensues, leading to Romy assuming she's killed Richard. Fleeing in terror, she buys an old Plymouth and drives for three days before turning herself in, discovering Richard is alive and well in a hospital. Announcing her plans to leave him and stay in America, Romy hitchhikes to Las Vegas, and meets Diego (Norman Reedus), a flirtatious park ranger. Their sexual chemistry eventually leads to more for Romy.
Kruger is often quite transfixing, her sharp but beautiful features like a strange flower blooming in the middle of the arid, sun-faded landscapes. We never learn why she and her husband chose this particular location for vacation, and it's a desolate place that's either exactly right or supremely wrong for spiritual or emotional reinvention.
Following the interesting set-up, examining a potential rape/murder scenario that clearly indicates this relationship has been toxic for quite some time, Sky begins to take similar shape to 1970s American films that starred strong willed women like Joanne Woodward or Jean Simmons, headlining intriguing, arresting narratives of scarred but determined souls. But Romy, aka Sky (the name given to her by Native American women during a ritual), eventually becomes another cipher for procreative glory. Initially, she's like an Angel of Death, unable to host a fetus, nearly killing her husband, and castigating a young male admirer shortly before he ends up dead in an accident on the side of the road.
We gather, despite her ambivalent plan to hitchhike across the Southwest (for some reason, Lou Diamond Phillips pops up as a truck driver), she dislikes being without male companionship. Following the film's most compelling section, involving Kruger's interaction with Lauren Landon as an aging showgirl who dresses up in a bunny outfit with Elvis impersonators making money off tourist photographs, comes Norman Reedus and an uncomfortable cycle of events, including love and another cinematic magical pregnancy and convenient terminal illness—all events Berthaud and screenwriter Pascal Arnold (co-director of several features with Jean-Marc Barr) blatantly hint at as this goes on.
The finale is nearly spelled out directly via interactions with the trailer park sister of the Reedus character, played quite convincingly by Lena Dunham (who manages a melancholic empathy we never quite feel for Kruger's Romy). Other actors, like Lellouche, Joshua Jackson, and Q'orianka Kilcher only distract because their presence causes expectations of characterization.
Perhaps had Sky felt more invested in its own titular character and her fluctuating identity, as it initially promises, one could forgive the haphazard tonal changes. But as it is, Romy is presented as a woman who doesn't know what she wants to seeks, makes a brave decision to find out what that is, and ends up stitched into regressive rhetoric.
Disc Review:
IFC releases the title on DVD only in 1.78:1, Dolby Digital 5.1. Picture and sound quality are serviceable, with DP Nathalie Durand (Roger Michell's Le Weekend) deserving of mention for skillfully navigating the changing landscapes from Vegas to the film's rural reinvention. Otherwise, this is a bare bones home entertainment release with packaging not quite calibrated to inspire confidence in the quality of the title's juxtaposing, unique elements.
Final Thoughts:
A road movie promising to trek the road less traveled ultimately runs in circles, though Kruger and several pleasurable asides elevate Berthaud's outsider portrait from a forgettable banality.
Film Review: ★★½/☆☆☆☆☆
Disc Review: ★★½/☆☆☆☆☆