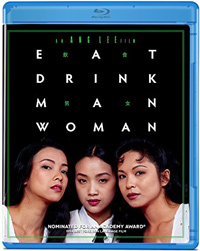 With twelve features to his name, two of those winning him Best Director Academy Awards (Brokeback Mountain; Life of Pi), Ang Lee has become one of the most notable auteurs to achieve success within the studio system. While his 1995 adaptation of Jane Austen's Sense and Sensibility began a successful career in English language filmmaking, the Taiwanese director had already received two Oscar nods for Best Foreign Language film. Those include 1993's The Wedding Banquet, premiering in Berlin, and 1994's Eat Drink Man Woman, now available for the first time on Blu-ray, though it hasn't enjoyed the same lasting reputation. After the film, Lee wouldn't return to working in Mandarin until six years later (2000's Crouching Tiger, Hidden Dragon), so it represents a certain jumping off point for the director.
Food and sex are base human desires that cannot be ignored, or so Mr. Chu (Sihung Lung) remarks, a master chef and widower of sixteen years who cares for his three adult daughters. They all still live at home, including eldest daughter Jia-Jen (Kuei-Mei-Yang), a Christian chemistry teacher celibate for the past nine years following a bad break-up, middle daughter Jia-Chien (Chien-lien Wu), an executive for an air-line company that is attracted to a new colleague, and youngest Jia-Ning (Yu-Wen Wang), who is twenty and works at a fast food chain, with eyes for a young gentleman in love with her uninterested friend. Mr. Chu has lost his sense of taste, his only joy borne out of the immaculate dinners he prepares for his daughters. However, each of them is about to make a decision that will see them finally fly off into their own lives.
Compared to the more provocative issues at hand in Banquet, Eat Drink Man Woman seems demure by comparison, sort of playing like an Ozu film on steroids. Unfortunately, the film feels so jam-packed with the varying personal issues each of Chu's daughters seems to be having that all tend to cancel each other out, and even the master chef's apparent abhorrence of the looming empty nest seems muted (in part by a final, surprising reveal that does little to enliven the film's dramatic integrity). Sadly, the script, co-written by Hui-Ling Wang and producer James Schamus (he would pen nine of Lee's scripts to date) is overwhelmed completely by DoP Lin Jong's obsessive culinary fixations.
The opening sequence, which features Chu preparing one of his traditional (extravagant and excessive) Sunday meals for his daughters, took a week to film. Jong collaborated with Lee only on his first three features, ending with Eat Drink Man Woman (which is similar to another food porn indie film Jong worked on in 2000, What's Cooking?, with Alfre Woodard and Mercedes Ruehl), and this seems to have attracted foodie connoisseurs, perhaps reminded of the 1988 Best Foreign Language winner, Babette's Feast. Eventually, the title would get the English language remake with 2001's much less successful Tortilla Soup.
Disc Review:
Olive Films gives Lee's title a pristine, if stark, transfer, presented in the standard 1.85:1 aspect ratio and without any frills to speak of. The extravagant parade of immaculate cuisine will leave you salivating, but you may not be moved by any of its other manipulations.
Final Thoughts:
Overwhelmed by motif, Eat Drink Man Woman features other fascinations Lee seems to have, with characters resisting the seeming dilution of their cultures or traditions when forced to engage with inconvenient elements. Unfortunately, though visually sumptuous, the film is a cold dish. Featuring Sihung Lung, who would star in Lee's first three films and appear in Crouching Tiger, Hidden Dragon before his death in 2002, what begins as a poignant examination of a father's relationship with his three daughters becomes lost in a series of tangents (as evidenced by other supporting players receiving critical attention, such as Winston Chao's nod at the Independent Spirit Awards for Best Male Lead).
Film: ★★½/☆☆☆☆☆
Disc: ★★★/☆☆☆☆☆