That's His Boy: Anders Brings Us Broken Homes for the Holidays with Flaccid Comedy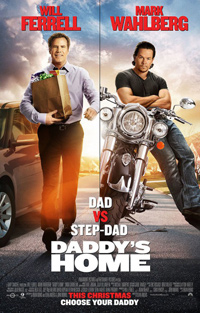 Chances are, you might not have been expecting much from Sean Anders' latest directorial effort, Daddy's Home, a PG-13 reunion of Will Ferrell and Mark Wahlberg following 2010's decently regarded The Other Guys. Why the film studio chose Christmas weekend to blight theaters with this ungainly misfire of clichéd masculinity seems to be someone's idea of what constitutes as 'counterprograming' to court the film's main demographic, which would be folks who enjoyed other Anders titles, such as the Adam Sandler flick That's My Boy (2012) and Horrible Bosses 2 (2014). In fact, one would expect Sandler to pop up here considering the utter weariness of Anders' screenplay, co-written by John Morris and Brian Burns. Instead, Ferrell and Wahlberg depend on their own worst tendencies in this agonizingly superficial and ultimately offensive film which plays exactly like a narrative dusted off from the 1950s. Picture an intense heavy such as a Brando or a Mitchum facing off against a milquetoast Fred MacMurray and the general effect would be the same, where women were conveniently neutered of any authority and young boys raised to champion violence.
Despite being able to rear his own children, Brad Whitaker (Ferrell) seems to have it all. He has a wonderful home and is married to the beautiful Sara (Linda Cardellini), and he's adopted her two children from a previous partner. He works as an executive for a smooth jazz radio station and besides his boss (Thomas Haden Church) being sometimes inappropriate and the children's reluctance to open up to him, life is good. When Sara's ex, Dusty Mayron (Wahlberg) shows up out of the blue to become involved again with his kids, it sets off a competition between the men.
We've seen Will Ferrell caricature the schlubby ineffectiveness of the white suburban heterosexual male a few too many times now. Likewise, no one's a stranger to the breathy threat of Mark Wahlberg and his pantheon of hard ass muscle men. Their rivalry for the affection of the children and the sexual attraction of their mother plays out predictably and obnoxiously, with the film's biggest problem lurking in the characterization of Linda Cardellini's Sara.
She's dismayed at the use of the word 'bitch,' but jumps right on board when her son is urged to use it when he's schooled in the art of emasculating other men to trump a schoolyard bully. The painfully awkward moment feels like watching a psychological hazing, and it is not redeemed by the sequence's punchline during the film's finale. Likewise, her character's rationale for letting Wahlberg stomp all over her stable, secure, and emotionally available new husband never seems to make sense. "I just want my kids to get to know their dad," she whispers in bed, but her actions never read as anything more than sabotage.
But enough railing on the film's ignorance of female characterization or its inability to make subversive use of how heterosexual couples have interpreted the concept of 'marriage' since women were allowed to have a say in the matter. Daddy's Home is clearly not trying to do anything daring, which it could have simply done by reversing the casting of Ferrell and Wahlberg. A rather small circle of supporting characters are used to supply secondary laughs, such as Hannibal Buress, Bobby Cannavale, and Thomas Haden Church. But all are notably flat because the film simply flings them at us as they utter improbable bits of dialogue whenever the narrative seems like it's entered a flat spell.
For those who like Ferrell's goonish side and Wahlberg's posturing, they may enjoy an odd moment or two of their rapport. But scrubbed of profanity (Ferrell has to use the word 'kripes') and anything remotely adult robs the scenario of the usual physical gags audiences can use as convenient islands of reprieve between the formulaic beats.
But since Daddy's Home is not really meant for 'family entertainment' and it's also been neutered for an audience probably assuming it will at least tickle the basest regions of the funny bone, it's relying on conveying a simple message to broken home families concerning relations between the biological parent and a stepparent—for the sake of the children, everyone should get along. And so, Anders film arrives like the chintzy Christmas gift you receive for free when spending more money at one particular outlet mall than you probably needed to.
★/☆☆☆☆☆