Reviews
Ava's Possessions | 2015 SXSW Film Festival Review
Low Spirits: Galland's Energetic Supernatural Comedy Doesn't Retain Dominion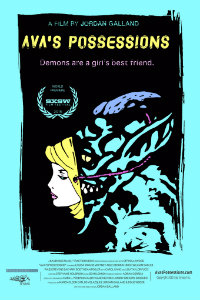 The increasingly tenuous distinction between what constitutes either horror or comedy is further exemplified in Ava's Possessions, the third feature from multifaceted Jordan Galland. A modified spin on the popular subgenre of demonic possession and exorcism titles that we've long been familiar with, Galland's latest is a comedy marinated generously with supernatural elements. Amusing yet never as clever as one would hope it to be, this plays rather like the simple structure of mainstream fodder like The Hangover parading around in a Halloween costume. Those hoping for something eerie, creepy, or atmospheric will be disappointed, but fans of its attractive cast and some impressive production elements makes this more appealing than dubious detractors may predict.
Ava's (Louisa Krause) been possessed by a demon for the past month, but with the support of her parents (Deborah Rush, William Sadler) and sister (Whitney Able), an exorcist, Father Merrino (John Ventimiglia) expels the demon. But over the course of her possession, Ava wreaked considerable havoc, and the law has determined that she either be placed in jail or attend a Spirit Possession Anonymous group. As she tries to get her life back on track, she discovers she's done irreparable damage to several friends as well as a longtime boyfriend. Through her support group, run by Tony (Wass Stevens), Ava learns ways to make sure the possession won't happen again, because her demon may be dormant but is seemingly still eager to return to her body. Discovering a pool of dried blood and a bracelet that isn't hers lodged in the couch, Ava begins to track down her actions over the past month to discover just what it was she did…and it turns out there are a few things the law doesn't know about.
Too often, these sorts of gimmicky supernatural comedies generally fail to impress, and sitting to the end credits can feel something like a chore. Time has only increased their numbers, for as it seems harder to frighten people with original concepts, cheap laughs have somehow assumed the absence. So many will recall a slew of failed titles as Ava's Possessions begins (High Spirits, Hellbenders, etc.), with Krause's befuddled protagonist learning that she's been possessed for the last twenty-eight days, and following a successful exorcism, she must attend this court mandated self help group, and so much of this plays out like a much too obvious metaphor for addiction. Galland maintains this funny ha-ha tone throughout Ava's investigation into what the hell she was getting up to over the past month, and it all turns out to be a bit underwhelming. But a few amusing bits happen on her journey, and these are successful thanks to the winning presence of Louisa Krause, an actress you've probably seen in minor supporting roles over the past several years, proving to be wholly capable as a great lead (check out her recent stint in Bluebird which hit theaters in February of 2015).
A handful of notables in minor, amusing roles pop up, including Carol Kane and the fantastic Deborah Rush. Lou Taylor Pucci feels underutilized (though this is one of two titles you'll see him woo a monsterish female in this year), while other family members played by Whitney Able, Zachary Booth, and even genre staple William Sadler have little to do.
While it's not entirely successful, Galland deserves some credit for somehow navigating through the Spirit Possession Anonymous bits without the film seeming entirely insipid, though this may be solely due to Krause and Wass Stevens treating this with a degree of seriousness. More impressive is the look of the film, often awash in a neon glow, enhanced superbly by a great score from Sean Lennon.
Reviewed on March 13 at the 2015 SXSW Film Festival – Visions Programme. 89 Mins.
★★½/☆☆☆☆☆