Disc Reviews
The Night of the Grizzly (1966) | Blu-ray Review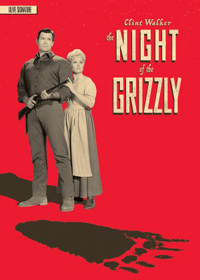 A curious hybrid of family-friendly Western homesteader themes mixes uneasily with an animal rampage film in the cheesy oater, The Night of the Grizzly Bear (1966). Well-received upon its initial theatrical release, there are several points of interest in this simplistic narrative about an ex-lawman from Las Vegas who inherits land in Wyoming and attempts to usher his wife and children into the honorable profession of ranching. If only there weren't a bloodthirsty grizzly bear named Satan slaughtering all the animals and naive landowners in sight. Predictable and without the sense of rousing adventure it seems so desperate to cull, this mellow, sometimes monotonous examination of homestead life does feature a variety of notable names from its era playing characters engaged in believable conflicts.
The plains of Wyoming call to the Cole family when patriarch "Big Jim" Cole (Clint Walker) inherits 640 acres of land from a deceased relative. The opportunity allows the lawman an opportunity to provide a different life for his wife Angela (Martha Hyer), son Charlie (Kevin Brodie), and daughter Gypsy (Victoria Paige Meyerink). Joining them will be niece Meg (Candy Moore), and Jim's former deputy, Sam (Don Haggerty), who is jovial as long as a nipper of booze is to be found. But when they arrive to claim their homestead, they learn there's a staggering mortgage still to be paid on the property, which leaves the family at a disadvantage immediately. This is music to the ears of local entrepreneur Jed Curry (Keenan Wynn), who used to own the land (and much of the surrounding areas) until he had lost it to Big Jim's relatives, and their hardship means they could default and he could again buy it. Curry's rowdy sons (Ron Ely, Sammy Jackson) stir up trouble but all leer at Meg, and the return of an ex-con sore at Big Jim for having him locked away (Leo Gordon) adds to the sense of menace. But soon, all parties come together to battle the increasing violence brought upon the area by a vicious grizzly bear named Satan.
Notably, The Night of the Grizzly was the last theatrical feature of Joseph Pevney, who would work exclusively in television for the next two decades. Pevney had a successful run in the 1950s thanks to items like the iconic Debbie Rogers vehicle Tammy and the Bachelor (1957), which spawned several sequels, as well as the Lon Chaney biopic Man of a Thousand Faces (1957) starring James Cagney, though often he was responsible for directing A-list stars in B features (like Joan Crawford in Female on the Beach or Jane Russell in Foxfire, both 1955). With The Night of the Grizzly, it feels as if he's simply bulldozing through Warren Douglas' simplistic screenplay, despite not one but two notable cinematographers, including Harold Lipstein (Pal Joey, 1957) and Oscar winner Loyal Griggs, responsible for the Technicolor wonder The Ten Commandments (1956) as well as one of the most famous westerns ever made, Shane (1945). True, The Night of the Grizzly sports some superb landscape sequences (filmed mainly in Southern California) and even longingly delivers some pretty faces and handsome physiques (fans of a bare-chested Clint Walker might be enthused), but never manages to elicit any excitement, including in several choreographed sequences with an actual bear.
Clint Walker, whose presence as the title character in popular television series "Cheyenne" from the mid-fifties to early sixties ushered in a renewed obsession with television westerns (arguably, Clint Eastwood's presence in the series "Rawhide," which began in 1959, might not have been possible without Walker), is an exaggerated composite of hulking masculinity. But there's not much by way of screen presence, despite having to engage in heroics with an ex-con who has an axe to grind, a competitive landowner, and an onerous grizzly. Sequences meant to convey his softer side with co-star Martha Hyer, an Oscar nominee for 1958's Some Came Running, are either saccharine sweet or woodenly performed, with moments of levity involving daughter Gypsy getting hosed down by a skunk only allowing for Leith Stevens' hokum inclined score a chance to bray. Much ado is made of this Wyoming hamlet nestled in a dry county, which allows for several alcohol related sequences with Don Haggerty and Keenan Wynn's undesirable sons (Jack Elam, against type, also appears as the affable town drunk). An odd but welcome presence is Nancy Kulp (Miss Jane Hathaway of "The Beverly Hillbillies") as the General Store owner Wilhelmina who seems comically starved for the touch of a man (comically because later in life she would demurely come out as a lesbian, lending her exaggerated flirtations another dimension in retrospect, not unlike watching Ellen DeGeneres play flagrantly heteronormative in something like Mr. Wrong, 1996).
Disc Review:
Continuing to unspool its newly unleashed Olive Signature series of Blu-ray titles, the distributor seems keen on restoring classic Westerns, this following the first round of releases High Noon and Johnny Guitar. Neither The Night of the Grizzly nor Joseph Pevney come close to the likes of Fred Zinnemann or Nicholas Ray's classic titles, but this is a fun re-discovery of a forgotten film, headlined by a notable cast in an ambitious mixture of themes. This new high definition digital restoration arrives in 2.35:1 aspect ratio, and picture quality is clear in close-ups, although certain sequences set in either brightly-lit daytime exterior sequences or several indistinct evening set frames don't have the same visual clarity. Optional audio commentary from film historian Tony Roan is available, as are several extra features.
Blood on the Claw: How Cheyenne Bodie Became a Movie Star:
C. Courtney Joyner's essay on Clint Walker and how his character Cheyenne Bodie from the television series transformed him into a star is included on the disc to scroll through.
The Legend of Big Jim Cole:
Clint Walker is interviewed in this half hour segment, the actor proclaiming this to be his favorite motion picture he starred in.
The Night of the Grizzly World Premiere:
Six minutes of archive footage from the film's premiere in Palm Springs, California. A narrator informs us the film is about the real Old West, "when men were men, and women were women"
At Home with Clint Walker:
This twelve minute segment from the early 60s showcases Clint Walker at home, demonstrating his home office/gym/den and what he likes to do in his personal space.
Final Thoughts:
Like a superficial campfire ditty with a glint of excitement thanks to a catchy refrain, The Night of the Grizzly has its selling points, but plays like a fusty obscurity geared towards audiences who relish thematically uncomplicated, inoffensive material.
Film Review: ★★½/☆☆☆☆☆
Disc Review: ★★★½/☆☆☆☆☆