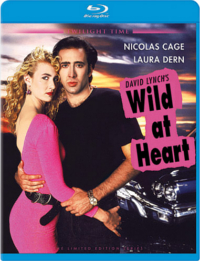 Midway through David Lynch's Palme d'Or winning, bizarro road-tripping love story, Lula tells her lover Sailor, 'This whole world is wild at heart and weird on top,' as if describing not the actual world, but the cinematic pop-nightmare universe which Lynch has envisioned for them to inhibit. Alternately weird and romantic, hysterical and disturbing, Wild at Heart is a farcical melodrama heightened by sweltering sexual passion, non-stop pop culture references and a remarkably unhinged sense of the contradiction between self-confidence and diffidence. And despite a plot that weaves in spousal murder, Elvis sing-a-longs and a warped Wizard of Oz motif, Sailor and Lula still receive their happy ending in the sun. Who would have thought that Barry Gifford's pulpy novel could be blended like a sugary spiked milkshake with the likes of 'Love Me Tender' and Glinda the Good Witch. Only from the mind of David Lynch.
Carrying us through tonal shifts of overwrought campiness and stomach-churning sexual transgressions are a pair of selfless young actors in Laura Dern and Nicholas Cage, both throwing caution to the wind allowing Lula and Sailor to boil over with heedless romantic passion that leads them down a road trip rabbit hole in which the pair of lovers run from Lula's jealousy crazed mother and her team of hired hitmen which include a tiny-toothed Willem Dafoe as Bobby Peru, a hard-nosed J.E. Freeman as Marcelles Santos and a puppy-eyed Harry Dean Stanton as Johnnie Farragut. Yet, Lynch's most bizarre personnel choice within is casting Diane Ladd, Dern's real life mother, as her notoriously demented on screen mom, Marietta Fortune. With that knowledge in mind, there are some absolutely insane situations that are played out between the two actresses, adding yet another layer of subliminal craziness to a film already overflowing with increasingly cracked conditions.
Both still fresh faced and creatively hungry, Dern and Cage give more of themselves to their characters than any since. Their vivacious performances buoy Lynch's mishmash of road trip tropes, musical numbers, underground crime networks and a litany of inserted extreme close-ups of cigarettes burning and matches sparking to life with sensory sound effects Darren Aronofsky is surely jealous of, ultimately allowing Wild at Heart to remain a simple love story all along. It seems, sometimes you can't choose the one you love, and sometimes, the one you choose happens to be a man-slaughtering knucklehead who loves singing old Elvis jams, moshing to speed metal and wearing a snakeskin jacket as a symbol of his individuality, and his belief in personal freedom. Sometimes.
Disc Review:
As part of Twilight Time's ongoing limited edition release series, this Blu-ray is the first domestic showing of the film in HD and it has received quite a stunning presentation indeed. Lynch's richly colored fantastical imagery has been cleaned up without losing it's warm, filmic texture. Details throughout are impressive, but it's the color and contrast that benefit most, both looking exquisitely vivid and deep. Being that the film relies so heavily on fiery sound design and Elvis jams, it's a relief to find we've been presented with four audio options, a bold 5.1 DTS master track, a DTS stereo track, a mono DTS Spanish dub and even an isolated music and effects track for those that want to aurally indulge. There is plenty on the menu as far as extras go as well, though nearly all being ported from the old DVD release. The disc comes packaged in a standard Blu-ray case with added booklet in tow.
Love, Death, Elvis and Oz: The Making of Wild at Heart
Ripped from the original DVD release, this making of has some insight into the mind of Lynch and features interviews with everyone involved with the picture from the stars to the editor and cinematographer and back. 30 min
Original 1990 Making Of EPK
Like a condensed version of the making of, but with a different set of interviews. 7 min
Dell's Lunch Counter (Extended Interviews)
Organized by various topics and viewable separately or all in one sitting, these are additional interview bits that seem leftovers from the Making Of piece intermixed with complemental scenes from the movie. 21 min
Specific Spontaneity: Focus on David Lynch
Again, a set of interviews from the pieces above in which the subjects speak directly on working with Lynch. It may have been better had they all been edited together in one longer, more comprehensive piece rather than smaller, repetitive feeling extras. 7 min
David Lynch on the DVD
Since this is the Blu-ray upgrade, this piece feels a bit out of place, but it's still quite fascinating to see Lynch speaking on color correction and film texture. 3 min
TV Spots
From the director of Twin Peaks…., a set of four nearly identical 15 second TV commercials from the film's release. 1 min
Motion Gallery
Rather than a static clickable gallery, this is a motion montage of photos taken during the film's making. 2 min
Original Theatrical Trailer
Stuffed with all the manic strangeness of the film, this trailer feels just right, though it looks a bit darker than the cleaned up HD transfer the film received. 2 min
MGM 90th Anniversary Trailer
Seeming to be tacked on as a trade of with MGM for the rights to release, Twilight Time have included this trailer which has nothing to do with Wild at Heart and features a selection of the most memorable MGM releases of all time. 2 min
Booklet
Features a set of key promo images from the film and lovely retrospective essay by Julie Kirgo.
Final Thoughts
There is no denying the fun to be had with Wild at Heart. Its irresistibly charismatic leads draw you into Lynch's anything goes, 50s-inflected nightmare with an ease and insanity that's unlike anything put to film before or after. Despite the fact that it pulls from a litany of pop-culture icons for referential inspiration, Lynch's most upbeat film is a true original and Twilight Time has done a respectable job with their lovely package. Though it's stacked with extras, the disc really is worth every penny just for the much improved A/V presentation over the previous MGM DVD. The only thing we could ask for is more Lynch in HD.
Film: ★★★★/☆☆☆☆☆
Disc: ★★★★/☆☆☆☆☆