Year of the Comet | Blu-ray Review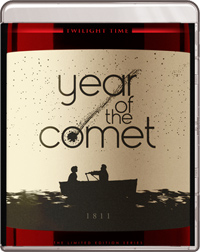 Revisiting Peter Yates' 1992 romantic adventure film Year of the Comet is a bit like watching a paunchy prizefighter attempting to reclaim a past virility which has long since evaporated. Known for his iconic Steve McQueen film Bullitt (1968) and a slew of notable titles from the New American Cinema golden era of the 1970s such as The Friends of Eddie Coyle (1973) and The Hot Rock (1972), Yates hit his peak with Oscar nods for 1979's Breaking Away and 1983's The Dresser. But going forward, from Krull (1983) onwards, found Yates unveiling titles with varying degrees of success.
His union with famed screenwriter William Goldman (whose last wholly original screenplay was 1969's Butch Cassidy and the Sundance Kid) sounds like something meant to be a comic caper throwback with this treatment which was originally conceived as a vehicle for Glenda Jackson in the 1970s. Passably amusing, a lack of chemistry between its unenthusiastic leads and an unnecessarily zany narrative desperate to pass itself off as a sort of exotic intrigue for elitists hobbles this chummy rom com for oenophiles.
Eager to prove her worth to her step-father, a notable London wine merchant, Margaret Harwood (Penelope Ann Miller) snags a plucky opportunity to inventory her first important collection. However, she stumbles upon on ultra-rare bottle of Lafitte from 1811, made during the year of the Great Comet, a vintage estimated at upwards of a million. Tasked with bringing the bottle back to London for auction, Margaret is guided by the roguish Oliver Plexico (Tim Daly), a noted beer drinker who was introduced to her while he worked as a fixer for a Texas wine connoisseur. No sooner do they head home with the bottle when they are accosted by a variety of eager parties eager to steal it, including a group of men led by a Euro supervillain (Louis Jordan).
The pairing of Penelope Ann Miller and Tim Daly as the romantically invested leads perhaps seems strange in retrospect. At the time, however, Daly (younger brother of actress Tyne Daly) was a popular television star thanks to his leading role on "Wings," although his success migrating to feature film was eventually unsuccessful. Likewise, Miller was at her peak as well, having come up in the late 1980s in various supporting roles and entering the 1990s opposite co-stars like Arnold Schwarzenegger (Kindergarten Cop, 1990), Robert De Niro and Robin Williams (Awakenings, 1990) and Marlon Brando (The Freshman, 1990), before moving onto collaborations with Yates, Norman Jewison, Richard Attenborough, and Brian De Palma all in the same timeframe. Here, she is straightjacketed into playing the American stepdaughter of a noted wine merchant who is so dowdily dialed into the stereotype of the frigid intellectual spinster it has the overriding flavor of a 1950s studio film. At odds with the mustachioed Daly, whose Oliver Plexico plays like an afterthought, a male escort masquerading as Indiana Jones or Robert Redford, hired to spice up the banality of a woman's first solo occupational crusade, their eventual consummation of sexual longing is as unbelievable as it is ultimately untoward, more incestuous than titillating.
A series of stops and starts transpire as the expensive bottle of wine passes from hand to hand, though no one party at any time seems to be presented with any actual conviction. The flaccid narrative is beefed up with a wonky reveal, which might be worth the price of admission alone to witness the final cinematic reel to feature lothario Louis Jordan as he chews scenery regarding some silly sci-fi fountain of youth twist, but played so flamboyantly it's sort of like being forced to believe Clifton Webb actually wants to sleep with Gene Tierney in Preminger's Laura (1944), if you catch the drift.
It's clear William Goldman modeled this after the charming caper comedies of yore, and at times there's a glimpse into the slapstick zest which the film aims for, but it never feels smart or polished enough to reach any euphoric moments. Harmless but tepid, Year of the Comet was not a vintage yield for Yates, and far below the standards he set for himself decades prior.
Disc Review:
Twilight Time presents Year of the Comet as a limited edition release (3,000 units), presented in high-definition 2.35:1. Picture quality is clear throughout, while the 2.0 DTS-HD master audio does a fine job of highlighting the title's most efficient achievement, a well-oiled score from Hummie Mann (available, as per usual on a Twilight Time release, as an isolated track). Besides the original theatrical trailer, the release is without audio commentary or additional special features.
Final Thoughts:
Yates completests may rejoice at this Blu-ray transfer, but unless one has an underlying interest in Miller, Daly, or Louis Jordan, Year of the Comet will likely seem a waste of time.
Film Rating: ★★½/☆☆☆☆☆
Disc Rating: ★★★½/☆☆☆☆☆