Hovering around the twenty-one to twenty-four feature film mark with at least a quarter of those films belonging to first time filmmakers, the Quinzaine des Realisateurs (a.k.a Directors' Fortnight) has in the past couple of years, counted on a healthy supply of French, Spanish and Belgium produced film items, and has been geared towards the offbeat genre items as with last year's edition curated by Edouard Waintrop and co. To be unveiled on the 22nd, as we attempted with our Critics' Week predix, Blake Williams, Nicholas Bell and I (Eric Lavallee) are thinking out loud and hedging our bets on what the section might look like or what the programmers might be looking at for 2014. Here is our predictions overview:
Alleluia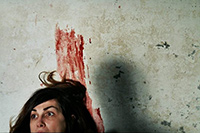 Six years after presenting Vinyan at the Venice Film Festival, Fabrice Du Welz finally returns with potentially not one, but a pair of works for the '14 campaign. Among our the top most anticipated items (#20 out of 200), the Belgian helmer reteams with Laurent Lucas (who starred in his Critics' Week preemed Calvaire) for a loosely based true story crime spree mayhem that occurred in the U.S in the late 40's. Apart from being a blood soaked affair, this should dig into some psychologically fascinating territory with an off-beat character study featuring Catalan born Lola Dueñas (from the Pedro Almodóvar films) in the lead of Gloria.
A Villa in Los Angeles
Aliocha who presented his short film La conduite de la Raison in the section back in 2011, will be looking to present his directorial debut there as well. A dramedy featuring Lady Chatterley's Jean-Louis Coulloc'h (who previously worked with the filmmaker on his 2012 short, Bake a Cake) plays a father who heads out to a weekend at sea with his son and some friends, but relationships worsen and tensions rise to the rhythm of the ever-changing tides.
The Ardor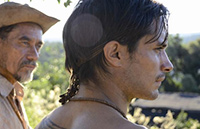 Featured twice in the Critics' Week section for The Mugger (2007) and Blood Appears (2008), it should be business as usual for Argentinean born Pablo Fendrik who'll likely graduate to DF or the Un Certain Regard section. The English language nature-set thriller (#55 out of 200 in our most anticipated) sees Gael Garcia Bernal portray a mysterious man who emerges from the Argentinean rainforest to rescue the kidnapped daughter (Alice Braga) of a poor farmer after mercenaries murder her father and take over his property.
Big Sky
You could sort of say that the Fortnight have been attached to the limb of Mexican helmer Jorge Michel Grau after not only premiering his feature debut Somos lo que hay, but the American remake We Are What We Are that came after it. However, a successful attempt at a three-peat in the section would need for this English language film (#98 out of 200) to break new ground perhaps within the subgenre. Starring Bella Thorne, Kyra Sedgwick and Frank Grillo, this is about a teen traveling with her mother to a treatment center for her agoraphobia and has to fight for their lives against a gunman who attacks them.
Bypass
His gritty, unshakable debut film Better Things appeared in the Critics' Week in 2008 and he followed that up with his short, Cigarettes at Night (2011 entry in the Directors' Fortnight). Duane Hopkins' sophomore feature (#33 out of 200) shows in graphic detail the life of Tim (George MacKay). His habits, his hustle, his family, his responsibilities, his conflicts, his hopes, his fears, his character, his existence. Through this we understand his present, and his past—and we consider his future. Ben Dillaway, Charlotte Spencer and Donald Sumpter co-star. If Un Certain Regard doesn't steal the thunder tomorrow, this will confidently land in the Quinzaine.
Le fil d'Ariane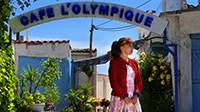 From our simple fact-checking skills, veteran filmmmaker Robert Guédiguian has only visited Cannes twice. In 2009 he presented The Army of Crime (in an Out of Comp slot) and in 2011, The Snow of Kilimanjaro was selected for the Un Certain Regard sidebar. We're thinking that the ensemble starring Ariane Ascaride, Gérard Meylan, Jean-Pierre Darroussin, Adrien Jolivet, Anaïs Demoutier, Youssouf Djaoro, Jacques Boudet and Lola Neymark will make its way further down the croisette. This tells the story of Ariane, a middle-aged woman, who is lonelier than ever in her pretty house. It's her birthday. The candles on the birthday cake are lit. But all of her loved ones have sent their apologies – they're not coming. So she takes her pretty car and leaves her pretty suburban neighborhood to get lost in the big sunny city of Marseille.
Ejercicios de Memoria (Memory Exercises)
She had her directorial debut Hamaca Paraguaya premiere in the Un Certain Regard section back in 2006, and now with this Argentina-Paraguay-Germany-France co-production, Paz Encina's sophomore follow-up she pushes the narrative form towards a docu-type reflection. The politically themed documentary explores the life of Agustín Goiburú, the notion of memory and the story of Paraguay.
Free Fall
Shooting on György Pálfi's 5th film began in early January and is supposedly going to be ready for all Cannes section deadlines. The beloved Hungarian filmmaker broke out big in 2006 with Taxidermia (an Un Cerain Regard selection) and his montage history of cinema film Final cut – Ladies and Gentlemen was a rare "new" film presented in the Cannes Classics sidebar in 2011. This is described as: the story of seven apartments, not ordinary stories of different homes located in the same building. These stories are the visual manifestations of the anxiety of these flats.
I Am Here
The name of Anders Morgenthaler has be synonymous with Cannes but with his animation work. In 2003, his animated graduation short fiction film was shown in Cannes Critics' Week and in 2006, Princess opened Directors' Fortnight. It's a long-shot, but he could receive a "re-invite" with a real action dramatic tale starring Kim Basinger, Jordan Prentice and Peter Stormare. This tells the story about Maria, a successful career woman, who has everything she could want except for what her heart desires most of all: a child.
Kill Me Please
After three short films and FIPRESCI Prize win, Brazilian helmer Anita Rocha da Silveira will likely have her directorial film land in a major film fest and perhaps the DF folks will want to grab this zesty number about a crime wave that hits Barra da Tijuca, an up-and-coming middle-class neighborhood in Rio de Janeiro. The dismembered bodies of teenage girls are found lacerated in the wastelands surrounding the area. Bia, a 15-year-old teenager, and João, her brother, live in this area. While she discovers love in encountering a corpse, he keeps looking for a girl that has mysteriously disappeared.
The Look of Silence
If this flip-side documentary is anywhere close to Joshua Oppenheimer's landmark, seminal The Act of Killing then we'll have grossly underestimated how "high" up this could have landed. After collecting accolades galore and top tier festival berths, we see the Quinzaine embrace this doc much in the same way they embraced Werner Herzog's first film. Herzog godfathered The Act of Killing with Errol Morris. This non-sequel poses the question, what does it mean to live in a society where the people who killed your son or daughter are still walking around and are your neighbors?
Les Loups
The festival as a whole have a soft-spot for Quebecois film and perhaps Sophie Deraspe's third feature film (following 2006's Missing Victor Pellerin, 2009's Les signes vitaux) might land a coveted spot. Featuring the exquisite Évelyne Brochu (featured in Café de Flore, Inch'Allah and Xavier Dolan's Tom at the Farm) in the beautiful backdrop of the province's Îles-de-la-Madeleine, this Canada-France co-production tells the tale about Elie, an attractive young woman in her twenties, who arrives on the island in deepest winter, in search of her father, a native of the community. Her presence elicits both curiosity and wariness. Louise Portal and Gilbert Sicotte also star.
Madame Bovary
If filmmaker Sophie Barthes arrives on the Croisette she'll be bringing plenty of Gustave Flaubert and a little bit of Normandy with her take on the literary classic — but make no mistake, this has an international feel along with the French infusion. Starring Mia Wasikowska, Ezra Miller and Paul Giamatti (who of course was the central figure in Barthes' debut film, Cold Souls), this is about a doctor's wife has affairs to escape the banality of her life. If this is weighty enough, this could easily be put among the UCR offerings.
My Man
To be released domestically in June and tapped as a strong Cannes contender, Kazuyoshi Kumakiri picks apart the new family dynamic that has certainly become reality for several families affected by the true life events of 2011. Based on the novel by Kazuki Sakuraba, Tadanobu Asano becomes a father figure to a 10-year-old distant relative named Hana (Fumi Nikaido) after she's orphaned by an earthquake and Tsunami which decimated Okushiri Island, Hokkaido. Over the next 15 years, they grow to love each other like father and daughter in spite of Hana's traumatic past. As Hana's wedding day approaches in 2008, she reflects back on moments they shared as if flipping through the pages of a photo album.
Nasty Baby
It would be quite a feat if Chilean helmer Sebastian Silva manages to receive an invite for a second consecutive straight year, and seeing that 2013's Magic, Magic is visibly different in terms of plotting but not in terms of wackiness. This centers on a gay couple, Freddy (Silva) and Mo (Tunde Adebimpe), who embark on a doomed mission to have a baby with the help of their best friend, Polly (Kristen Wiig), a family practitioner.
La ritournelle
Another highly ranked item on our most anticipated list (#82 out of 200), featuring the ensemble of Isabelle Huppert, Jean-Pierre Darroussin, Anais Demoustier, Michael Nyqvist and Marina Fois, this has an attached June domestic release and would be a move up for Marc Fitoussi who premiered his debuted his sophomore film Copacabana in the Critics' Week section. Brigitte and Xavier have a good life. A man of few words, Xavier spends most of his time taking care of the cattle. A sophisticated dreamer, Brigitte keeps hoping for something else, something more…
Terre battue
With a title that symbolically addresses how an economic downturn can really put a wrench in one's future, benefiting from the presence of a rather sturdy dramatic players in Olivier Gourmet and Valeria Bruni Tedeschi, first time helmer Stéphane Demoustier's tale focuses on Jérôme (Gourmet), who recently fired from his job, sees the departure of wife (Bruni Tedeschi) but while he feels he has lost everything, his son, Ugo (Charles Mérienne) is a promising tennis player. Demoustier's actress daughter also stars.
Tiens-toi droite (Stand Up Straight)
Already a Cannes invitee via her debut film in 2011's Pourquoi tu pleures? (it was closing Special screening film at the Critics' Week) the established actress turned director Katia Lewkowicz gets to play with Laura Smet, Marina Foïs and Noémie Lvovsky in a three-estrogen filled force that band together to overcome their fears.
Titli
If you're keeping tabs on India's top independent producer in Guneet Monga, then you know that after Cannes splashed Peddlers, Gangs of Wasseypur and The Lunchbox, that the next item up in the pipeline might be Kanu Behl's debut which tells the story of a rebellious young man who is unwillingly married off, but finds an unlikely ally in his wife, who also harbors unfulfilled dreams.
Untitled Hong Sang-soo pic
His home is Cannes and his permanent address has either been at the huge theatre on the left (Grand Lumiere for the Main Competition) for 2004's Woman is the Future of Man, 2005's Tale of Cinema, 2012's In Another Country or the one on the right named Debussy (Un Certain Regard screenings) for 1998's The Power of Kangwon Province, 2000's Virgin Stripped Bare by her Bachelors, 2010's Hahaha and 2011's The Day He Arrives. In all likeliness, he'll be featured in either one or the other, but in the event that this does not occur, then his 16th film would likely float over to the Quinzaine. Currently untitled, this stars Jung Eun-Chae, Kang Hye-Jung, Ryo Kase and Kim Ui-Sung.
You Can't Win
It'll be a different programming team than the one that was in place last time (he was invited to the Directors' Fortnight for Zoo back in 2006) and Robinson Devor's fifth film (previous items include The Woman Chaser (2000), Police Beat (2005) and an upcoming docu titled Pow Wow) starring an ensemble featuring Michael Pitt, Jeremy Allen White, Will Patton, Hannah Marks, Louisa Krause and Julia Garner has been long in the works and is due to break sometime soon. The highly anticipated film (#59 out of 200) is an adaptation of adventurer Jack Black's 1926 autobiographical novel of the same name which tells of his experiences in the hobo underworld, freight-hopping around the still Wild West of the United States and Canada while he explores the topics of crime, addiction, criminal justice and human folly from various viewpoints.
Vie sauvage (Wildlife)
Will it be a return to the section that first adopted and awarded the filmmaker back in 1994 with his debut feature, Trop de bonheur? With nine features in, Cédric Kahn's only other feature to be included at the fest was the 2001 Main Comp entry Roberto Succo but he most recently returned as an actor in the Fortnight selected Alyah as an actor. Starring Mathieu Kassovitz as Paco, a father who lives with his 6 and 7 year old sons, this details what happens when he decides not to give back his children to their mother (Céline Sallette) after she won custody of the two.
P'tit Quinquin
Bruno Dumont has been feted at the festival ever since he landed at the fest and the Directors' Fortnight with La vie de Jésus. Out of the total of four trips he has made there, he has claimed the Grand Prix on two occasions for '99s L'Humanite and '06's Flandres and recently had Hors Satan selected for the 2011 Un Certain Regard line-up. We're thinking this 52 minutes times four min-series would be ideal for a special screening display and a return to his first "love" sorta speak. Set near a coastal village of Boulogne where gang of young thugs led by P'tit Quinquin and Eve roam, this centers around a police investigation.
Curated predictions list by Blake Williams, Nicholas Bell, Eric Lavallee.