2019 NEXT Section Sundance Trading Card Series: #13. Kaet McAnneny – The Wolf Hour
Production Designer Kaet McAnneny from Alistair Banks Griffin's The Wolf Hour is among the voices, faces and creative folks that are a part of the ten films selected for our favourite section at the Sundance Film Festival. Added to the fest at the beginning of the decade, over time, the NEXT section (formerly referred to as "<=>") has unearthed some of the best voices in micro American indie film projects with the likes of Sebastian Silva, Josh Mond, Rick Alverson, Anna Rose Holmer, Andrew Dosunmu, Craig Zobel, David Lowery and Janicza Bravo. We return with Sundance Trading Card Series focusing on the 2019 NEXT section selected films and personalities.
Eric Lavallee: Name me three of your favorite "2018 discoveries".
Kaet McAnneny:
1. MY SISTER GAVE ME AN ORIGINAL CAST RECORDING FROM A NBC's Saturday Night Live on VINYL
2. ARTIST MALCOM LIEPKE'S PORTRAITS OF WOMEN
3. BELLE DE JOUR (PARISIENNE BOUTIQUE SPECIALIZING IN VINTAGE PERFUME ATOMIZERS)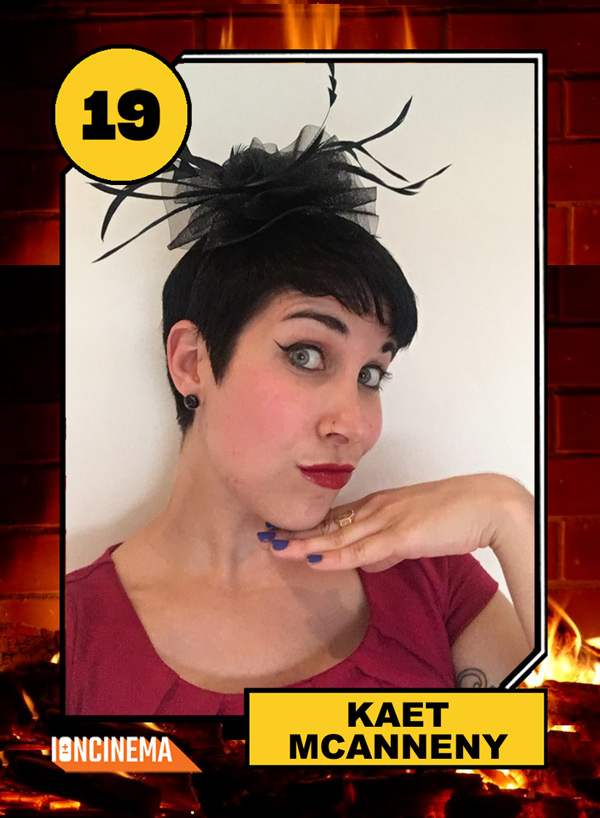 Lavallee: If we were in a paint shop, what are some of the more surprising color palette skus that enhance the psychology, emotional state profile and/or the backstory of the film's main character?
McAnneny: THE COLORS MOST CONTROLLED FOR IN THE FILM WERE BLACK AND WHITE. THE ONLY TIME YOU SEE THEM ARE IN THE ARTWORK ON JUNE'S WALLS. MY FRIEND AND TALENTED ARTIST, TED MCGRATH, SUPPLIED THE VISCERAL WALL ART THAT, FOR ME, SPOKE OF JUNE'S PAST. THE REST OF THE COLOR PALETTE WORKED WITHIN DESATURATED TONES THAT WOULD HAVE BEEN EN VOGUE 20 YEARS PRIOR, AS JUNE WAS INHABITING HER GRANDMOTHER'S APARTMENT.
Lavallee: Sans spoilers, are their objects and/or locations in the film that come to symbolically diverge in meaning for the players?.
McAnneny: THE BUZZER IN THE APARTMENT FOR SURE. I'D ALSO MENTION THE USE OF FANS AROUND THE APARTMENT. LASTLY, I HID A REPLICA OF MIA FARROW'S TANIS ROOT NECKLACE FROM ROSEMARY'S BABY , ON JUNE'S BEDROOM, THAT MOVIE WAS A BIG REFERENCE FOR ME AND I WORE THE NECKLACE THROUGHOUT PREP/SHOOTING.
Click to expand!