2019 NEXT Section Sundance Trading Card Series: #12. Alistair Banks Griffin – The Wolf Hour
Filmmaker Alistair Banks Griffin from The Wolf Hour is among the voices, faces and creative folks that are a part of the ten films selected for our favourite section at the Sundance Film Festival. Added to the fest at the beginning of the decade, over time, the NEXT section (formerly referred to as "<=>") has unearthed some of the best voices in micro American indie film projects with the likes of Sebastian Silva, Josh Mond, Rick Alverson, Anna Rose Holmer, Andrew Dosunmu, Craig Zobel, David Lowery and Janicza Bravo. We return with Sundance Trading Card Series focusing on the 2019 NEXT section selected films and personalities.
Eric Lavallee: Name me three of your favorite "2018 discoveries".
Alistair Banks Griffin:
1. Painter Walton Ford
2. Soundtrack to Dennis Hopper's American Dreamer
3. The Finnish actor Eero Milonoff from Ali Abbasi's Border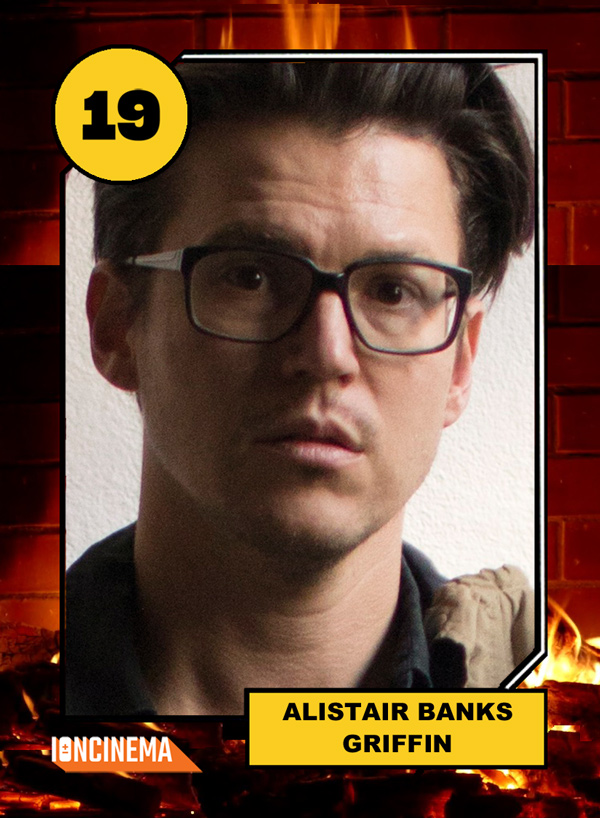 Lavallee: Prior to committing to the project, could you discuss the first gist of an idea (e.g. setting, visual idea, character, plot device, personal experience) and how that evolved or help push the project forward?
Griffin: These things spark from unknown places but rarely do they rise to the place that warrants a fully flushed out story so when it does, it has to be pursued. I was living for several years in the top floor of this LES/Chinatown tenement building as one of the only non-Chinese residents in a relatively isolated and sparse existence and the project was born out of some strange experiences through that time. Though oddly, I didn't have a door bell or intercom in that apartment, I knew immediately that my story would revolve around one as a central, anthropomorphized character. As the idea began to grow I became cognizant of how much current world events were permeating into the story/character and suddenly it all became clear.
Lavallee: In terms of ambient sound, score, silence, beats, how does your sound design choices inform the film in terms of tone, atmosphere, emotional in/output? .
Griffin: I would say sound design comes dramatically more into play in TWH than in an average film of this scale. Specific sound descriptions permeated across the script I knew nailing it would be vital to the success of the film. When you're dealing with a single location (especially in NYC) the sounds outside the window are half the story. It became very clear early on that it couldn't just be stock voices. We had to craft the texture and feel of slang and street energy of the Bronx in 1977. I watched a lot of docs about the Warrior-esque gangs that dominated the neighborhoods and wrote pages and pages of what I call ambient dialogue in post that an extremely talented group of voice actors came in and performed. It creates a whole other part of the unseen narrative. In other areas it's extremely important to exercise restraint. You want score and design not to indicate emotion or danger, but to enhance it. You have to trust your audience and not hand hold or manipulate. And sometimes the most important thing to use is the absence of sound. I like thinking about it as to how it might relate to the use of negative space in painting.
Click to expand!