And Hates the Proletariat: Greek Costume Drama Stinks to High Heaven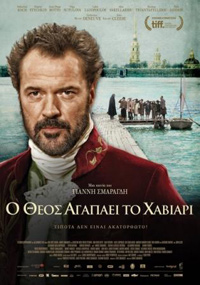 Greek director Yannis Smaragdis began his career in the mid 1970's as a writer/director, making only a handful of feature films since. Some of these have been more celebrated than others and you'd be hard pressed to find a copy of any of his titles stateside. This is usually unfortunate for the avid cinephile, but not always. If you're ever in a desperate search for his latest title, God Loves Caviar, you might be in for a resounding disappointment. Turgid, awkward, and as insincere as they come, this historical melodrama is one painfully orchestrated scene after the other.
This is based on the true story of Ionnis Varvakis (Sebastian Koch), a Greek pirate, turned successful businessman and finally, national benefactor. We first see Varvakis as an aged man suffering from a contagious disease, about to be delivered to a sanatorium. A group of children clamoring to find out who the old man is become privy to the mysterious man's story through the excitable lips of his faithful slave turned servant, Ivan (Evgeniy Stychkin). At the same time, another Greek nobleman (Juan Diego Botto) relates the legend of Varvakis to a British merchant (John Cleese). Through these corresponding flashbacks, we get a heroically hyperbolized and sanitized tale about a brave man that 'dared to dream.' Becoming financially sound after discovering how to transport fresh caviar throughout Russia after he is hired by Empress Catherine II of Russia (Catherine Deneuve) for a different matter altogether, Varvakis continues to have slight, dramatic squabbles with his adult daughter he had abandoned as a child, who now works with him in his business venture. Eventually, he returns to Greece in order to support the revolution against the Ottoman Empire, his later goals focused on making all of his native land a free country.
With most of the major cast not being Greek, including Varvakis (German), Botto (Argentinean), and in the case of the Russian Empress, Deneuve is French, God Loves Caviar suffers most from the awful English accented predicament that warps many a Hollywood flick. But Smaragdis' film has way worse problems than that, namely that it never manages to come to life, no matter how many elaborate set pieces it tosses at us. Worse, it features excruciatingly bad dialogue and a hopelessly lazy narrative framing, never managing to create even one believable or salvageable second of film. Yes, even one of the greatest beauties of world cinema, the one and only Catherine Deneuve, is painfully squandered here, as is John Cleese.
God Loves Caviar is so implausibly, laughably bad, the only positive comment to make would be to watch it only to learn exactly what not do when making a film. Varvakis may have been a pirate that dared to dream, but if this film truly encompasses his flights of fancy, he should have stayed asleep. For those in search of competently made cinema, God Loves Caviar will only fail to register or raise your ire, for it respects neither your intelligence nor your time.
Reviewed on September 15 at the 2012 Toronto International Film Festival – CONTEMPORARY WORLD CINEMA Programme.
99 Min