Don't Fear the Reaper: Lopez-Gallego and the Search for Substance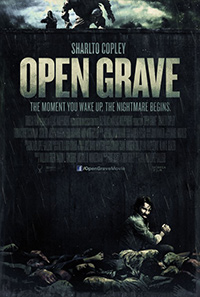 In 2011, some may recall a found footage moon expedition thriller called Apollo 18, the English language debut of Spanish filmmaker Gonzalo Lopez-Gallego, which, like many films of its ilk, wears thin quickly, hinging its chills on moon rock arachnoid looking creatures. Since that film seemingly performed well enough within its mediocre trappings, Lopez-Gallego is back with his next feature, Open Grave, returning to the arena of the novice screenwriting pool for a different breed of gimmickry. While it's clear he has a definite knack for concepts, execution seems to be a sticky point. Dropping us right in the middle of a B thriller scenario, its characters are quickly painted into a dodgy corner, and thus ensues a sterile scenario that takes entirely too much time to bring us to an ending that assumes we'll find it as nifty as it thinks itself to be.
A man (Sharlto Copley) wakes up in the wilderness in the pouring rain, stuck in a pit with a bunch of corpses. A woman, known only as Brown Eyes (Josie Ho), helps him out of the pit and into a nearby house where he finds a group of people that are all suffering from amnesia, including himself. While a pile of driver's licenses on the table helps them determine their names, no one, as is par for the course, can remember anything at all. And the woman that helped the man named John out of the pit? Well, she's a mute foreigner, presumably Chinese, who seems to know more than any of them, but doesn't have the ability to communicate. As the troupe of individuals set out to find clues as to why they're stuck in this strange, isolated cabin in the woods, they discover alarming things on the surrounding property, such as a bunch of slow-moving zombie-like creatures. Then, one member of the party, Lukas (Thomas Kretschmann) starts exhibiting strange behaviors and finds a camcorder that starts to give them major clues as to what exactly is going on.
After the success of District 9 (2009), Copley has remained a rather quiet commodity until this year, which sees him in four new releases, all of them either showcasing him as a man of brittle mental stability or on the precipice of some sanity challenging scenario. Here, it's a bit of both, and comparatively, he fares a bit better than his cast mates (Joseph Morgan's character, Nathan, gets to look pouty and quip "Turns out I know a few languages" with unabashed nonchalance), though, in comparison to his previous three performances this year, Copley seems to be developing an unhinged shtick that's already beginning to feel a bit lackluster.
Thomas Krestchmann, usually a character actor playing villains of German and/or possibly Russian descent somehow makes victimhood as equally menacing as his villains tend to be. Hong Kong staple Josie Ho is completely wasted here as the catalyst mute, which is certainly a pity considering what a talented performer she is. The script, co-written by Chris and Eddie Borey, spends way too much time meandering around an amnesia gimmick that kills any initial momentum, as well as wasting the opportunity to actually develop any of the characters. Basically, we are forced to watch a group of soggy minded strangers wander around in the woods as they're greeted with their essential end as determined by the uncompromising formula, until we finally reach a revelation that seems hardly worth the time and effort.
★/☆☆☆☆☆