Father Figure: Eugene Green's Amusing Nature vs. Nurture Satire of the Holy Family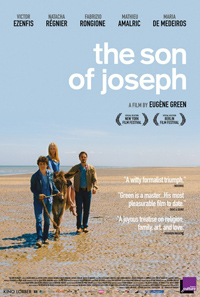 With his sixth feature film, Son of Joseph, New York born French-language art-house auteur Eugene Green gets the closest to mainstream we've yet to see in a droll familial parody utilizing artistic and religious motifs. Here, it's a teen's quest for paternal solace, retrofitting the Bible's Holy Family (you know—Jesus, Mary, and Joseph) for contemporary French climes. Produced by the Dardenne Bros. (which explains the appearance of their regular cast member Fabrizio Rongone) and featuring a couple internationally recognizable Gallic stars, this should ensure Green a bit more widespread recognition with this playful title, hitting limited theatrical release nearly a year after it premiered to warm reviews at the 2016 Berlin International Film Festival. Deliciously subversive as an austere allegorical stab at both religion and the vested importance of patrilineal familial relations, audiences familiar with the director will most likely find this surprisingly adroit in its ability to amuse, while those new to Green's particular theatrical flourishes may feel flummoxed.
Pouty teen Vincent (Victor Ezenfis) lives alone with single mother Marie (Natacha Regnier) in Paris. Never having known who his father is, he digs through his mother's private belongings to discover he's the son of a prominent publisher, Oscar Pormenor (Mathieu Amalric). Setting off to meet his father, he eventually poses as a potential client at a party and manages to copy a key to his father's office, a swank hotel room, where he hides out one day…only to discover his dad's rather a cad, currently cheating on his wife with his secretary (Julia de Gasquet). This leads to a violent interaction between father and son, without Oscar knowing who the boy really is. Running away, a chance encounter with Oscar's brother Joseph (Fabrizio Rongone), leads to the beginning of a bond the boy has been seeking. But the angry Oscar has reported the boy to the authorities, and so eventually Vincent, Marie, and Joseph find themselves attempting to elude capture.
When Green isn't making period pieces, it seems he's keen on updating classical or historical texts for contemporary settings, and the Biblical inspiration of Son of Joseph probably aligns the film most closely with his 2003 sophomore film, The Living World, which plays like an update on a medieval fairy tale. Dialogue exchange is generally terse, with a stagey quality enhanced by constant reaction shots during sometimes gratingly obsequious interactions. Ezenfis doesn't quite stand out as more than the pivotal figure in this allegory (the hard-to-miss unkemptness of Green, on the other hand, does stand out in a supporting role as a hotel clerk). Natacha Regnier, who appeared in Green's 2004 film Le Pont des Arts, is the sweet, if slightly out-of-touch mother keen on protecting her son from his philandering father, a scurrilous Mathieu Amalric, a typical businessman in the throes of a hypersexualized mid-life crisis (at one point making whoopee on a desk Vincent is hiding under). Utilizing various paintings characters observe or are transfixed by, Green pulls a reversal of the Abraham/Isaac escapade by having the boy handcuff his father to his desk, which nearly becomes his sight of sacrifice. Of course, this opens up the opportunity for Rongone's Joseph as the affable uncle to fulfill the role of the boy's male parental figure, allowing the film to play out as a strange rehash of the Nativity, where the newly formed trio is hunted down by helicopters in an impressively staged sequence, allowing for them to be equipped with a donkey in their flight from the angry Herod figure, Oscar.
The essence of the film indicates biological realities don't correlate with the idea of a nurturing parent. Before embarking on his search for his father, Vincent's early exchange with a schoolmate about donating sperm for money essentially positions our expectations for Amalric's Oscar, a man who served a role in the creation of Vincent, but nothing more. Parenthood is, rather, an adopted role or responsibility, a posturing. It's not so much Joseph is even presented as a standup type of guy—but he's someone willing to share time with Vincent.
Green's usual DP Raphael O'Byrne, once more, seems to languish with his lens more longingly on works of art than its humans, instead employing static shots on mutiple wooden exchanges all sounding highly artificial, or mockingly self-aware of its own deadpan tone. Standing out as one of the film's most blatantly amusing accents is Maria de Medeiros as a hapless literary critic, who mistakes Vincent for a budding author, a persona she seems mostly to invent on a whim and then flaunt to others.
★★★½/☆☆☆☆☆