The Bonds of Bonding: Martin's Debut a Choppy Crime Caper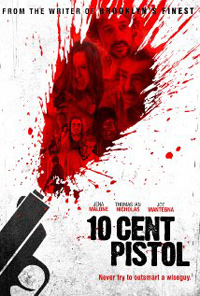 Sustained by a likeable cast of notable character actors, screenwriter Michael C. Martin's directorial debut 10 Cent Pistol sports similarities with his previous credit Brooklyn's Finest (2009), which was directed by Antoine Fuqua. Multiple perspectives converge and crisscross over pulpy crime thriller tropes as cheaply manufactured as its titular toy would indicate, though its overly convoluted patch of twists, turns, and other maneuvers eventually belies a threadbare narrative by the time we get to the unveiling of the film's ultra-mastermind. Taking place over familiar and commonly utilized Los Angeles terrain, this sun dappled rhinestone ultimately feels like another mean spirited, empty headed bauble, one whose ultimate moments of entertainment are dictated by the quality of the character in focus at any given moment.
A pair of LAPD officers show up to investigate a tripped security system at a private residence, only to find the door answered by a rather suspicious man named Harris (Thomas Ian Nicholas). The police enter the home to find a young woman, Danneel (Jena Malone) sheepishly crowding the entryway, while a pair of other friends, Easton (Damon Alexander) and Jake (JT Alexander) stoically inhabit the living room. Meanwhile, an unseen other friend is 'trapped' in an elevator in the home, which we come to realize is a sizeable estate. The police leave, and things get violent, as we discover the other two men are looking for something in the home….the same thing whoever is in the elevator is also looking for.
Easton's omniscient narration sets in and we back up a year in time, and see Easton taking a rap for the mobster he used to work for, Punchy (Joe Mantegna). Only, Punchy has since fled the country, leaving the government bonds promised to Easton somewhere in the bowels of his compound, now occupied by his son, Harris. Danneel was recruited by Easton and best pal Jake during a flirtatious instance at a bar, and she's an actress eager to hone her skills Tinseltown.
Martin's scrappy set-up begins with the correct amount of misdeeds and mayhem, but 10 Cent Pistol is an example of how omniscient narration works desperately against the desired ambience. It doesn't help that Damon Alexander is clearly not up the task of inhabiting this Ferris Wheel's center point, lurching through ridiculous snatches of narration only managing to sound misogynistic, which is quite often considering Danneel's integral role ("She gave head like a fat girl," he explains to us, just so we understand why he wanted to keep her around in the first place). Likewise, Martin stumbles into obnoxious details meant to convey characterization—someone's unyielding suspicion about people who don't fold their slices of pizza when they eat it is used way too many times (and sounds an awful lot like the food foolishness used in something written by M. Night Shyamalan).
More crime caper than neo-noir (though the specter of Bogart enters the mix several times, as the popular slang reference utilized by Easton), all of Martin's zig-zagging across characters wears thin when a rough composite forms early on—what are we supposed to think about all those 'acting lessons' Danneel harps about with typical Los Angeleno abandon?
As off-putting as both Alexanders are, an underused Joe Mantegna (with Adam Arkin making a brief appearance) is campy fun, while the always dependable Jena Malone manages to be a high point, especially in the third act when she predictably takes center stage. This could have been the West Coast camp equivalent of the Southern fried neo-noir soft core sleaze fest Wild Things (1998), but Martin falls into the same self-aware pretense many similarly set and structured Los Angeles indie thrillers are prone to (Dennis Hauck's yet-to-be released Too Late starring John Hawke is another recent example of this overly rehearsed, hopelessly contrived claptrap).
Less would have been more when it comes to 10 Cent Pistol, a film that comes close to resembling those surprisingly pleasurable two-for-one deals on the bottom of some barrel.
★★/☆☆☆☆☆