Reviews
Ned Kelly (1970) | Blu-ray Review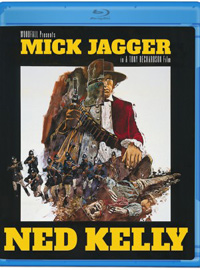 Long considered to be one of British auteur Tony Richardson's greatest miscalculations is his 1970 film Ned Kelly, certainly the most notable but arguably the definitive version as concerns one of Australia's most infamous outlaws. Arriving on Blu-ray for the first time, the title remains a curious novelty, one of a handful of on-screen appearances featuring The Rolling Stones' Mick Jagger in a high-profile role. As many of these once-reviled titles go, the history behind the making of the film tends to overshadow the compromised product, and Richardson's failed period piece is no exception.
In the late 1800s Outback, horse thief and aspiring bank robber Ned Kelly (Jagger) is released after serving a three year prison sentence. Harassed by the law and his angry neighbors, the ornery bushranger is forced into action when his mother (Clarissa Kaye) is unjustly accused of murder and sentenced to prison. His resulting reaction became the stuff of myth.
Belabored and suffering from a hopelessly sluggish pace, Ned Kelly is less of a biopic than it is the portrait of a haughty outlaw, painting Kelly as a renegade, self-serving Robin Hood driven further into brutality by the overzealous persecution of the police. He's a figure of great notoriety, and has been represented in film several times previous to the Richardson version, including the 1906 silent film The Story of the Kelly Gang and a 1960 Australian television version starring Ken Goodlet as Kelly, who makes an appearance as a supporting character here (amidst a healthy mix of other Australian character actors, including Bill Hunter and Frank Thring). A 2003 version (Ned Kelly) starring Heath Ledger, Orlando Bloom and Naomi Watts holds the most prominent spot in modern cinematic consciousness, while those recalling Jagger's early film career tend to reference his notable role in Nicole Roeg and Donald Cammell's Performance, premiering only months before Ned Kelly (which Jagger has publicly professed as never having seen).
Shirked by its own director at the London premiere, the filming of the project was not an easy undertaking, originally meant to be Richardson's follow-up to 1963's Tom Jones starring Albert Finney. Financing woes held that round up, and when the project was later revisited Richardson wanted Ian McKellan, bypassed for the notorious casting of Jagger, something the Kelly estate wasn't happy about. Injuries during filming plus a dramatic episode with Jagger's girlfriend Marianne Faithful (set to appear as Kelly's sister, a part she lost after a publicized overdose) further enhanced the film's infamy.
Richardson, coming off a 1969 adaptation of Nabokov's Laughter in the Dark, as well as a highly celebrated version of Hamlet starring Nicol Williamson, wouldn't direct another film until taking on Edward Albee's play A Delicate Balance, for a famed 1973 filmed version. Despite its rather erratic portrait of Kelly, Richardson's version manages to be enjoyable in certain sequences, especially a musical number from a caterwauling Jagger, with lyrics by famed poet Shel Silverstein (another soundtrack selection referring to the Kelly's folk status is irritatingly overused). And notable DoP Gerry Fisher, who worked on many high profile films, many of them notable genre features (The Ninth Configuration; Wolfen; The Exorcist III) manages to make the film a visually striking work.
Disc Review:
Presented in 1.78:1 aspect ratio, Olive Films succeeds with a decent transfer of Richardson's Technicolor title, the first film to introduce us to Ned Kelly in color. Nicely textured grain is evident, especially in its opening black and white sequence, as well as its effective closing sequence. No special features are evident, though it would've been great to have some film scholar somewhere speaking about the film's reputation since its release.
Final Thoughts:
A film difficult to admire but still noteworthy for its ambitious attempt to innervate the infamous Kelly through Jagger's pop culture notoriety, it's certainly a film necessary for completists.
Film Review: ★★/☆☆☆☆☆
Disc Review: ★★★/☆☆☆☆☆