Reviews
1,000 Times Goodnight | Review
Words and Pictures: Binoche Dominates Poppe's Familial Drama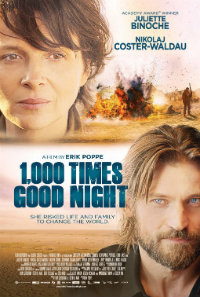 Norwegian director Erik Poppe makes his English language directorial debut with 1,000 Times Goodnight, featuring an internationally renowned cast that's headlined by a masterful performance from Juliette Binoche. Basically a family melodrama hedged by topical issues, Poppe's own experiences as a war photographer serve as the semi-autobiographical impetus for the film, which is perhaps why it's presented with such nuance. Bolstering the importance of such a hazardous occupation, the film's tense juxtaposition lies in how one reconciles working in such dangerous conditions while trying to raise a family. Obviously changing his own perspective to that of a mother ups the dramatic potential, and is met with a terrifically inspired performance from Binoche.
A photojournalist that specializes in conflict zones, Rebecca (Binoche) has been following a group of female militants in Kabul. We watch her take photos as the group prepares a terrorist attack, and Rebecca follows along up until the very last minute, though she loses her icy detachment and begins to warn innocent bystanders nearby. This results in her own serious injury, and she's shipped back to her home in Dublin where her two children reside with husband Marcus (Nikolaj Coster-Waldau). Though they're happy she's safe and sound, Marcus isn't sure he can keep living like this, expecting to have to identify his wife's body every time the phone rings late at night. And so, Rebecca is faced with a life changing decision—stay with her family and commit to working in non-conflict zones, or continue on in her important, if sometimes ethically questionable line of work. But her elder daughter Steph's (Lauryn Canny) request to accompany her mother to a safe zone on a photojournalist trip to Kenya, which turns Rebecca's intentions around, though also forces her family to reconsider her occupation in another light altogether.
As the couple at the heart of the story, Marcus and Rebecca are almost fantastically affluent, with her dramatic occupation overshadowing his less frilly profession as a marine biologist. Danish actor Nikolaj Coster-Waldau, perhaps best known for "Game of Thrones," is a well-cast foil for Binoche, and he's usually not given a chance to play such a sympathetic character, as evidenced in his languid presence in Hollywood fare like Mama, The Other Woman, and Oblivion (but his upcoming role in Susanne Bier's A Second Chance, exploring a different kind of domestic disturbance, helps solidify his appeal).
As for Binoche, her performance as Rebecca is a standout even in a year that included winning turns in films from Fred Schepisi and Olivier Assayas. While we can sympathize with her husband's reluctance to continue their relationship, it's the complicated drive of her character that confounds. When things get heated on her excursion to Kenya with her older daughter, her transformation is as unnerving as the onslaught of brutal violence as she sheds all maternal instincts as her need to be in the thick of the action kicks in.
The female war photographer has been explored in several cinematic forms recently, including roles performed by Jennifer Jason Leigh in The Moment and Catherine Keener in War Story (and, next year, Isabelle Huppert in Joachim Trier's Louder Than Bombs), but none explore the multifaceted drive and various consequences that come with such an occupation for someone also trying to raise a family. Watching her struggle to lay down her occupation and stay at home with her family is reminiscent of Jeremy Renner's predicament in The Hurt Locker—domesticity is daunting for those accustomed to living on the edge. However, the film oversteps subtlety whenever it forces Rebecca into contact with her publisher, wherein very forced exchanges transpire about the nature of Rebecca's work as well as goading her to continue despite her protests. John Christen Rosenlund, who worked on Poppe's last feature, Troubled Water (2008), and is a regular collaborator with Bent Hamer, captures a variety of handsome visuals in both Dublin and Kabul, aided by some of Poppe's own works.
★★★½/☆☆☆☆☆