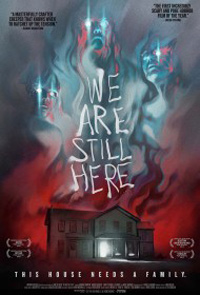 From its chilly opening sequences and impressive title unveil, Ted Geoghegan's slim yet sturdy debut We Are Still Here belongs to a contemporary tradition of filmmakers directly referencing vintage masters from the annals of horror cinema. Unlike the hybridization occurring in the works of recent indie filmmakers like Ti West or Adam Wingard, Geoghegan denies his film the same sense of increasing self-awareness, though a sense of the ludicrous certainly remains intact. Fashioning the film after giallo master Lucio Fulci's 1981 classic The House by the Cemetery, Geoghegan assembles an impressive cast of notables. But those unfamiliar with either the source inspiration or the reputation of the principal players may find the narrative too routine, dressed up as it is with a title befitting of a Joyce Carol Oates saga.
Following the death of their son Bobby in a tragic car accident, Anne (Barbara Crampton) and Paul Sacchetti (Andrew Sensenig) flee into the wintry climes of upstate New York in an effort to regain control of their lives. Almost immediately, the couple senses something a bit off kilter about the residence, confirmed when nosy neighbors (Monte Markham and Connie Neer) drop by to discuss the house's past as a funeral home whose previous owners met a tragic end at the hands of the angry townspeople. Anne is convinced the spirit reaching out to her must be Bobby's, so she requests a visit from friends Jacob (Larry Fessenden) and May (Lisa Marie), who have psychic powers. Of course, the smoky odor seeping in through the basement is a portal to some other hellish zone, and the hungry house has woken up from its regular thirty year interval to devour a new family or else wreak havoc on the town.
It's a delight to see Barbara Crampton in the lead, the muse of many a vintage Stuart Gordon classic, including famed titles like Re-Animator (1985) and From Beyond (1986). Recently, she appeared in Wingard's You're Next (2011), but here she's mostly front and center as an anxious, grieving mother blind to the possibility that the presence trying to get her attention may have insidious intentions.
Other characters are presented with less seriousness, including character actor Andrew Sensenig as the husband, and a pair of young adults basically born to die in one of the film's establishing sequences of brief demonic terror. Easy entertainment is hewn from the psychic hippies visiting, played by Tim Burton alum Lisa Marie and director Larry Fessenden in another send-up of his particular brand of loopy weirdness.
Most inspired is the inclusion of Monte Markham, the venerated actor managing to sidestep a bit of clunky exposition whereby the malicious intentions of the house are confirmed (these moments in Fulci films seem less distracting since everything was horrendously dubbed in English anyway).
When we're not engaged in these simplistic developments, the look and tone of We Are Still Here is generally effective. Though the terror being wrought upon the unsuspecting Sacchetti's is nothing new, the smoldering demons are presented with impressive finesse, including an early sequence where an electrician is quickly dispatched after fiddling around in their little tomb.
★★★/☆☆☆☆☆