Heart of Glass: Costanzo's Uncomfortable, Emotional Glance at Madness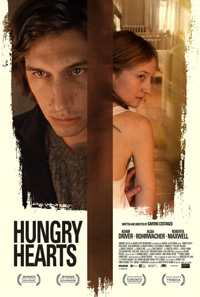 Must every cinematic portrait of mental illness be 'illuminating?' Your answer to that question may gauge your reaction to Italian director Sergio Costanzo's New York set domestic horror film, Hungry Hearts, a film best walked into cold. Ambiguity reigns supreme, and for those enjoying a feeling of befuddlement, a rarity in the contemporary cinematic landscape of political correctness, may find Costanzo's adaptation of Marco Franzoso's novel a winning concoction. Drawing comparisons to early works by Roman Polanski in how it swiftly throws an unraveling relationship drama into the domestic level of hell, the film instead recalls an era when allowances were made for cinematic representation of strange behaviors and dysfunctional relationships. Surprisingly odd, yet leaving us, roughly, with the feeling of being slapped, perhaps by today's standards the film can best be understood as the anti-romcom, presenting us with an actual possibility of what happens after the meet cute leads to a whirlwind romance.
Mina (Alba Rohrwacher) finds herself trapped in the basement bathroom of a New York restaurant after Jude (Adam Driver) has permeated the enclosed space with the smell of his digestive difficulties. Grossed out but amused, they become an item, and soon Mina finds herself pregnant. They get married, and Jude's mother Anne (Roberta Maxwell) is curious as to where Mina's parents are after the ceremony. It turns out Mina is rather alone in the world. Their fairy tale begins to crumble during Mina's pregnancy.
A vegan, she refuses to eat meat, and the fetus isn't growing correctly. Visiting a fortune teller, Mina is told she is carrying an indigo baby, a child from another realm with supernatural traits. Their doctor (Jake Weber) insists Mina eat some source of protein, but the pregnancy continues to take a marked toll on her body. Though she adamantly opposes a C-section, a collapse requires the baby to be born early—but the problems don't stop there. It soon becomes clear to Jude that Mina is deliberately not feeding the baby. Per the doctor's suggestion, action must be taken to save the child. When Jude starts sneaking meat into the child's diet, Mina takes measures to make certain the food is not absorbed.
What's frustrating about Hungry Hearts, and bound to unnerve audiences, is the portrayal of Mina, in a finely wrought performance from Italian actress Alba Rohrwacher. Costanzo does not take a clear stance on her motives. She's never presented as evil or cruel, clearly believing her behavior to be in the child's interest. In fact, she ranks up there with Chrissy Rock's troubled mother in Ken Loach's Ladybird Ladybird (1994) as most sympathetic villain.
The enclosed New York apartment setting recalls the baby drama of Rosemary's Baby, except with a unique shift in the gender of the protagonist. While Mina's unnerving behavior cannot be condoned, it's equally upsetting to see the amount of physical violence exacted against her as tensions mount, as if the female body is automatically worthless after expelling her child. Nicola Piovani's exuberant score is what tips this into horror territory, blaring upon us at moments so overbearingly one has to laugh, such as when Mina discovers Jude is feeding the child meat, the music suggesting swift and violent retribution.
As difficult as it is to feel empathy for Mina, Driver manages a surprising dramatic turn here, and together they received awards for Best Actor and Actress at the 2014 Venice Film Festival. Roberta Maxwell, recalling late career Carrie Snodgress, is also particularly engaging in the second half of the film. Crashing into an ungainly twist that tends to cheapen the overall effect of the film, Costanzo's film operates best when doubt is cast on the actions of both parents and their startling behaviors.
★★★½/☆☆☆☆☆