Reviews
A Pigeon Sat on a Branch Reflecting on Existence | Review
Familiar Tune: Andersson Completes Trilogy With Enjoyable, Familiar Chapter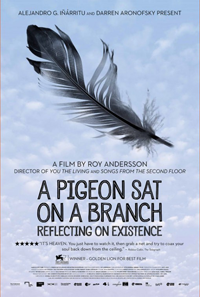 Prolific Swedish filmmaker Roy Andersson tends to work infrequently, taking years, if not decades, between film projects. His loosely connected trilogy about human existence began with the 2001 film, Songs From the Second Floor and continued in 2007 with You, the Living. Now, he's completed the triptych with A Pigeon Sat on a Branch Reflecting on Existence, which is said to have been influenced by Dostoevsky. Pitch black humor abounds, as here the glib auteur's usual modus operandi, though his latest doesn't strike the same insistent bleakness as the trilogy's initial chapter (if anything, watching these titles in reverse order seems more provocative). As dark comedy flows freely into nightmarish indictment of both humanity's historical and modern lack of empathy for all creatures great and small, Andersson's finger wagging veers strangely into preachy approximations at several points.
Much like the format of the previous two films, a revolving door of vignettes comprises the milieu, limited to a handful of recurring characters involved in two separate narratives. A pair of struggling salesmen tiredly travel around in a flaccid attempt to sell their novelty entertainment items, while Swedish King Charles XII is resurrected into modern times to bring his archaic war tactics to the present age. Amidst their diverging antics are a host of other unhappy denizens moving through their own daily grapples with past and present.
Not without its share of memorable and even hilarious moments that often brilliantly capture the ridiculous possibilities of human behavior, Pigeon may seem a bit old hat for those familiar with his previous two films—-and your expectations pertaining to whether or not you're hoping the filmmaker will mix things up a bit more radically will indubitably inform your reading of the film. A whirling cast of characters from the divided strands pop up intermittently, some much less colorful than others.
Andersson is a master at knowing the power of refrain, which pins nearly all these related vignettes together, such as the repeated sequence showing characters on cellphones repeating the phrase, "I'm so glad to hear you're doing fine," except without sounding like they mean it. And then there's the world mostly unenthusiastic pair of novelty peddlers unsuccessfully hawking their three items for sale.
Andersson seems fine reveling in the utter waste that these repeated patterns lay in human lives, meaningless words, gestures, and occupations filling our finite days until the inevitable end. And, on that journey there, how neglectful or willfully contemptible we are towards others. Likewise, The Battle Hymn of the Republic is the tune used several times by characters that make up their own words, as a battle cry and then as a bizarre pub sequence that recalls Weimar era Marlene Dietrich.
Of course, this is an incredibly simplistic rendering of what Andersson is up to, he who rivals Ulrich Seidl in squeezing into the world's most grim interiors, hellish landscapes of drowned out sterility. While Andersson is often compared to the likes of Bergman in tone and Jacques Tati for his compositions, Pigeon resembles the arch commentary of Bunuel's The Phantom of Liberty. The title, inspired by Peruvian poet Cesar Vallejo, is directly addressed in three sequences, as a stuffed pigeon on a branch in a museum, as a synopsis from a disabled child, and off-screen as the chirping creatures that a passel of humans glance up at from a bus top, deliberating about our necessary rhythms and how they help us avoid chaos. We're not far removed from the pigeons.
Reviewed on September 8th at the 2014 Toronto International Film Festival – Masters Programme. 100 Minutes
★★★/☆☆☆☆☆