My Afternoon With Maud's Money: Breillat's Most Personal Film Showcases Huppert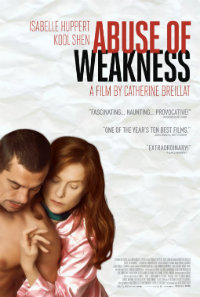 Catherine Breillat leaves behind the series of Grimm's fairy tales she was adapting and returns to autobiographical resources to tell one of her own with Abuse of Weakness, which recounts a scandal from the not too distant past in which a con-man Breillat had cast in her next film swindled her out of all her money. Rigid, frigid, and icy to the core, the re-enactment is less scandalous and perhaps more perversely self-castigating, but what supersedes all aspects of both the film's origination and directorial intent is another fascinating performance from Isabelle Huppert, the stand-in for Breillat's on-camera persona and perhaps the warmest rendition of an adult female to appear in her filmography yet.
Prolific film director and author Maud Schoenberg (Huppert) awakens suddenly to find half her body paralyzed after suffering a brain hemorrhage. Increasingly dependent upon her assistant Ezze (Christophe Sermet), Maud seems hopeless at first with her new condition, but soon attempts to dive back into work on a new project, inspired by a television interview she sees of Vilko Piran (Kool Shen), a con-artist who had served a twelve year prison sentence in Hong Kong.
Maud, preferring to work with non-professional actors, finds him perfect for the lead in her new film, and thus, begins a dialogue with the self-professed criminal. Soon, the smooth operator develops a rather strange and fascinating relationship with Maud, one tinged with romantic yearnings, sexual longings, and a shifting power struggle whereby Vilko filches Maud's pocketbook while she thinks she has an upper hand on his pride and emotions. Eventually, it becomes clear that Vilko's attentions are filling the void that Maud's family seems to have left, her apathetic and distant daughter infrequently checking in on her recently crippled mother. But this doesn't easily explain how Maud knowingly and willingly gives all her money to him, leading her to launch a legal charge of an abuse of weakness against him.
If you're thinking Breillat is making moves towards some kind of catharsis with Abuse of Weakness, as adapted from her book of the same name, think again. The existence of the film is as complicated as its subject matter, whereby strange things occur in human interactions that may not ever seem to make a lick of sense. As everyone probably knows, the film Breillat was to make was an adaptation of one of her own novels, set to star Naomi Campbell and con man Christophe Rocancourt. This of course never came to fruition, but once again we see Breillat exploring her own life through the cinematic medium, and Abuse of Weakness is probably most similar to her 2002 film, Sex is Comedy.
What we see is an indication of Breillat's reproach toward herself, brought to life brilliantly by none other than Isabelle Huppert, that sublime screen presence that dominates every frame. Who else could play Breillat believably as a crippled woman with realistic sexual verve, exuding her typical coldness, but also engendering a warmly affectionate flirtation as she laughs girlishly and awkwardly through nearly every interaction?
Breillat's predilection for roughhewn and lusty unknown professional males (porn star Rocco Siffredi; aforementioned Rocancourt) shows no abatement, casting rapper Kool Shen in his first onscreen role. Certainly, he fits Breillat's bill and he makes a fascinating counterpart to Huppert. As we spend more time with them, we understand them less and less, to the point where Maud's explanation for her actions can only be, "It was me…but it wasn't me." Well, with Abuse of Weakness, it's Breillat…but, it's not Breillat.
Reviewed on September 5, 2013 at the 2013 Toronto International Film Festival – Masters Programme.
104 Mins.