The Gentle Indifference Of The World | 2018 Cannes Film Festival Review
World, Hold On: Yerzhanov Conjures Camus with Doomed Love Story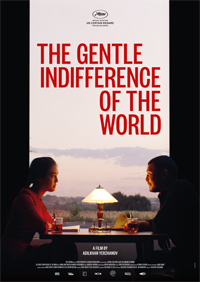 Kazakhstani director Adilkhan Yerzhanov continues his fascination with Albert Camus in his latest feature, The Gentle Indifference of the World, quoting a passage from the singular 1942 novel The Stranger. What stands as Yerzhanov's fifth film to date employs a similar method of extreme displacement for characters navigating the cruelties of a world beyond their control. Much like his most widely regarded feature to date, 2014's The Owners, a juxtaposition of gendered punishments (wherein two brothers lose the rights to their beleaguered ancestral home while their sister and mother suffer from severe mental and physical ailments), Yerzhanov's latest paints a portrait of a young woman forced into indentured sex slavery in order to support the family and repay the extreme debt owed by her father after his sudden death. Her only succor is the adamant support of a suitor from her local village who follows her valiantly into the ruinous squalor of the city in hopes to help her break free from her social constraints.
Following the abrupt and untimely death of her father (Baymurat Zhumanov), young maiden Saltanat (Dinara Baktybayeva) is pressured into traveling alone to the city to seek support from her worldly uncle in order to save her sickly mother (Kulzhamilya Belzhanova) from going to prison. Accompanied by her volunteer companion Kuandyk (Kuandyk Dyussembayev), who has longed for Saltanat since they were childhood friends, the young woman is told she must marry a wealthy suitor in order to satisfy her family's considerable debts. At first resisting such possibilities, her mother's arrest leads her to acquiesce, only to find her uncle, and the men in service to him, are far from sincere about their promises. In order to save her, Kuandyk orchestrates a daring plan to escape their clutches.
Yerzhanov's latest follows in the stead of his smaller scale, more abstract 2016 feature The Plague at the Karatas Village, which concerns the arrival of a new mayor in a small rural outlet where denizens are suffering from a strange, plague-like disease, while others have built up a sort of immunity through exposure. With obvious kinship to Camus' other iconic novel, The Plague, Yerzhanov's interests recall the metaphorical Soviet social ills presented via esoteric flourishes akin to Kira Muratova's maddening The Asthenic Syndrome (1990).
Conversely, this latest venture has all the set-dressings of a modern day neo-noir, regarding a smitten paramour who descends into hell to save his object of desire. At the same time, there's much to Gentle Indifference regarding Kuandyk's subplot which is equally reminiscent of Sergei Dvortsevoy's celebrated 2008 film Tulpan, in which a rural herdsman desperately attempts to woo the only available woman in the steppes for her hand in marriage. In a tangent where Kuandyk outperforms some laborers to secure a position, his new supervisor likens his quickness to the cinematic persona of Jean-Paul Belmondo.
Like a Greek tragedy, Saltanat and Kuandyk are driven to dire straits by their obligations. Alongside the obvious selfishness of Saltanat's mother, the young woman is guilted into 'paying the family debts' through sordid arrangements with powerful businessmen, who are as vile as ogres out of fairytales, hulking behemoths who lie through their teeth. Saltanat's crimson dress, which she wears during her sinister boardroom meetings with her uncle, gives her a Little Red Riding Hood symmetry, and her subservience to her callous mother are like the cartoonish demons of Spanish anime Birdboy: The Forgotten Children (2015). As Saltanat, newcomer Dinara Baktybayeva is wonderfully melancholic, a glint of beauty amidst both the dusty oasis of her family home and the suffocating facades of the grueling city. Her only reprieves are quiet moments alone with Kuandyk in their city apartment, a cramped, dimly lit safe zone which are reminiscent of silent cinematic visualizations of love and contentment. Although theirs is a love which is more implied, and rather as an act of necessity and survival than a privileged odyssey, it is the only defining characteristic they're allotted. "I don't think anything matters in life…except love," muses Kuandyk.
DP Aydar Sharipov presents some masterful early frames in Saltanat's retreat from her country homestead, a blazing setting sun draping the film's perfectly composed objects as she takes forced exile into the city. Kuandyk's pursuit recalls the tragedy of Orpheus and Eurydice (Camus also had famous fascinations with several Greek literary figures), and Yerzhanov ends this saga perfectly, with faceless, nameless figures in a landscape grazing about with casual deliberation. And it's perhaps here, where Yerzhanov's prized quote really hits home: "I opened myself to the gentle indifference of the world. Finding it so much like myself."
Reviewed on May 17th at the 2018 Cannes Film Festival – Un Certain Regard. 100 Mins.
★★★/☆☆☆☆☆