An Affair to Dismember: Lyne Returns to Remind Us of the Adult in Adultery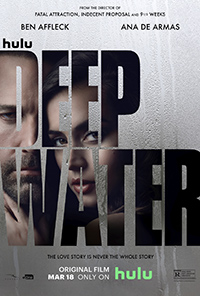 "The love story is never the whole story," is a fitting tagline for any Adrian Lyne film, but it christens the director's first film in twenty years, Deep Water, well enough. In essence, this is the accomplishment of Lyne's ninth narrative feature, a familiar narrative (especially considering his filmography, which solidified the template and an era of adult erotic thrillers), another film done 'well enough' to play like an enjoyable throwback, even as it treads water. Add to this a pair of headliners whose highly publicized romance initially enhanced the project's buzz going into production, while their eventual separation all but solidified its unceremonious release and eventual banishment to obscurity. Still, there's much to admire about Lyne's handiwork, and in an industry obsessed with YA calibrated entertainment resigned to watered down depictions of relationships and sexuality, its glossy but tawdry glory is worth reveling in.
Vic Van Allen (Ben Affleck) is a successful inventor enjoying an early retirement. A respected pillar in his close knit community, the only issue seems to be his wife Melinda's (Ana de Armas) increasingly flagrant behavior. Although Vic allows her to engage in extramarital liaisons, seemingly in exchange for avoiding divorce (seeing as Melinda had no interest in motherhood, despite giving birth to their young daughter, Trixie), her public flirtations have gotten out of hand. When a sinister joke backfires, forcing Melinda into the arms of yet another young man, Vic turns to murder. While the rest of the community is convinced of Vic's innocence, Melinda knows better. But when no one listens to her, she decides to lay a different kind of trap for her husband.
Lyne couldn't have picked better source material for his particular interests (namely obliterating the facade of our archaic insistence on monogamous relationship models) than Patricia Highsmith, whose 1957 novel of the same name reads so far ahead of its time it might as well have been labeled science fiction (keep in mind Highsmith's contributions to queer characterizations with her sinister Mr. Ripley series and Carol, written under a pseudonym). At the same time, it's almost ridiculously similar to Lyne's previous films, including his last film two decades ago with Unfaithful (2002), a remake of Claude Chabrol's 1969 An Unfaithful Wife. His latest was also previously made in 1981 by French director Michel Deville, starring Isabelle Huppert and Jean-Louis Trintignant as the complicated couple.
This latest script, adapted by Sam Levinson (Another Happy Day; Euphoria) and Zach Helm (Stranger Than Fiction) sticks close to the source material, even down to the curious details of Vic's snail breeding in the garage. But even though Highsmith's prose deliciously begs us to sympathize with the husband, an eventual serial killer of his wife's dopey lovers, Melinda is modified to have at least a modicum of warmth for her husband, allowing for a nervy ending of complicity. Likewise, this is a vehicle designed for Affleck to shine, while Ana de Armas hardly reaches the complexities of Glenn Close in Fatal Attraction (1987) or Diane Lane in Unfaithful.
And even if neither cinematic version of Melinda crafts the cold Amazonian good-time gal Highsmith conjured, it would hardly seem to matter as her perspective is never explored. Though she seems more inclined to filicide than maternal instinct, Ana de Armas reads like junior Joan Crawford, cold but unintentionally funny. However Lyne uses her almost as a comic foil, and the film shines brightest in building the tension between the spouses. Eigil Bryld's finest hour arrives in the pool murder, but a variety of interesting visuals abound, including Vic and Melinda sharing the same apple pilfered from their daughter's lunch box, as if partaking simultaneously in the sin generated from the tree of knowledge. Likewise, the script weaves smart subtexts about Vic by making his fortune built from designing chips used in military warfare drones.
A snippet of a news story about ISIS might seem arbitrary, but followed by an update about one of Melinda's lovers, it paints Vic as a designer of death. In the supporting cast, Tracy Letts is delightfully repugnant as the prudish noir writer who takes an immediate dislike to Vic (though it might partially be due to his own wife's starry glances at the well-kept Vic), but the rest of the ensemble are all on hand to serve specific purposes without any ability to be dynamic (such as all of Melinda's lovers, including Finn Wittrock). Although Lil Rel Howery might seem like a breath of fresh air, some more sequences establishing his friendship with Vic might have better explained his disdain for Melinda (after all, fifty years after Highsmith published the material, one would assume more blunt conversations would transpire between male besties).
Although the denouement cuts too many corners (especially compared to the methodical tension of the novel), it's a welcome return for Lyne, who has lost none of his penchant for directly purveying the perverse tendencies of human nature railing against the rigidity of traditional relationships.
★★★/☆☆☆☆☆