The Pornographer Always Shoots Twice: West Taps into Grindhouse Sleaze with Backwoods Romp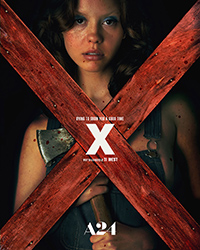 It was Foucault, proponent of classifying the orgasm as a 'little death,' who proclaimed 'sex is indeed imbued with the death instinct.' Nowhere is it more inadvertently apparent than Ti West's eighth feature, X, a throwback to the unapologetic sleaziness of 1970s guerrilla filmmaking, where genre and pornography were equally courting the taboo.
Borrowing from Hitchcock and Tobe Hooper, among others, West concocts his most extravagant effort to date with his intrepid ensemble of pornographers imperiled by expected psychotic tendencies unearthed in rural farmhouses, although considering the subject matter, is not as boundary pushing as one might hope. Sexual compulsions, geriatric sex and, eventually, gore, court a psychological interpretation of the slippery slope between sexual gratification and death as merely phases in the continuum of pleasure and pain—-yet despite its daring, West doesn't land the transportive experience suggested in the film's extremely promising build up.
Adult film producer Wayne (Martin Henderson) is an entrepreneur ahead of his time in 1979 Texas, recognizing the looming home entertainment market will change the landscape of pornographic filmmaking. Renting a ramshackle boarding house located on the property of an isolated farm owned by the decrepit Howard (Stephen Ure), Wayne brings his starlet girlfriend Maxine (Mia Goth) and her co-stars Bobby-Lynne (Brittany Snow) and Jackson (Scott Mescudi) to their quiet shooting location. RJ (Owen Campbell), the director of the project, has aspirations of showcasing how pornography can have cinematic qualities, bringing along his girlfriend Lorraine (Jenny Ortega) as boom operator. Immediately, things seem a bit strange with Howard, who quite possibly is suffering from dementia. But his wife Pearl seems to be in an even more advanced state of disrepair…and Pearl seems to be surprisingly spry and unabashedly horny. Those who refuse her advances find themselves in a precarious situation.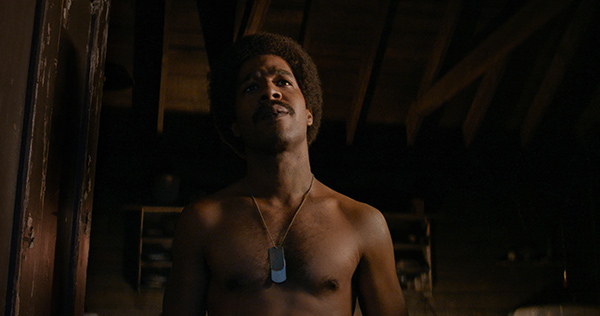 Much like a similar dichotomy in his last feature, the enjoyable western In a Valley of Violence (2015), West wrestles with a tonal balance between (uncomfortable) comedy and excessive carnage. A distraction with what clearly seems to be younger actors shellacked in old age make-up and an inability to rightly conjure bodily functions for humans of a certain age (particularly when it comes to intercourse) tends to take away from the promise of X once it enters a slasher film trance and dwindles into another And Then There Were None scenario.
While Hooper's classic The Texas Chainsaw Massacre (1974) and Eaten Alive (1976) seem to be reference points (including a terrifying and effective alligator), West's latest kinda sorta feels like the low-grade energy of The Touch of Satan (1971), wherein a granny serial killer terrorizes a small community while lurking in her family's farm. West fares better with some of the more obvious subtexts, such as with Hitchcockian doubling of Maxine and Pearl, both played by Mia Goth (who stars as Pearl in West's already filmed prequel, Pearl). Slyly suggesting a sense of female agency in the younger generation's declination of accepting the traditional values of their parents, Eliot Rockett's cinematography blasts away at this brilliantly when a shotgun obliterates a mirror connecting antagonist and survivor.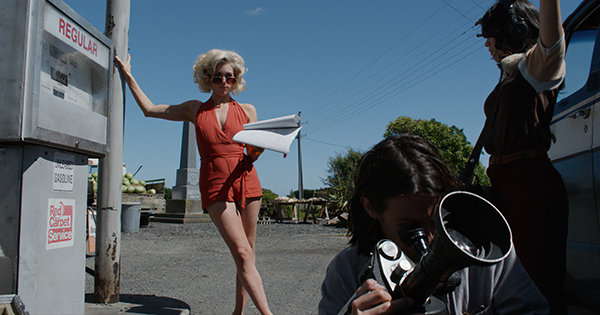 Goth is an increasingly captivating screen presence, reminiscent of both Adele Exarchopoulos and Shelley Duvall in her early Altman collaborations. Brittany Snow, for once, gets to be a scene stealer as an sublimely confident blonde starlet, while Martin Henderson seems to be channeling Don Johnson as the affable Wayne. Scott Mescudi, though relying mostly on period styling, is, at times, amusing, endowed with an appendage recalling the sentient penis in Welcome Home Brother Charles (1975). Owen Campbell and Jenny Ortega have less to do other than provide a catalyzing situation due to her desire to suddenly take part in the film production (though they do seem to be paying homage to the husband/wife sex film team Joe Sarno and Peggy Steffan). Although not ultimately as weird, perverse or unsettling as its intersecting parts would suggest, X is a splashy return for Ti West despite once again straddling the tributaries of genre formulas.
★★★/☆☆☆☆☆