After Love (L'Économie du couple) | Review
Tight on Space: Inside Lafosse's Claustrophobic Family Drama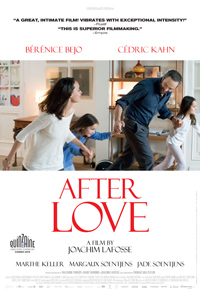 Festival darling Joachim Lafosse returns with his seventh feature, After Love, a relatable but difficult film solidly in the same vein of his body of work, much of which enacts careful observations about the complexities of family ties.
A tense, uncomfortable, and intimate portrait of the breakdown of a 15-year relationship, this stars filmmaker-actor Cédric Kahn in the role of Boris and Bérénice Bejo as Marie, who along with the couple's twin daughters, parents, and friends all somehow exacerbate and also bear the brunt of the marital breakdown.
Lafosse's co-writing with Fanny Burdino and Mazarine Pingeot results in some biting dialogue and a pace that's languid but fraught with stress and pressure as we see the character set variously taking sides and trying to understand both parties as the couple descends into the depths of miscommunication and resentment. This finally dissolves their relationship in a quiet, fatigued closing scene at a lawyer's office.
The film's look and pacing are both understated yet stirring, and Kahn and Bejo each deliver nuanced performances that say a lot with just a little (a look, a sigh, a voice raised one note). The couple's home is easy on the eyes, as though straight out of an interior design magazine, Marie and Boris fight about anything and everything—their daughter's soccer practice, the renovations on their home, Marie's meddling mother, even a few pieces of cheese in the refrigerator.
At the end of the day, though, a viewer's experience of being inside the petty bickering and irresolvable miscommunication of someone's dying marriage (and really with no plot to otherwise capture the attention) is unpleasant to say the least. Could it be that After Love's main flaw is that it's a little too relatable? What's the point of such a film other than to enact some kind of torturous experiment in the limits of making viewers experience characters' suffering with very little discernible plot?
There's certainly nothing wrong with a film that eschews plot and narrative in favour of the careful observation of human nature; see last year's Aquarius by Kleber Mendonca Filho. But After Love seems to eventually finally pick up with a narrative peak in the last 15 minutes of the film and by that point, it may be too late. The ensuing conflict and denouement feel more than a little lopsided.
While tight framing and dynamic camera movement by cinematographer Jean-François Hensgens create an appropriately tense and claustrophobic atmosphere, Lafosse may have (unintentionally?) made an interestingly feminist film here in that After Love all-too-accurately represents the stereotypical (and exhausting) dynamic of a patient, mature woman doing tons of emotional labour while a passive aggressive self-victimizing man-child causes trouble at every step of the way. Indeed, Boris seems to take perverse delight in humiliating himself in order to justify his portrait of himself as victim, making him less sympathetic with every scene.
Despite it's difficulty and relative lack of narrative juice, After Love remains an accomplished and careful portrait of the life and death of relationships, all of which are about so much more than simply love: money, family, bodies, space, and (mis)communications all take centre stage in a story that will be agonizingly familiar to anyone who's been through the difficult dissolution of a long-term relationship.
★★½/☆☆☆☆☆