Slight Delight: Soloway's Debut an Overly Familiar Dessert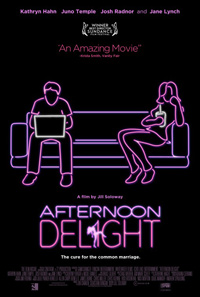 Television writer/producer Jill Soloway makes her directorial debut with Afternoon Delight, a sometimes successfully coordinated comedic vehicle that finally gives Kathryn Hahn a worthy leading role. Unfortunately, the rest of the film feels ill suited around Soloway's leading lady, who seems either too strong and serious, or comedic leagues ahead of some of her supporting co-stars depending on the quickly fluctuating tone of the piece. While Soloway manages to reach some moments of clarity in the narrative where actual points are made, the entire venture, which is overall likeable, is neither satisfactory enough to reach any kind of memorable climax, nor a strongly individual entry in a current wave of crass female sex themed comedies.
Rachel (Kathryn Hahn) is a bored and frustrated Silver Lake housewife, married to husband Jeff (Josh Radnor), a successful cell phone app creator who never has time for her. She languishes away her time seeing a slightly unprofessional and self centered therapist (Jane Lynch), who shares too many personal details about her own relationship during session. Searching for a way to revitalize her lackluster sex life, Rachel takes a cue from her bestie, Stephanie (Jessica St. Clair), who suggests Rachel take Jeff to a strip club like she does with her own husband, Bo (Keegan Michael Key), as this always turns into a night of hot sex. The reluctant Jeff goes along with the idea and ends up paying stripper McKenna (Juno Temple) to give Rachel a private lap dance.
Fascinated with the pixie-like young woman, Rachel starts to follow McKenna after she's unable to stop ruminating on the lap dance and eventually the two become fast friends. When McKenna is suddenly left without a home, Rachel offers her own home as a stable place for McKenna, perhaps as an attempt to help her leave life as a sex-worker. But when Rachel introduces McKenna to her circle of friends as a live-in babysitter from an agency, a comedy of errors formula begins to set in, which is complicated by Rachel's eagerness to accompany McKenna on some client visits.
While Hahn manages to be a likeable and engaging personality as a bored Los Angeles housewife, she isn't helped by the film's cloying tendency to be a buoyant, raunchy comedy even as it becomes a poker faced drama that explores notions of sexual pleasure and intimacy. While Juno Temple is always a dependable presence, her casting as McKenna is lazy here, as she's had far too many similar (and better) turns in sexually free ingénue-wise-beyond-her-age characterizations already. The same could be said for Radnor and Lynch, both playing stock character versions of similar roles they've already developed (and Lynch's therapist is basically the same as another title she's in this year, A.C.O.D.). With the exception of scene-stealer Michaela Watkins (who also cranks out the most laughs in her limited screen time in Wanderlust, 2012), Hahn seems sadly lost among a bunch of great names stuck in bland roles.
The greatest strengths of Afternoon Delight happen to be a few gloriously realized scenes where the timid Rachel starts exploring hidden fantasies of her own with McKenna, culminating in an awkward and strangely touching appointment with one of McKenna's johns. Things get serious afterwards, when Rachel can't quite seem to process her feelings, and her markedly changed treatment of McKenna results in the plot's nose-dive, but if everyone could have just stopped wanting to make us laugh sooner and focused on a more graceful landing into dramatic explorations, the film would have been better off.
Reviewed on January 21 at the 2013 Sundance Film Festival –US DRAMATIC COMPETITION Programme.
99 Min.