Truth Be Told: Holland Revisits the Horror of the Holodomor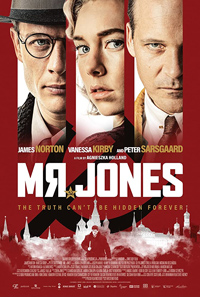 Polish director Agnieszka Holland returns to a subject matter favored in her most memorable offerings—lost narratives from the WWII era. Her latest, Mr. Jones, recuperates the investigative journalism of British reporter Gareth Jones, who defied his superiors and his colleagues to uncover the secret behind Stalin's economic surge despite the bankruptcy of the Kremlin during world economic collapse.
Eventually, the truth behind the genocide and desecration in the Ukraine at the hands of Stalin's Soviets would come to be revealed as the Holodomor, a horrific extermination which became conveniently eclipsed by Germany's Holocaust, which required the participation of Russia to overcome. Holland launches one of her most compelling efforts in years with this reenactment, a search for justice which would mar the reputation of pro-Stalinist New York Times Pulitzer Prize winning journalist Walter Duranty and inspire George Orwell to pen Animal Farm.
In the early 1930s, tenacious Welsh journalist Gareth Jones (James Norton) finds his troubling predictions of war with Germany to fall on deaf ears following an interview with Hitler, a chance opportunity which allowed him significant notoriety as a novice. While budget cuts find him removed from his service as foreign advisor to Lloyd George (Kenneth Cranham), he is allowed an opportunity to travel to Moscow to request to interview Stalin in order to discover how Russia has been able to afford its current spending spree despite rumors of the country's failed economic fever dream, the First five-year plan (implemented from 1928 to 1932). Arriving to find his friend and fellow journalist has been killer under suspicious circumstances, Jones is tipped off on his colleague's investigation into the Ukraine (where journalists are not allowed) by New York Times writer Ada Brooks (Vanessa Kirby), who works for the celebrated Stalin supporter, reporter Walter Duranty (Peter Sarsgaard). Finagling his way onto a train from Moscow to Kharkov, Jones escapes his handler and discovers the supreme horrors of the decimation enacted upon the Ukrainians. Blackmailed into staying silent, Jones risks his reputation by publishing the truth.
Holland's most prolific works, which were nominated for Academy Awards for Best Foreign Language Film, deal directly with Holocaust narratives, including Europa Europa (1990) and In Darkness (2011). But Mr. Jones is perhaps more in tune with 1985's Angry Harvest in its attempt to showcase the competing and troubling abuses of power within social and political hierarchies of the period. Though her latest isn't without some excessively pointed moments (such as Joseph Mawle as Orwell, filmed reading passages of his famous novel, or a group of children taunting Jones during his pariah status in Wales), it's a world apart from 2017's genre thriller Spoor, which may have won Holland the Alfred Bauer Award following its premiere at the Berlinale, but unfortunately suffered from pulpy, melodramatic antics.
With Jones, Holland recreates the secret decadence of Moscow's hoi polloi, their silent complicity partially to blame for the slow death of the Soviet Union's tyrannical empire. Nods to current world affairs between Russia and the U.S. are clear in the film's initial dialogues comparing the despotism of Hitler and Stalin, and Holland reaches chilling heights with Jones slipping away into the nightmare of the Ukraine, a hellish winter war zone where cruelty and cannibalism are the only means for the resilient to stay alive.
A slick ensemble, first-time screenwriter Andrea Chalupa prizes ideas and historical flavors, and while the cast is efficient, none of the performers end up overshadowing the scenario, not even a dependable James Norton as the titular journo. Vanessa Kirby and a reptilian Peter Sarsgaard are both commendable accents in a fascinating recuperation which has troubling timely parallels to contemporary world politics.
Reviewed on February 10th at the 2019 Berlin International Film Festival. Opening Night Film – Competition. 141 Mins.
★★★/☆☆☆☆☆