The Kitchen, God's Wife: Berloff Doesn't Bring the Heat in Halting Melodrama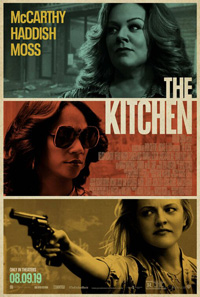 Hell may as yet have no fury like a woman scorned, but the alchemy of Andrea Berloff's directorial debut The Kitchen rarely raises above a simmer despite the tense elements and meaty narrative at its disposal. Based on a 2015 comic series by Ollie Masters and Ming Doyle, Berloff, who was notably one of the scribes behind F. Gary Gray's Straight Outta Compton, the pulpy source material certainly lands squarely in the 'female of the species is more deadly than the male' scenario. In a set-up which compares unfavorably to Steve McQueen's 2018 slow burn genre piece Widows, itself based on a 1980s UK mini-series, three wives of Irish mobsters in 1978 Hell's Kitchen are forced to scrabble together resources when their husbands get locked up for four years following a failed robbery. The curious casting, which includes comedy heavyweights Melissa McCarthy and Tiffany Haddish, however, doesn't make a strong case for either of them appearing against type here on a canvas which should have either been more sprawling and ambitious or gruelingly intimate with its characters. There are flashes of sordid violence and Berloff sinks the film's teeth into an empowering scenario for three world-weary women, but its easily won gains and sometimes tonally awkward shifts align this more with exploitational cheapies from the 1970s (but imagine the potential brilliance of a world wherein Pam Grier, Shelley Winters and Sissy Spacek would have inhabited these roles).
With the underbellies of each borough in 1970s New York ruled by overlords representing the ethnic factions which historically settled there, gentrification began to pose an immediate threat to communities wishing to hold onto their identities (or provide opportunities to take control of another). Such is the case in 1978 Hell's Kitchen, leading a trio of Irish mobsters (James Badge Dale, Brian d'Arcy James, Jeremy Bobb) to desperate measures. Apprehended during a liquor store hold up by some zealous FBI agents (Common, E.J. Bonilla), the men are sentenced to serve four years in prison, leaving their housewives to fend for themselves in the interim. However, the organization hardly has the capability (or desire) to keep the women afloat, leading Kathy (Melissa McCarthy) to join forces with Ruby (Tiffany Haddish) and Claire (Elisabeth Moss) to wrench control of the territory from the ineffectual Little Jackie Quinn (Myk Watford). With an ease and agility which seems to surprise the trio of women (assisted by a trigger happy assassin in love with Claire played by Domnhall Gleeson), they take over Hell's Kitchen. But when their husbands are released after serving only four months of their sentence, the women are forced to reinvent themselves while maintaining a united front, leading to rampant tragedy in the community.
The Kitchen has its fair share of likeable moments. Initially, Haddish and McCarthy are a winning combo as they begin to flex their might, despite the improbable ease with which the script shifts them from meek housewives defined by their ability to make cookies or buy the right beer to flinty power players wielding pistols and dumping corpses into the river. And yet, though both performers have turned in serious work in the past, neither end up completely convincing, ultimately. Haddish puts on the requisite front, but Berloff's script chooses to sidestep most of the egregiously racist realities of not just the 1970s but the trenchant xenophobia between the different boroughs, and the film often seems like a missed opportunity (although it's still highly enjoyable to watch Haddish face off with a monstrous Margo Martindale as her nasty mother-in-law).
The winner here is Elisabeth Moss, who's exposed to the film's most drastic violence, a victim of severe domestic abuse who decides to mimic the aggression and brute force exacted upon her by morphing into a ruthless killer with the help of her mentally unstable new lover (a surprisingly compelling Gleeson). The three husbands, as in Widows, are stock archetypes, but in an intro which plays similarly to McQueen's film as far as introductions go, it would have helped to have more development amongst them or between their significant others. Beyond its rushed beats and moments of contrivance, the real problem with The Kitchen is an overbearing period soundtrack—it never has a moment to breathe beyond the constant gut shots of classic 70s tracks which are meant to evoke a mood but instead flay the film like an empty piñata—if Fleetwood Mac and Heart provide lovely shades of agency and range to compliment the trio of women here, they're also furiously over-utilized to replace the lack of tension or energy in a handful of key moments.
Other notable supporting players pop up here, namely Common as a well-suited but rather ineffective FBI agent (aided by E.J. Bonilla, allowed even less presence) while Annabelle Sciorra distracts as the wife of Bill Camp's Italian mob boss. Still, despite considerable flaws, The Kitchen does entertain and it's unfortunate it likely won't inspire more heavy-hitting women led productions of its ilk since its hutzpah and zest remarkably outweigh the glut of nonsensical, repetitive patriarchal driven storylines oozing out of Hollywood studios even if it is A League of Their Own for mob wives. And, oh yeah, Margo Martindale's supporting turn is worth the price of a ticket on its own.
★★½/☆☆☆☆☆